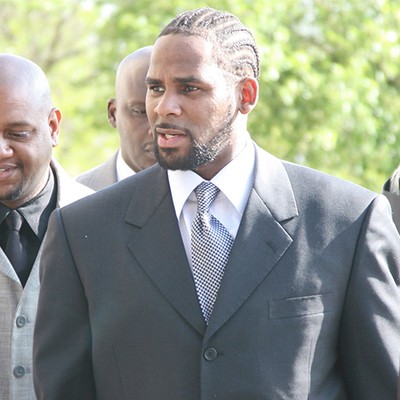 The Shocking R Kelly Documentary Is Coming To The UK

Ever since Lifetime documentary Surviving R Kelly premiered in the US a couple of weeks ago, it has dominated headlines. Now the series has been given a UK release date, so Britons can see the full extent of the scandal surrounding the disgraced singer.

The six-part series looks over the historical allegations of sexual misconduct and abuse against the R&B singer, dating back to the 1990s, including his marriage to the late singer Aaliyah when he was 27 and she was just 15 years old. R Kelly (real name Robert Kelly) has since been involved in multiple court cases and sued by at least four women for sexual misconduct, statutory rape, aggravated assault and unlawful restraint. In 2002, he was indicted – and then acquitted – of 21 counts of child pornography, despite video evidence showing him having sex with, and urinating on, a 13-year-old girl. Kelly continues to deny all the allegations against him.  
The first major media investigation into R Kelly's alleged abuse of women – mostly young teens – was published in 2000 by the Chicago Sun Times, but despite persistent rumours continuing to surround the 52-year-old, things only came to a head in 2017, when a BuzzFeed article claimed Kelly was running a 'sex cult'. He was reported to be keeping women in his home, where he "controls every aspect of their lives: dictating what they eat, how they dress, when they bathe, when they sleep and how they engage in sexual encounters that he records." 
This documentary takes things one step further, speaking to many of R Kelly's accusers on-screen, with harrowing interviews from his ex-wife Andrea, his previous girlfriends and Michelle Kramer, the woman who rescued her daughter from the singer. Grammy winner John Legend also spoke out against R Kelly in the series, reiterating his support of the women involved on Twitter, writing: "To everyone telling me how courageous I am for appearing in the doc, it didn't feel risky at all. I believe these women and don't give a fuck about protecting a serial child rapist. Easy decision." 
In an interview with the Detroit Free Press, filmmaker and producer Dream Hampton revealed the names of celebrities who had previously worked with Kelly but refused to speak on the documentary, including Lady Gaga, Erykah Badu, Celine Dion, Jay-Z and Dave Chappelle. Lady Gaga later released a statement in response to this, condemning the singer and making it clear that she "stands behind" the alleged victims "1000%". Furthermore, this week Kelly's own daughter posted an Instagram Story calling her father a "monster".  
 In the week following the US release of the show, Kelly's lawyer gave an interview to CBS News in which he stated there is "no merit" to the claims of the women featured in the doc, adding they are "looking for their 15 minutes of fame". But Hampton has since fiercely rebuked these claims. "Their stories are important, and they have every right to share them. Many of them have said they [want] to prevent someone else from falling into [situations like this]," she said. "There are no big paycheques for these women. We can't pay them to be in a documentary. There are no endorsement deals. This kind of exposure doesn't lead to some great something. I admire them so much and have all the respect in the world for them." In fact, the experience was so harrowing counselling was offered to victims on set.  
Since the release of the film, it's been reported there's now a police investigation into the allegations put forward by the documentary, and more women have come forward with further accusations. However, R Kelly has continued to make club appearances and to perform.  
Surviving R Kelly will be available on Sky and Now TV on 5th February. 
DISCLAIMER: We endeavour to always credit the correct original source of every image we use. If you think a credit may be incorrect, please contact us at info@sheerluxe.com.