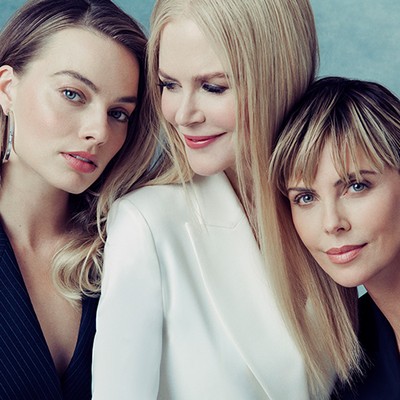 What To Watch At The Cinema: Bombshell

Nicole Kidman, Charlize Theron and Margot Robbie bring the real-life scandal of sexual harassment at Fox News, and the ensuing downfall of a media titan, to the big screen in Bombshell. A superb script, dynamic performances and a reminder that the fight is far from over make this a must-see movie, says Susan Griffin.

Much has been made of the fact Charlize Theron is unrecognisable in her portrayal of superstar Fox News correspondent Megyn Kelly in Bombshell. Indeed, the prosthetic work is so impressive, it's hard to compute it's the Oscar-winning actress when the film opens on Megyn taking us on a tour of the Fox News building.
But it wasn't the thought of three hours in the hair and make-up chair each day that almost put Theron off the role; it was the idea of playing someone whose views were so different to her own. But with some coaxing from Jay Roach, her close friend, and the man she later tasked to direct the movie, it dawned on her how important it was to put her own feelings aside in order to tell a bigger story.
"When you can see the power of a message even through the eyes of someone you don't agree with, even someone who might anger you at times, that tells you there's something very real and very important there," says Theron who, as co-producer, was instrumental in getting Bombshell made.
Bombshell tells the story of the women who brought down the late Roger Ailes, the seemingly untouchable and invincible founder of the ultra-conservative Fox News, who for years had got away with workplace harassment. 
When you can see the power of a message even through the eyes of someone you don't agree with, even someone who might anger you at times, that tells you there's something very real and very important there.
"What interested me is that it captures a moment in history that was the catalyst for change," Nicole Kidman has said. She plays Gretchen Carlson, the Fox News anchor who brought a lawsuit alleging sexual harassment against Ailes (John Lithgow) in the summer of 2016, shortly after she was fired. 
Most people presumed she'd be crushed, as had previously happened, but multiple women stepped forward, including Megyn – after a noted silence – while others in the corporation were too quick to defend their boss. 
The third woman central to the story is Kayla Pospisil, the fresh-faced ingenue played by Margot Robbie, who idolises the likes of Megyn and Gretchen. A fictional character based on the women scriptwriter Charles Randolph spoke to during his research, for Robbie, she was a chance to "really explore the murky grey areas of the MeToo revolution". 
"I like that this film isn't a story of victimisation," she has explained. "It's so much more complicated than that. I was really struck by how Charles approached this subject by exploring characters who each react to what's happening in honest and unpredictable ways."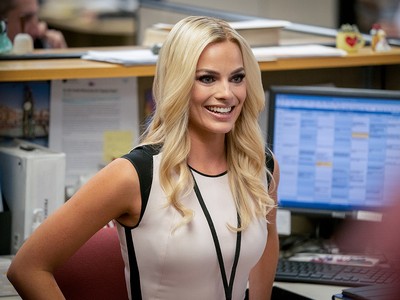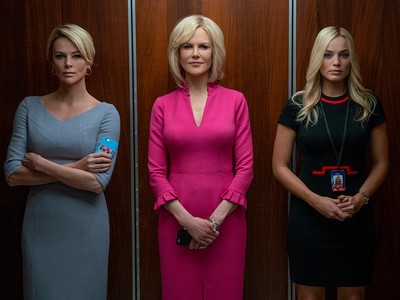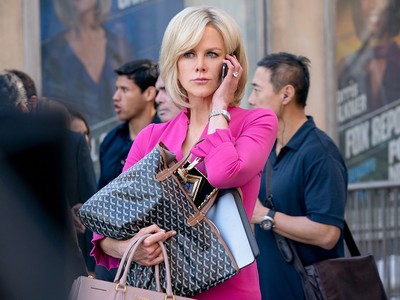 Throughout the movie, it's no secret that Ailes is all about women's looks – most notably their legs, which is why trousers are effectively banned. Instead, they're expected to wear bodycon dresses – the shorter the better – vertiginous heels and layers of make-up. 
One of the most disturbing scenes in the film is between Robbie and Lithgow, also unrecognisable beneath layers of facial prosthetics and a grossly engorged fat suit, when Ailes asks Kayla to twirl for him in one of his notorious casting sessions. 
Things take an even darker turn as he requests that she show him a little more leg. It's just the beginning of her nightmare, her body flinching when she gets a call summoning her to his office later in the movie. 
Margot received an Oscar nomination for the role earlier this week, and justifiably so. We witness the gamut of emotions that fall across her face on hearing Ailes' sordid requests, and later her revulsion at feeling she is somehow to blame for the unwelcome advances.
Theron's powerhouse performance as the lawyer turned media star is equally impressive, as is Kidman's take on Gretchen, a former beauty queen who might have seemed perennially perky for the cameras, but away from the lens was forced to contend with Ailes' demeaning comments. "No one wants to see a middle-aged woman sweat her way through the menopause," he barks, following an empowering segment on going make-up free. But, ultimately, Gretchen proved she had the strength and courage to take down a man like Ailes, and the faith that other women would follow suit. 
The three leads, who only share one scene together, in a lift where no words are spoken, are supported by a strong cast that includes the likes of Connie Britton as Ailes' wife, Alison Janney as his lawyer and Kate McKinnon as Kayla's co-worker who's keeping a secret from her colleagues. The roles might be relatively small, but they're beautifully written and the actors bring nuanced experience to their performances. 
At times, the women at the centre of the story speak directly to the audience. Roach also uses photos of some of the real women who suffered at the hands of Ailes, along with recollections of the abuse they suffered. Although stylistic, both approaches are powerful tools when tackling a subject matter as contentious and complex as this.
The movie isn't preachy or political and, although it's seen from a female point of view, there is plenty for men to take away from the film too. A year after the events depicted in Bombshell, the New York Times reported the many accusations made against Harvey Weinstein in a case that continues to dominate the headlines. Bombshell is an important reminder of what helped launched the #MeToo movement, but it doesn't try to hide the fact we still have a long way to go.
Bombshell is out now
DISCLAIMER: We endeavour to always credit the correct original source of every image we use. If you think a credit may be incorrect, please contact us at info@sheerluxe.com.