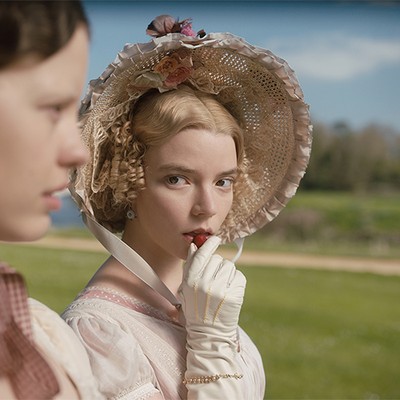 What To Watch At The Cinema: Emma.

Whether you're an eager Austen fan or rolling your eyes at the prospect of another period adaptation, Autumn de Wilde's lush, pastel-hued take on the classic is well worth a watch. Here's why...

It's fair to say Emma. has been done before: from Gwyneth Paltrow's resplendent performance in the 1996 movie, to its iconic teen comedy spin, Clueless – the Jane Austen novel is a stalwart of cinema. Its latest incarnation from director Autumn de Wilde is not so much a reinvention as it is an ode to the original tale – albeit a gorgeous one, with dreamy cinematography and costumes to die for. 
This time around, rising star Anya Taylor-Joy (The Miniaturist, Peaky Blinders) takes on the central role of Emma Woodhouse, an over-indulged, interfering young woman who, by her own admission, has had "very little to distress or vex her". Indeed, Emma's primary occupation – and greatest amusement in life – is meddling in the romantic ambitions of her friends and acquaintances. Wandering the majestic halls of the Hartfield estate, Emma wants for nothing and dismisses the prospect of matrimony in her own life as an unwanted distraction from caring for her father – a doting hypochondriac played by the ever-entertaining Bill Nighy. 
Enter Harriet (Mia Goth) – a friend for Emma and the ultimate opportunity for her to exercise her matchmaking skills. A wide-eyed Taylor-Joy paints an unusually sympathetic Emma – she is funny, sharp and refreshingly self-assured for a period heroine. But she is also snobbish, spoilt and frequently wide of the mark in her efforts to play cupid. Her attempts to orchestrate romance between Harriet and the clueless vicar Philip Elton (Josh O'Connor) are wrongheaded and eventually unravel, causing more than one broken-heart – mishaps which ultimately reveal Emma's vulnerability and put her on the path towards reformation. 
Meanwhile, Emma dances around a love triangle of her own – despite repeatedly dismissing any interest in marriage. She continuously spars with her long-time friend and neighbour, George Knightley (Johnny Flynn), and curiously pursues Frank Churchill (Callum Turner), an elusive but highly eligible bachelor. Romantic chaos ensues, culminating in a hill-top row, a nosebleed and, of course, several weddings. 
This may be Autumn de Wilde's first foray into feature films, but her background in fashion and music photography serves to add a stylised take on the action. On first viewing, what strikes you is the beauty of every shot: the film embraces colour and detail with an enthusiasm to make Wes Anderson proud. Sets are awash with Instagram-worthy interiors of pastel pinks and blues. Curtains and wallpapers are lush and elaborate without feeling overdone. Meanwhile, Hartfield sits in grounds straight out of a pastoral postcard. In short, the candy-coated set makes Emma. a joy to watch.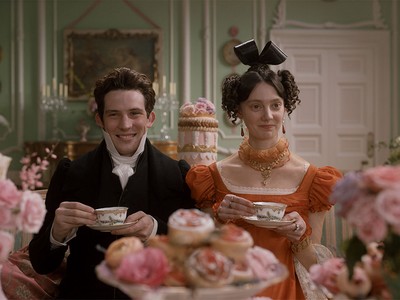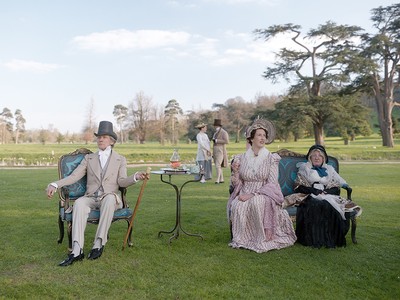 Now, for the clothes. De Wilde's decision to team up with Academy award-winning costume designer Alexandra Byrne means Emma. was always destined for style greatness. Much like its sumptuous sets, the film's costumes embrace Georgian colours and decadent aesthetics. Almost every scene warrants an outfit change: Mr Knightley strides into Hartfield decked in a mustard military coat, Emma dons feathered bonnets, corkscrew curls and a rainbow wardrobe of carriage dresses. A scene in the village haberdashery feels like it's straight out of a sartorial dream.
Rounding off Emma.'s all-star team is the Man Booker Prize-winning screenwriter Eleanor Catton. Catton handles Austen's well-traversed story without forgoing any of its wit or nuance on the way to rom-com dazzle. Indeed, credit must be paid to Catton's ability to translate a 200-year-old tale on sexual politics for the present day. Emma. manages to traverse this rocky territory without feeling nostalgic or forced into criticism of the power structures of the past. 
To be clear, for all its period quirks – this is not The Favourite. De Wilde has no radical ambitions for Austen's classic. Where The Favourite is challenging and acerbic, Emma. remains faithful to the tried-and-tested comedy of its source material. It is a retelling rather than a full reinvention. That being said, it is in many ways exactly what you want from a period rom-com: a familiar story, gentle laughs and charming chemistry between the tale's central couple – all elevated by a stellar cast. 
In the depths of February, this gorgeous vision of rural England – its charms and its petty quarrels – is the perfect antidote to a dark and stormy weekend. In a coupling far better suited than any of Emma's misguided matchmaking, de Wilde has brought together a timeless novel with rising acting talent. It's a truly winning match.
Emma. is in cinemas from 14th February
DISCLAIMER: We endeavour to always credit the correct original source of every image we use. If you think a credit may be incorrect, please contact us at info@sheerluxe.com.