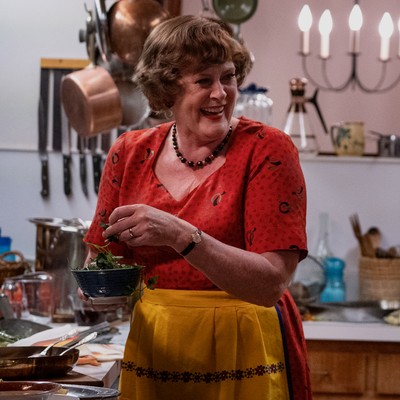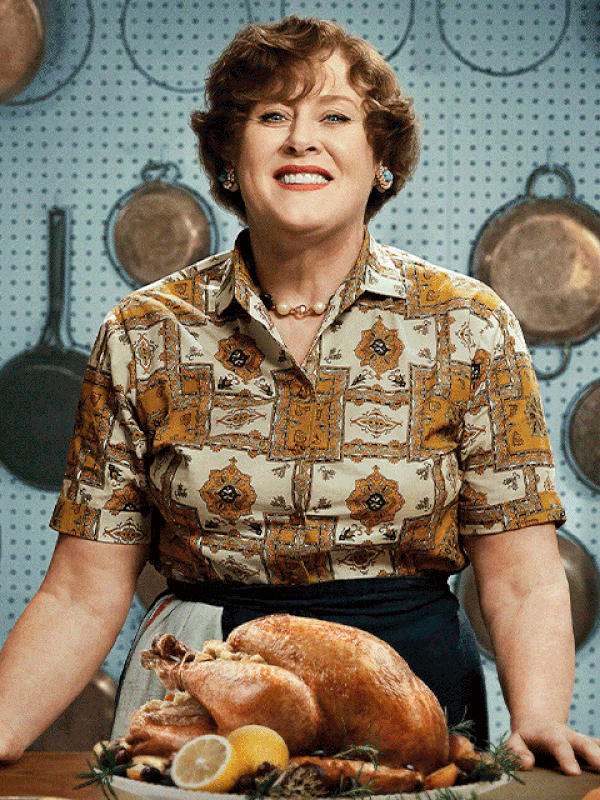 What To Watch Tonight: Julia

New HBO drama Julia is inspired by pioneering TV chef Julia Child's extraordinary life and her long-running television series, The French Chef, which became the blueprint for modern day cooking shows. A warm portrait of a marriage with a shifting power dynamic and an exploration of one woman's fight to get to – and stay at – the top, here's why it's worth a watch.

By Heather Steele
New eight-part drama Julia begins in just the right place – around the dinner table. Julia Child (Happy Valley's Sarah Lancashire) is at the head of the table, serving a plethora of friends a delicious-looking platter of home-cooked fare. At the other end of the table is her husband Paul (Frasier's David Hyde Pierce), pride twinkling in his eyes as he toasts Julia and the success of her debut cookbook, Mastering The Art Of French Cooking. It's the ideal introduction to this cosy series. It's the early 60s and Julia and Paul are in semi-retirement in Cambridge, Massachusetts, and are enjoying their lives, which appear full of friends and impressive dinner parties. There's talk of Paris, where they used to live, and excitement is bubbling due to a potential move back to their beloved France.
But Julia is about more than Julia's ascent as America's home cook of choice. Through Julia's life, the series explores a pivotal time in American history: the emergence of TV as a new social institution, feminism and the women's movement, the nature of celebrity and the cultural evolution in the US.
But before all that begins to edge its way into the drama, we're immersed in what Julia was best known for: food. From the episode titles alone (the first two are named 'Omelette' and 'Coq au Vin') we're thrown into a world of domestic bliss. A gorgeous collection of antique copper pans lines the walls of her home kitchen; we're treated to close-ups of melting butter sizzling enticingly; homely dishes are rustled up with little bother; and Julia is rarely seen without an apron or hairnet on, sleeves rolled up.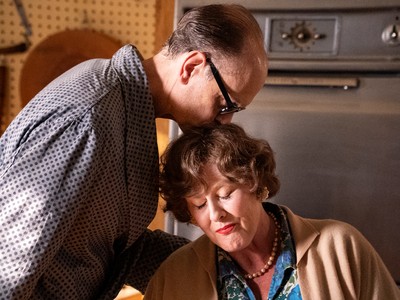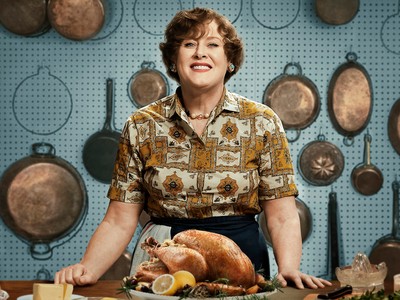 Her marriage to Paul seems ideal, but is suddenly rocked by two things: first, she finds out from her doctor that she's reached the menopause. Then, she's suddenly thrust into the world of television following a small segment on a literary TV show to promote her book. From the off, the male host is hostile, practically spitting out the word 'cookbook'. "Maybe we'll rename my segment 'What my wife's been reading'," he quips before Julia's no-nonsense approach elbows him out of the picture. In seconds, a hotplate has materialised, and Julia is bending over – bottom in full view of the camera – to whip out a pan, butter and three eggs. Cracking the eggs into a bowl with a flourish, in no time she's rustled up a French omelette and is handing it over to the hangdog host. While he claims to be unimpressed, one of the TV station's producers, Alice (newcomer Brittany Bradford), sees something in Julia – and so her road to TV stardom begins.
Of course, being an older woman in the 1960s, Julia's route into prime-time television isn't simple. From her husband's own misgivings to ongoing battles with male TV execs who have zero interest in commissioning a show about cooking, the first two episodes focus on this uphill battle. By the end of the second episode, no amount of homemade cake bribery has convinced the team at the TV station that she's the next big thing. But thankfully, her friends – who include Avis (played by Bebe Neuwirth, another Frasier alumni – and it's such a pleasure to see them share a screen once more), Alice, her book editor Judith (played by Fiona Glascott) – and, eventually, Paul all rally to help pull together Julia's pilot episode, stress-testing how to make coq au vin in 30 minutes at 2am the night before. It's an inspiring scene that has as many laughs as it does mouth-watering moments and is one of the opening highlights that really shows that this is a series dedicated to celebrating Julia.
Many viewers will probably have watched 2009 film Julie & Julia. And many might question how anyone could follow up performances by the likes of man-of-the-moment Stanley Tucci and the incomparable Meryl Streep. However, Lancashire and Hyde Piece's double act really works – they're utterly believable in their commitment to one another and their chemistry is wonderful to watch. But ultimately, Julia is all about food and will make you want to head into the kitchen immediately. It won't be the most gripping, edge-of-your-seat TV you'll see this year, but sometimes a slow and easy watch is just what's required on a Tuesday night. Just don't press play while you're hungry.
Julia is available to watch on Sky Atlantic at 9pm on Tuesday 12th April and in full on Now now
Visit NowTV.com
DISCLAIMER: We endeavour to always credit the correct original source of every image we use. If you think a credit may be incorrect, please contact us at info@sheerluxe.com.