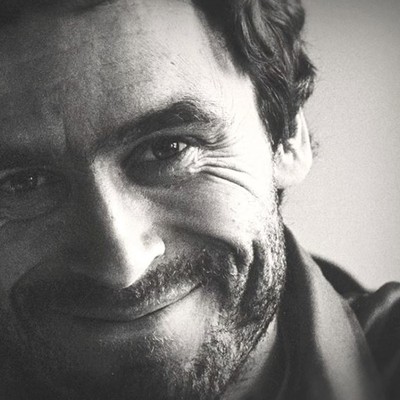 Why Everyone's Talking About Ted Bundy Right Now

If you've been on social media this week, you might have noticed everybody is talking about the infamous 70s serial killer Ted Bundy. One of the most notorious murderers in recent history, Bundy's crimes were heinous and despicable – so why is everyone suddenly so fascinated?

To start with, a little background: If you've managed to stay away from Netflix/social media/Wikipedia recently, Ted Bundy was an American serial killer, kidnapper, rapist, burglar and necrophile who, after denying his crimes for nearly a decade, confessed to a four-year killing spree between 1974 and 1978 in which he murdered 30 women – but the true number of victims is likely much higher.
One of the reasons Bundy is so notorious is due to what many deem as his good looks and charming persona. He wasn't like any serial killer we'd seen before – this is a man so confident that he represented himself in court during his murder trial, despite having no accreditations in law. After a length trail, and in spite of his best efforts to show his innocence, he was found guilty of all crimes and sentenced to death by electric chair. 
Ted Bundy first made a stir in the 70s and 80s. So why the renewed interest now? Well, there's two reasons: the first comes with the release of Conversations With A Killer: The Ted Bundy Tapes. The four-part Netflix series directed by filmmaker Joe Berlinger uses tapes obtained from journalist Stephen G Michaud, who sat down with after Bundy after he claimed wrongful conviction and offered his story in return for a re-examination of his case.
In these tapes, positioned alongside interviews with people integral to the case, Bundy monologues us through his early life, relationships, his trials and the two successful escapes from prison that made headlines (the second of which saw him missing for over 45 days, during which time he entered a sorority house and bludgeoned two women to death). It doesn't have any of the twists and turns that we're used to seeing from true-crime series like Making A Murderer – we know of Bundy's crimes, plain and simple, which has led plenty of people to ask, why make a series on it?
The second reason is due to another film being released about Bundy. This one is again directed by Berlinger but is instead a fictionalised version of his life and crimes, starring Zac Efron and told from the point of view of his ex-girlfriend, Liz Kloepfer, who wrote a tell-all book about their life together at the height of his killing spree. People have a number of problems with this film, titled Extremely Wicked, Shockingly Evil and Vile, and it has sparked much debate.To start with, people feel the trailer glamorises Ted Bundy and his crimes, and puts across the idea that the film is a "witty, romantic thriller" rather than showing his murders in all their horror. But others came to its defence, saying that Ted Bundy was romanticised, by the media, by the women that turned up to his trials, and by most of the people that knew him. He put himself across as a good guy and a charmer – he did what he could to position himself as anything else but a serial killer.
He was treated differently by plenty of people; once his trial ended, the judge who sentenced Bundy told him: "You're a bright young man, you'd have made a good lawyer. I'd have loved to have you practice in front of me. But you went another way, partner. I don't feel any animosity toward you. I want you to know that." This, despite the fact that he brutally murdered over 30 women, most of whom have remained just bit-parts in this story.
Others have a weird feeling about Zac Efron playing Ted Bundy. Efron, a teen heart-throb in his own right plays a kind of exaggerated version of Bundy – at one point in the trailer, he takes his top off to reveal a pronounced six-pack, which is certainly a stretch. Plus, it's giving Bundy everything he would have wanted: a memory that positions him as that charming, handsome guy rather than a savage killer. But in a way, that was Bundy's thing. He was able to convince women to help him 'look for his lost dog', by being pleasant and appealing. He was far away from the murderer stereotype, and that's what made some of his victims trust him.
One of Bundy's victims has also spoken out about the film. Kathy Kleiner Rubin, who was 20 when she was attacked by Bundy while at Florida State University, told TMZ: "I don't have a problem with people looking at it, as long as they understand that what they're watching wasn't a normal person. I believe that in order to show him exactly the way he was, it's not really glorifying him, it's showing him. And when they do say positive and wonderful things about him, that's what they saw, that's what Bundy wanted them to see. It was picked up as that."
Some early reviews have praised Efron's performance in the film. The Guardian wrote: "The most shocking thing about the film is Efron's remarkably accomplished, fiercely committed performance. As Bundy, he ruthlessly weaponises the boyish charm that's propelled much of his career", and one critic called it "one of, if not the most, tasteful and respectful films on this type of subject I've seen", adding the film is mostly about the victims and doesn't show any graphic murders or sexualisations of his crimes.
Films on serial killers are always going to face criticism – and rightly so. A film like this has an extremely fine line to walk, especially when you're dealing with a man like Ted Bundy. The main hope from the film is that people can take something useful away from it. As Kleiner Rubin puts it: "Hopefully it will make women to be more aware of their surroundings and be cautious."
DISCLAIMER: We endeavour to always credit the correct original source of every image we use. If you think a credit may be incorrect, please contact us at info@sheerluxe.com.