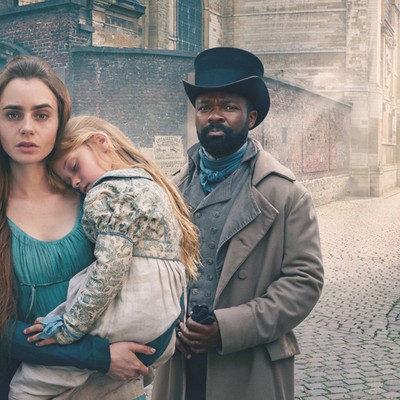 You Need To Watch BBC's Les Mis Adaptation

The new adaptation of Les Misérables might not have the songs we know so well from the long-running stage musical or the movie starring Hugh Jackman and Anne Hathaway, yet this ambitious telling of Victor Hugo's 19th century classic takes the time to truly delve into the story's epic themes over six hour-long episodes. SheerLuxe's film and TV contributor Susan Griffin takes a look...

Of course there is only man who could tackle such a weighty tome, and make it accessible and relevant to a modern TV audience. Andrew Davies is the man behind adaptations of literary classics such as Pride and Prejudice, Vanity Fair, and War and Peace and he takes a pragmatic approach to his work.
"I start at the beginning. I see which bits I love, and which bits I don't find so interesting," says the master screenwriter. "I sort out the coincidences, smooth it all out a bit, and try to make sense of the narrative. I probably concentrated first on Jean Valjean and Inspector Javert, and got that duality established." Jean Valjean, played by Dominic West, is a man who spends 19 years in prison for stealing a loaf of bread and trying to escape. When he's finally released, he becomes a man of God and forges a new identity in his quest for redemption.
Javert is the prison guard who becomes obsessed with tracking him down and, at least in his mind, bring him to justice. "My immediate thought was, 'Ooh, do I want to play the villain?' but then I read Andrew's scripts and there was all this layering. I realised there was an opportunity to bring context and complexity and dimension to a character who has largely been marginalised as an antagonist," says David Oyelowo, the two-time Golden Globe nominee who portrays Javert."What's really interesting is he has a very clear moral compass from which he's operating.
We find out he was born in prison to criminal parents and yet he chooses to work in a prison, as a guard. That is clearly an active choice. He's there in order to fight against a part of himself he loathes, and he sees that embodied in Jean Valjean. To me, that explains this inexorable, fastidious, continuous, obsessive pursuit of this guy because he's pursuing something he needs to expunge within himself."
Although Andrew focused on Jean Valjean and Javert's cat-and-mouse relationship, there are many other characters whose lives are intertwined over the two decades the novel spans."The bits I love most are the tender bits in a way, such as Fantine's story in the early stages, which will be a revelation to people who have only seen the musical," says Andrew. "And after that, Jean Valjean learning to be a father [to Fantine's illegitimate daughter Cosette] was something that moved me a lot."
Fantine's story is a tragic one - a young woman full of hope who dies prematurely, destitute and desperate. "There's a scene in the movie musical where Anne Hathaway is singing and there's a lyric where it explains she fell in love and had a child. It's amazing to explain it in a way we haven't seen before," says Lily Collins (daughter of singer songwriter Phil Collins) who was born in Surrey but brought up in America.
 
"I'd seen adaptations, but Tom (Shankland, the director) was very clear I was to disregard all previous adaptations and really lean into what Andrew had done and go back to the novel and focus on the emotion and bring Fantine to life in a way that only I could do," says Lily. "That took a lot of pressure off because you're never going to be everyone's version of a character that everyone loves and admires, you can only be your version."
She bumped into Anne Hathaway, who won an Oscar for her portrayal in the 2012 movie, during a fashion event last May. "I didn't ask for any advice, but she said to me just don't lose yourself, and to cling onto humanity because it can go down a dark path. I didn't tell her I'd already done that bit [the dying scenes] but I understood because personally, as an actor, I'd never gone that low and it was a really powerful experience for me."
It was baptism by fire for Lily given Fantine's death was only her second day on set. "I'd just come directly off a film and four days later I went to Brussels and it was very much, 'Nice to meet you, there's your deathbed'. I'd never shot a show out of sequence, starting at the end and working my way back, but I was so thankful for that because I got to go the furthest lengths and know where we ended up. It was a tough shoot, a labour of love for all of us I think."
Hugo's novel explores the struggles and triumphs of the underclass and the quest for a better life that remains resonant 156 years after the novel was first published. "We live in a society that really is as divided into rich and poor as the society that Hugo was talking about," notes Andrew. "And it often seems there's a lot of people who, like Fantine, don't have solid ground to stand on. If something goes wrong, they are on the street and it's alarming."
The collective ambition for everyone involved was to "make this world feel authentically of its time but also fervently relevant," notes Tom Shankland, the director. "It was always an interesting balancing act but for all the tremendous tragedy and social injustices in the story, there is such joy. "At its centre is a beautiful story of people trying to find their way; the struggle to be good, the struggle to find love; to find what it is to be a parent. All those things felt like they had a lot of colour in them, so I never saw it as bleak and tragic. Instead, it felt like we had to lean into all that's good and hopeful."
 
Les Misérables​ begins on BBC One on Sunday, December 30.
DISCLAIMER: We endeavour to always credit the correct original source of every image we use. If you think a credit may be incorrect, please contact us at info@sheerluxe.com.