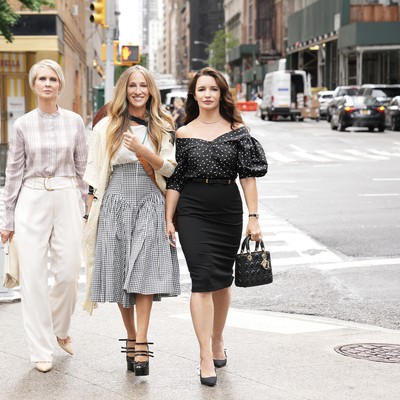 What To Watch Tonight: And Just Like That

Twenty years ago, Sex and The City was a weekly television fixture. Following two spin-off films that didn't quite capture the magic of the original show, news of fresh offshoot And Just Like That was met with raised eyebrows and low expectations. However, we're pleased to report that Carrie and co are back – and they're better than ever. Here's why it's more than worth a watch.

Last weekend, I met up with the group of friends I lived with at university. Back then, when we wanted something to binge-watch, one of us inevitably reached for the battered six-series boxset of Sex And The City. A keen topic of conversation on Saturday was the reboot of the show, And Just Like That, which starts on Sky Atlantic and Now tonight. Excitement levels were split: some were desperate to see what Carrie and the girls were up to now, intrigued to see how life had fared for the now 50-something women. Others were understandably wary – especially after spotting some of the outfits that were papped during filming in New York earlier this year. After the second film, which came out to muted reviews in 2010, and news that Kim Cattrall – the absolutely essential, foul-mouthed Samantha Jones – would not be returning to the show, many fans have wondered if this reboot was necessary. Having seen a preview, we're here to reassure you it's a welcome return to form.
 
And Just Like That is set in 2021 New York – something we're alerted to from the very start via witty one-liners about social distancing and hugging etiquette. Over lunch at a hot new restaurant (some things never change) we learn Carrie Bradshaw (Sarah Jessica Parker), a media personality who made a name for herself as a sex columnist in the 90s, has now pivoted to podcasts. Newly grey-haired Miranda Hobbes (Cynthia Nixon) has never listened to a podcast in her life and is still with loveable Steve, but has just quit her job to head back to school. Her son Brady, who was a cute bundle of curls when we last saw him, is now a stroppy teen who has noisy sex with his girlfriend. Charlotte York-Goldenblatt hasn't changed at all: she's still glamorous and her pushy parenting style hasn't been reigned in one bit. As for Samantha, Cattrall's absence is addressed almost instantly – but we won't spoil the explanation here. 
 
So far, so familiar. We were thrilled to see Mr Big (Chris Noth) back on our screens, coolly pouring wine and cooking dinner to classic vinyl in his and Carrie's enviably chic apartment. After years of on-screen turmoil, the married pair are settled, happy and so in love. Seeing younger characters like Charlotte's children Lily and Rose all grown up was surprisingly emotional, and the screen debuts of fan favourites Harry Goldenblatt, Anthony Marentino and Steve Brady are ones of glee – although seeing technicolour Stamford Blatch (played by the iconic Willie Garson, who died in September) is also tinged with sadness. In short, it's testament to the strength of the original series how much joy it brings to see them all on screen once again.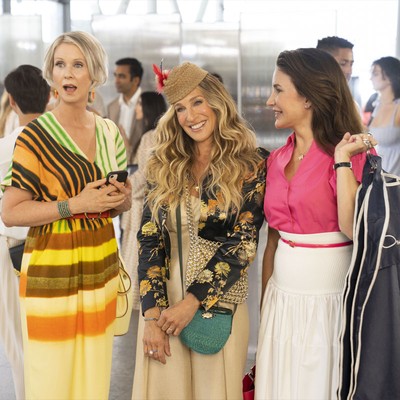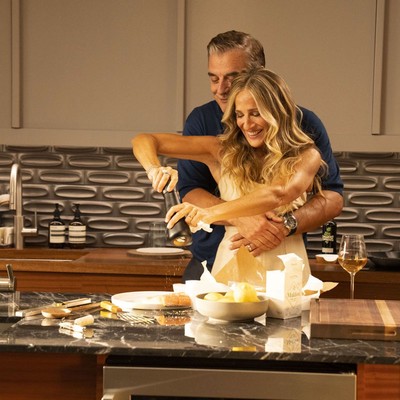 But And Just Like That isn't a straight-up nostalgic run-through of the past. One of the new series' strengths is the fresh characters. First up there's Lisa Todd Wexley (played by the beautiful Nicole Ari Parker), an impeccably dressed school board member who social climber Charlotte is desperate to get to know better. There's Che Diaz (Sara Ramirez), Carrie's gender-fluid boss and the host of the sex-positive podcast Carrie's keen to get involved with. Then there's Dr Nya Wallace (Karen Pittman), the law professor who teaches Miranda at Columbia. These characters are more than bit parts designed to tell a story in one episode then disappear, like the format of Sex And The City. Instead, they're fully fleshed individuals who not only bolster diversity across the series – something Sex And The City came under fire for the first time around – but show New Yorkers from all different walks of life and in turn reflect Carrie, Charlotte and Miranda's own attitudes and lifestyles. It's a smart move, and we can't wait to learn more about these newcomers as the ten-episode series continues.
 
One of the reasons so many of us loved Sex And The City and – for all her faults, Carrie – was the fashion. Pulled together by costume designer Patricia Field, some of the outfits across the original series were iconic – and a couple of them even pop up in the first episode. Field might not be involved with And Just Like That, but so far, the fashion across the series is exactly as you'd hope for – right down to Carrie's silver gloves she wears in a post-pandemic world so she doesn't have to expose her hands to lift buttons and hand rails: classic Carrie.
 
We're conscious of not dropping any spoilers, and And Just Like That is one of those series where it's best to go in with no preconceptions about where the story is heading. All we'll say is it's a rollercoaster of emotions. Thankfully, disappointment isn't one of them.
 
 
And Just Like That begins on Sky Atlantic at 9pm tonight and is available to stream on Now now.
DISCLAIMER: We endeavour to always credit the correct original source of every image we use. If you think a credit may be incorrect, please contact us at info@sheerluxe.com.