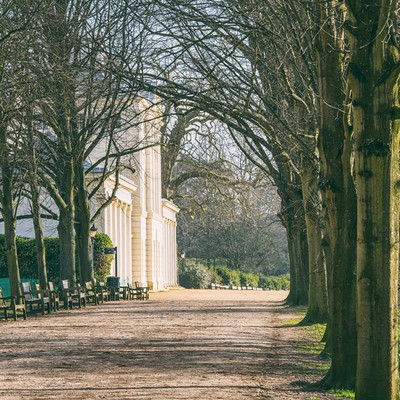 Where To Eat, Drink & Shop In Hampstead

From Parisian-style baked goods and Middle-Eastern cuisine, to a brisk walk across one of London's finest parks and a decent dose of science and culture, Hampstead really does have it all. Best-known for its highly-desirable properties and home to several members of the capital's 'literati', it's the ideal place to while away the weekend…

The Coffee Cup
Head to The Coffee Cup to start your weekend right. Pouring everything from espresso all the way to herbal tea, smoothies and cocktails later in the day, the cafe serves up a full range of classic brunch dishes, including eggs benedict, muesli, toast and pastries. Located squarely on the high street, it's best to try and grab a table outside to ensure the perfect people-watching spot. 
74 Hampstead High Street, Hampstead, NW3 1QX
Visit VillaBiancaGroup.com
Euphorium
If artisanal baked goods are your thing, look no further than Euphorium, Hampstead's answer to a Parisian-style bakery. Offering a full range of sandwiches, salads and sweet treats, the brand opened its first site in nearby Islington in 1999, and has since expanded, although the ethos remains steadfast: to bring baking back into the heart of London's communities. If you can't find the time to squeeze in a visit to the store, it's possible to order some of the bakery's classic dishes online. 
45 South End Road, Hampstead, NW3 2QB
Visit Euphorium.Uk.com
Ginger & White
The perfect weekend brunch spot, Ginger & White's ever-changing menu includes everything from soft-boiled free-range 'dippy' eggs, to red leicester toasties and daily frittatas. Breakfast is available all day during the week, with lunchtime menus available from noon. Tucked away in Perrins Court, it's off the main road too, giving you that sought-after neighbourhood-in-the-city vibe. 
4-5 Perrin's Court, Hampstead, NW3 1QS
Visit GingerAndWhite.com
Delicatessen
With a menu inspired by Middle Eastern cuisine, most of the dishes on offer at Delicatessen are designed for sharing, making them emblematic of the Middle Eastern way of dining. Based on Rosslyn Hill in the centre of Hampstead, the venue is also available to rent for a private Shabbat dinner on Friday night. Traditional dishes on offer include fattoush salad with tomato, cucumber, sumac and zaatar croutons; and stuffed romano with freekeh and beef, vegan tzatziki yoghurt, harissa oil and crunchy shallot. 
46 Rosslyn Hill, Hampstead, NW3 1NH
Visit Delicatessen.company
28 Church Row
SL fashion editor Charlotte calls this her 'hidden gem'. The menu at 28 Church Row takes its inspiration from the best of Spanish and Italian cuisine, with small plates designed for sharing. Meanwhile, the eclectic wine list has been created with an interesting blend of classic styles and lesser-known wines. There is a private dining room available for hire, which seats 12, but otherwise it's a walk-in only vibe. Perfect for girls' night. 
28 Church Row, Hampstead, NW3 6UP
Visit 28ChurchRow.com
Jin Kichi
For authentic Japanese dining, look no further than family run Jin Kichi. High quality, but still affordable, you'll find everything here from yakitori and sushi to full-flavoured noodle dishes. Don't forget to check out the drinks menu either: from plum wine to sake and traditional shochu cocktails, there's bound to be something to get the night off on the right note. 
73 Heath Street, Hampstead, NW3 6UG
Visit JinKichi.com
L'Antica
Hailed by regulars as the best pizza in London, L'Antica has earned itself the nickname of Hampstead's 'Italian emerald'. Combining expert knowledge with the best ingredients and equipment, L'Antica is wedded to authentic Neapolitan flavours. Using caputo flour in all of its bases ensures it puffs up quickly when it hits the 400°C wood oven, while the intense heat chars the pizza base, giving it a crisp look and outstanding taste. Meanwhile, toppings are varied, and all start with hand-crushed tomato sauce and a scattering of fior di latte mozzarella.
66 Heath Street, Hampstead, NW3 1DN
Visit AnticaPizzeria.co.uk
The Spaniard's Inn
Billed as the oldest pub in London, and located to the north of the Heath, this authentically British spot is the perfect place for a cosy roast in the winter, while the extensive garden makes it ideal for sunnier afternoons. Pick from a refined selection of starters, including pan-seared scallops with chorizo and creamed peas; or burrata on toasted sourdough with an aubergine, basil and cherry tomato caponata, before moving on to classic main dishes, including asparagus and tomato risotto with pecorino and pumpkin seeds; or roast Atlantic cod with leeks, chorizo and pea ragu. An insider tip: the scotch egg starter is a must order. 
Spaniards Road, Hampstead, NW3 7JJ
Visit TheSpaniardsHampstead.co.uk
WHAT TO SEE & DO
Hampstead Heath
Arguably one of the biggest reasons to pay Hampstead a visit is its famous 790-acre heath. Home to Kenwood House (more on that in a minute), as well as the bathing ponds and Parliament Hill viewpoint, it's a great way to work some easy exercise into your weekend. For those on the hunt for an activity, there's a zoo,  athletics track, education centre and a lido from which to take your pick. It's not widely known that the heath is a registered charity too, with regular visitors encouraged to make a small donation to help local authorities protect the space for future generations.
Visit CityOfLondon.gov.uk
Kenwood House
On the edge of Hampstead, surrounded by landscaped gardens, is one of London's most striking stately homes. The best news is that the beautiful interiors and world-class art collection – including Rembrandt's 'Portrait with Two Circles' – are free for everyone to enjoy. With children's activities, an on-site café and acres of grounds to explore, there's something here for everyone. Officially under the protection of English Heritage, opening times for the house vary throughout the year, so be sure to check ahead. 
Hampstead Lane, Hampstead, NW3 7JR
Visit English-Heritage.org.uk
Keats House
Hampstead's literary roots run deep, with one of the most famous sites being the house once belonging to Romantic poet John Keats. The poet's home from December 1818 until August 1820, the house was built around 1815, and originally named Wentworth Place. It was here that Keats composed his mysterious lyric 'La Belle Dame Sans Merci', finished his narrative poem 'The Eve of St Agnes', and wrote his great odes of spring 1819 including 'Ode to a Nightingale', ahead of his death from tuberculosis in 1821 at the age of 25 in Rome. 
10 Keats Grove, Hampstead, NW3 2RR
Visit KeatsFoundation.com
The Pergola
One of Hampstead's most under-rated attractions is its dilapidated pergola - the brainchild of Lord Leverhulme, who decided in the summer of 1904 that his nearby mansion needed an extravagant terrace. Damaged during the Second World War, the pergola is still undergoing a substantial rennovation - a process which started in 1989 when the City of London took it over. That said, a short walk through its haunting arches and faded pillars will still add a touch of magic to your afternoon.
Inverforth Close, Hampstead, NW3 7EX
Visit CityOfLondon.gov.uk

Sigmund Freud Museum
After arriving in England as refugees following the Nazi annexation of Austria in March 1938, the Freud family settled in Hampstead, in a final home which has since been turned into a museum celebrating the legacy of the great psychoanalyst. Key artefacts include Sigmund Freud's famous couch, as well as hundreds of objects collected by the family from their travels around the world. Entry is £10 for adults, although bear in mind that the museum only opens its doors Wednesday to Sunday. 
20 Maresfield Gardens, Hampstead, NW3 5SX
Visit Freud.org.uk
Blue Plaque Trail
For a leisurely afternoon, try hunting down some of Hampstead's famous past residents via the many blue plaques which dot the neighbourhood. Starting with Sigmund Freud, look out for the home of James Bond creator Ian Fleming, actor and husband of Elizabeth Taylor, Richard Burton, and painter John Constable. All were Hampstead residents at one time or another.  
Visit English-Heritage.org.uk
Maud & Mabel
Always on the hunt for unusual and interesting homewares? This family run, one-off shop in the centre of Hampstead is the place to head. Showcasing handmade pottery, jewellery and art by a selection of talented craftspeople, there's bound to be something you can't leave the store without. All of the shop's items pays homage to Hampstead's quirky, artistic and individualistic style. 
10 Perrin's Court, Hampstead, NW3 1QS
Visit MaudAndMabel.com
Everyman Cinema
Cap off the weekend by dropping into the Hampstead branch of the Everyman cinema. This is the original site, opened by entrepreneur Daniel Broch when he founded the brand back in 2000, with the building itself dating back to 1933. Aiming to redefine the usual multiplex experience, Everyman cinemas are known for their plush seating, broad selection of wines and on-site pizzas. With a wide array of mainstream, independent and classic films, as well as special events and live-satellite broadcasts, it's got all tastes and genres covered. 
5 Holly Bush Vale, Hampstead, NW3 6TX
Visit EverymanCinema.com
DISCLAIMER: We endeavour to always credit the correct original source of every image we use. If you think a credit may be incorrect, please contact us at info@sheerluxe.com.