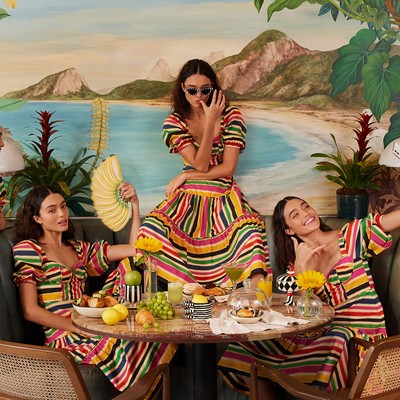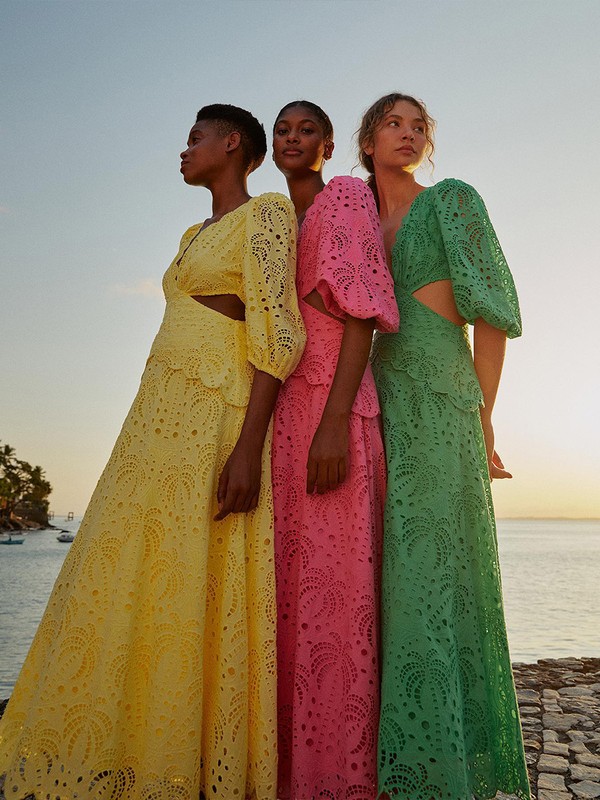 Meet The Creative Director Of FARM Rio

Thanks to a sell-out collaboration with Sézane, Brazil's FARM Rio has cemented its status as one of the biggest brands of the summer. Here, we sat down with co-founder and creative director Katia Barros to find out more about her own style, where she finds inspiration and the pieces she's loving from the current collection.

By Elaine Lloyd Jones
All products on this page have been selected by our editorial team, however we may make commission on some products.
I've always been drawn to the fashion world. I originally started out as an auditor if you can believe it, but I felt like something was missing. So I decided to go and study fashion design in an attempt to unleash my creativity and eventually create clothes that were representative of the energy of my hometown, Rio de Janeiro.
It all began in 1997 at Babylonia Hype Fair – a marketplace in Rio de Janeiro modelled on Spitalfields market. Marcello Bastos (my business partner) and I launched a collection of garments that captured the city's vibrant spirit, and locals fell in love with the bold designs. After that, we went on to open stores across the country.
The brand name was inspired by a beach I used to visit in front of Rua Farme de Amoedo – a name that in Portuguese sounds like 'farm'. It's something very carioca and it instantly came to mind when I was naming the brand. When we decided to go international, we added Rio as our last name, because no matter where we go, we always take the spirit of our hometown with us. The carioca spirit is the brand's identity. We're so proud of where the brand started and want to celebrate this in everything we do.
I like wearing clothes that ENCOURAGE JOYFULNESS and happiness.
We launched in the US in 2019. The opening of our store in New York was a really memorable moment. Seeing the brand conquer a new country generated immense pride. We're hoping to expand our presence in Europe this year. 
My own personal style is playful and energetic. I like wearing clothes that encourage joyfulness and happiness. As the creative director, I'm very involved in the design process at FARM Rio, but it's not something I do alone. The business has been built via a group of creatives, with over 2,000 people who work together and collaborate on everything – from the development of prints to the creation of stores. 
FARM Rio is about a lifestyle – the product is just the starting point. The colours, designs and prints evolve season after season and are inspired by the places I've been and the things I've seen. They're pieces I want to wear every day. Our prints and designs are based on Brazilian elements but with a twist, often using textures and colours found in nature or drawing on signature motifs, like our iconic toucans, bananas and cashews. We believe clothes are empowering and can impact your mood.
I'd say nature is FARM Rio's main source of inspiration. Our products are a playful mix of colours, textures and details that embrace authenticity and inspire self-expression. The boldness of our colour palette is one of the elements we use to influence optimism into our clothing. In our prints, you'll find references to natural elements from Brazil's tropical fauna and flora – from colourful flowers and leaves to flying macaws and bright toucans. 
Our products are a PLAYFUL MIX OF COLOURS, TEXTURES AND DETAILS that EMBRACE AUTHENTICITY and inspire self-expression.
I love being close to nature. I live in a mountain house in Jardim Botânico, under the iconic Christ the Redeemer statue. I'm in the middle of the Atlantic Forest, surrounded by greenery and silence. The FARM Rio office is in São Cristóvão, one of Rio's oldest neighbourhoods. Our headquarters are also surrounded by palm fronds and lots of plant life.
The current collection is inspired by Rio's vibrant beach-to-city lifestyle. We've also created a beautiful capsule collection in collaboration with the artist Alberto Pitta, who is from Bahia in Brazil. I'm a big fan of his work. We've incorporated his unique prints and vibrant colours into our styles. These pieces genuinely capture the heart and soul of Pitta's home city.
The FARM Rio customer is young at heart and has a laidback attitude to dressing. They're authentic and have a colourful soul that's reflective of the carioca lifestyle. I get excited seeing anyone in the clothes. Taylor Swift wore the shimmering bodysuit in the Anti-Hero video and Jennifer Lopez was spotted wearing our yellow knot midi dress during her honeymoon in Italy. Alicia Keys and Lana Del Rey have also been spotted wearing FARM Rio while in Rio, which is amazing. 
Becoming a more sustainable brand is a journey where each act matters. We try to keep moving forward to be a better company for the people and the planet. Right now, we have projects organised by four main pillars – nature, culture, people and circularity. We're working on everything from neutralising the company's carbon emissions to increasing the percentage of responsible fibre in our collections. We've also planted one million trees so far and keep donating the equivalent amount of one tree for each purchase made at our stores and through our website. We are focused on the reforestation of Brazilian biomes, both in the Atlantic Forest and the Amazon Rainforest. 
DISCLAIMER: We endeavour to always credit the correct original source of every image we use. If you think a credit may be incorrect, please contact us at info@sheerluxe.com.