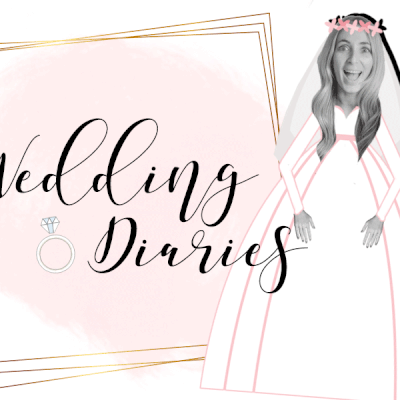 The Wedding Diaries: The Outfits

Getting married abroad means a whole range of outfits for our fashion ed. But as her big day approaches, finding the perfect wedding wardrobe is piling the pressure on our bride-to- be.

A destination wedding appeals for many reasons. There's the weather, and the fact everyone's on holiday and not worrying about big meetings/horrible bosses/getting the Ocado delivery. And then there's the number of outfits - sort of good, sort of bad.
Aside from the big day itself, we have a civil wedding in the UK two weeks before (a legal necessity if you're getting hitched abroad), the Jewish aufruf (a blessing in synagogue followed by a lunch) in the preceding 7 days, a Friday night welcome dinner, and a Saturday beach party all in the build-up - that's four outfits required even before the big white dress. To start with, this was more than my little fashion editor brain could handle. A once in a lifetime opportunity to buy up all the white fashion the biggest designer names have to offer! But after dress-gate, in which I discovered I wasn't a six-foot tall supermodel with the legs of Naomi Campbell and the skin tone of Carolyn Bessette Kennedy, I realised there were still some rules I had to abide by. From the affordable brands I'm relying on, to the dress code tips worth remembering, here's my official rundown of dressing around your big day…
The Civil Wedding
Unless you're Chiara Ferragni with Dior on hand to make you three dresses, chances are you're more likely to err towards classic bride than cool bride for the wedding itself. That means the civil ceremony is the perfect opportunity to go with something a little more trend-lead. I'd never be brave enough to break with convention and wear a white suit for the real event, but it seemed like the obvious choice for our UK 'I Dos', which I want to keep a more casual affair anyway. Put too much emphasis on it and it takes away from the wedding proper – more fool those of us who don't heed the tale of Carrie Bradshaw, whose wedding got blown out of proportion when she traded her 'sweet little white suit' for a fuck-off Vivienne Westwood gown. In the running remains Asceno's romantic pyjama-style two piece, but I'm also leaning towards a structured offering; from Stella to Racil, if any of the outfits are worth investing in, it's this one - cost per wear and all that. This is also the perfect opportunity to have fun with accessories. If any benefactors out there feel like donating some bright red Manolos to the cause, please DM me.
Top tip: If blowing the budget on the registry event isn't for you, you could take the Emily Ratajkowski route and look to the high street. The model got hitched last year in a Zara mustard-yellow two-piece suit, and with so many great affordable options out there now, it's a viable choice.
The Aufruf
This event is, first and foremost, a religious affair in an orthodox - albeit modern - synagogue. That means respectful hemlines, covered shoulders, long sleeves and an overall smart approach – no flat shoes, leather jackets or sock boots allowed. Translated into non-Jewish sartorial occasions, it would be like the smart wedding breakfast of your most traditional friend. However, thanks to the advent of the Prairie dress trend, and the ever-growing popularity of midi lengths and arm-covering cuts, the choices are endless. The event is actually for the man (aufruf is Yiddish for 'call-up' and is the custom of a soon-to-be-groom being blessed during the Sabbath service before his wedding day), so it's mainly my duty to sit there quietly and look wifely, and wifely I shall look in a grown-up, thigh-skimming dress and elegant pointy heels. This is the one event in which I may break from the white tradition – Rixo's patterned designs would do the job nicely, whilst Whistles has a blue polka dot design I love.
Top tip: When it comes to accessories for the string of events, I recommend investing once and getting really great wear. Whether it's aforementioned red Manolo Blahniks or a little white handbag, it's enough of a faff trying to source all the outfits, without worrying about the rest, so make wise decisions about the extras that will work with every look.
The Friday Night
If anything, this is the most pressurised event – my official reveal as the bride, I need to make an entrance worthy of Mathew Kelly and a big old smoke machine. Self-Portrait may well be the key – their SS19 offerings are the perfect balance of drama, cool and haven't-tried-too-hard. However there's a budget to think about, so it has to be something i'll wear again; white dresses don't lend themselves very well to re-wear during your wedding-packed 20s. Turkish brand Gul Hurgel may just strike the perfect balance; a proprietor of the beach-chic look, her selection of white designs with subtle floral patterns have all the desired impact, whilst not being too OTT for future events.
Top tip: Whether it's an intro dinner for an abroad wedding or a rehearsal event for the big day itself, set your dress code early. It's all very well telling your guests 'it's a chilled beach vibe but also, like, quite glam' – for both men and women to understand the vibe you have in your head, you need to come up with a descriptive phrase. Keep it simple – we're eschewing things like 'glamorous romance' in favour of more clear-cut 'cocktail' or 'smart-casual.' Your guests are intelligent enough to know to put a vacation slant on it.
 
The Beach Party
Zimmermann! LoveShack! Three Graces! Oh my! It's the kids-only (read: those between 25 and 35) pre-wedding party, and 'waft' is the aesthetic I'm going for. We're hijacking a beach for the afternoon, and as someone not inclined to parade in front of my nearest and dearest in a bikini, I'm looking to the coolest summer labels out there for an effortless dress or skirt-and-top combo. With a few post-nuptials days in Mallorca and a honeymoon on the horizon, I don't mind paying more than usual for a piece I know I'll wear again, but there's a limit: no £1000 dresses that are reserved for the beach for this bride. The only problem with this one is holding out – with the best summer stuff unlikely to drop much before April, it may have to be a last-minute investment.
Top tip: Consider the point at which you're going to be applying fake tan. Sweltering temperatures and white dresses are not your friend, so whether you're the bride or an attendee, get your tanning and showering down well in advance on any daytime activities.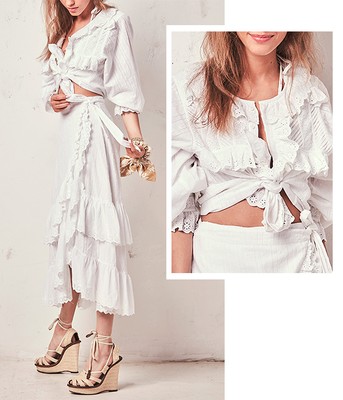 The After Party
Don't tell my guests, but I'm thinking of doing a surprise, late-night change – I'm not sure my elegant bridal gown lends itself to getting low on the dance floor. Followers of Rich Kids Of Beverly Hills star Morgan Fitzpatrick (just me?) will remember her after-party sequined mini skirt and lace crop top; I love the idea of an unexpected flash of leg with some killer heels after all the demure bridey-ness. I'm looking everywhere from Isabel Marant to Rosa Bloom, whose sequinned jumpsuit has been a source of fascination to the whole fashion team since it launched last summer. Watch this space…
Top tip: Remember your grandparents and the Rabbi (or insert alternative religious leader) will still be there. This isn't your hen – there's a balance to be struck.
DISCLAIMER: We endeavour to always credit the correct original source of every image we use. If you think a credit may be incorrect, please contact us at info@sheerluxe.com.