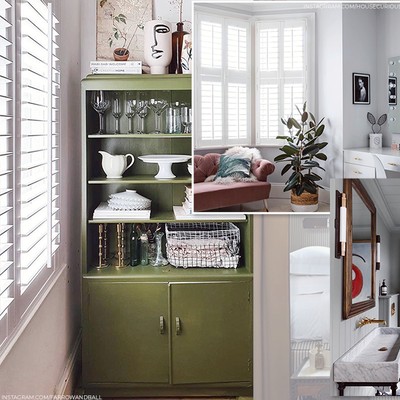 7 Things To Consider Before Installing Shutters

Shutters are a classic window treatment which work in nearly every style of property, adding extra privacy but still allowing for natural daylight to flood in. From installation to materials, cost to function, here's what the experts have to say on them...

You Can Use Them All Over Your House
Shutters are hugely versatile, and if designed correctly, they can complement any room. "Often, they're used in street-facing windows because, as well as looking great internally, they also add a level of privacy and security from the outside world," says Ben Kelly, director at The Shutter Shop. They also offer a chance to showcase original features in a period property. Jennifer Jarvis, senior designer at Helen Green Design, explains: "Rooms that have significant architraves that you don't want to hide behind curtains, or rooms where you want to control the direction of light all work well with shutters. Sitting rooms and bathrooms are ideal locations." When considering safety in kids bedrooms, shutters are also a great option. "When combined with a blackout blind, it provides near full darkness, plus, you have no cords, which is safer for small children," advises Nina Tileva, creative director at The Traditional Shutter Company.
There Are Different Materials To Weigh Up
Shutters can be made from a variety of hardwoods, plastic, polymers or MDF. Each have different properties so, depending on the environment, different materials are better suited. "MDF is more economical and often more resistant to dents and scratches. Hardwood frames provide more durability if they will be heavily operated," Jennifer explains. "Rooms with high moisture or wet rooms should use a full waterproof shutter," adds Ben. "If the window is particularly large, then a hardwood (which is lighter weight) provides better longevity. MDF is probably the most popular material in the UK because it's low cost. Improvements in manufacturing technology and using a hardwood core in the shutter can also strengthen the panel and allows them to be used on most windows." 
You Can Go For Full Or Half-Height
Half-height shutters are a great option for large windows when you want to maximise light but still maintain privacy. "Café-style installation is the preferable option for front rooms, when you like to keep the passers-by at bay, but still have natural light coming though," says Nina. "Often curtains or blinds might be used in conjunction with half height or café style shutters, as they works well together. Full height or tier on tier might be better suited to bedrooms without the need for any other window dressings," suggests Ben. 
Neutral Paint Colours Work Well
There are some choices when it comes to painting shutters but the reason you see more white versions than any other is because most window frames tend to be painted this shade, with shutters matched accordingly. Jennifer suggests neutral colours to match to architrave. "Either try and match the wall colour or provide a crisp contrast," says Laura. "Natural wood shutters offer a warmer feel, too." 
Function Is As Important As Form
Always think about how you intend to use your shutters, advises Ben. "Are the panels going to be closed the majority of the time with the louvres used to adjust the light? If so, you might prefer to use a wider panel (or panels) on the window as the width of the panel opening becomes less of a consideration. If you plan on opening the panels frequently, then you may look to bi-fold them to open away from the window. First, you will need to look at the space you have around the window, and consider a narrower shutter panel width so the panels take up less space in the recess or surrounds of the window when they are open and folded back." For aesthetic appeal from the outside, try and keep shutter panel width consistent across windows, particularly on the same elevation, and also ensure the number of panels and breaks in the panels line up with the natural breaks in the windows. 
You'll Need To Think About Curtains
Curtains and shutters and blinds and shutters can work really well together, you just need to make sure that they compliment each other, practically. "We love to make them a feature where curtains aren't necessarily required, but if you are thinking of layering window treatments, mount the curtains above and extend beyond the architrave," says Jennifer. "They work best together with the shutter panels closed (using the louvers for light) and curtains to soften the look or even just as dress curtains," advises Ben.
Other Things To Watch Out For…
Certain windows suit shutters better than others – for instance, inward-opening windows or those with sloping ceilings nearby may limit how they can be used, but there's usually a way to make it work. "Shutters are often the best or only solution for shaped windows as complex bespoke shapes can be created to mirror and compliment the window and the surrounding architecture," Ben explains. "They can frame the window rather than hiding it."
Visit ShutterShop.co.uk