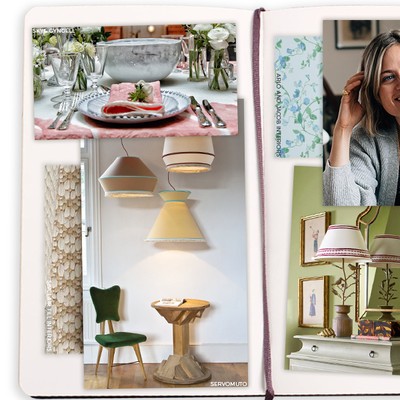 Charlie Porter's Interiors Little Black Book

Founder of online antiques and vintage shop Tat London, Charlie Porter is passionate about interiors. With a background in interior styling, Charlie is known for her ability to find sought-after treasures - think obscure Swedish rugs, ornate wall scones or handmade Italian quilts. Here, we asked her to reveal all of her secrets…

Ceramics 
There's suddenly an excitement around pottery that I haven't experienced before. It could be that I'm now in my thirties and would prefer a beautiful bowl to a designer bag, but the real reason is probably the wealth of talent we have in the ceramics world. The first place to head is Tinsmith in Ledbury; it's an excellent resource and the range of ceramics is fantastic. French Country Pottery is particularly lovely, and it's worth giving Hannah McAndrew and Sean Miller a look, too. It would be remiss of me to not to mention the work of 1882 Ltd; it's base is in Stoke on Trent, which has been the home of pottery since the 17th century. Without companies such as theirs, we would lose this fantastic hub of production. Their roster of collaborations is truly impressive, having worked with such heavyweights as John Pawson and Paul Smith. Even better, prices start from just £15.   
Glassware 
I am a clutz. I'm constantly bashing, dropping and smashing things in my home (not great for an antiques dealer) so with glassware, I usually try and go cheap. For something really beautiful, I would look to Artemest, which specialises in the work of Italian Artisans: its glassware section looks more like pieces of sculpture than something you would drink from. A local shop I love going to is Summerill & Bishop. It does tabletop pieces like no one else. But for someone like me, Zara Home comes up trumps – they always get it right with glassware. 
Textiles 
When it comes to tablecloths, bedspreads and cushions, without a doubt, my first stop is Once Milano. I have one of the handmade linen quilts, and it's one of the only things that makes me look forward to winter. Not only are all the products expertly handmade in Italy, but the colouring is also superb. Another suggestion is the Organic Ticking Stripe bedding by Toast; not only pretty, but also wonderfully tactile. 
Furniture
Looking around my flat, I realise pretty much all of my furniture is antique, apart from an Arlo & Jacob sofa. If I were to start buying new furniture I would go to Pinch. I might have to grow up a bit and stop spilling, scratching and drawing (I always have Sharpies in my pockets) before I can graduate to buying one of their pieces. In the meantime, a few of my regulars include Rowen & Wren, Habitat and Wood Edit, all of which have an excellent range with a terrific mix of styles. My top tip for antique furniture is Cart House. I suggest it to everyone. 
Mirrors 
Svenskt Tenn is, in my opinion, one of the stars of the interior design world. Following the work of Estrid Ericson and Josef Frank in the 1930s, Svenskt Tenn has almost 2,000 designs and around 160 fabric designs on offer. Although all 2,000 designs are not solely mirrors, the few that are, are extraordinarily good. Another place to look is high street stalwart Oka; the range of mirrors is just ace - for a long time I have had my eye on the Ondello Mirror in Venetian Blue. Sophisticated and timeless, there's not much more you could ask for. 
Lights 
A favourite light I have come across is actually more of a lampshade but, either way, it's fantastic - the Easy Wall by Servomuto. Fritz Fyer also has an impressive range of styles, from conservative to off the wall. Jim Lawrence designs are always useful and inexpensive while Pooky can help introduce a little bit of colour into your scheme.
Decorative items 
Pentreath & Hall is run by two design geniuses, Ben Pentreath and Bridie Hall. They have filled their shop with some of the most exciting bits and pieces. Another delight is the Royal Academy shop. You could combine this with a trip to the gallery, but it stands alone, too.

Unusual objects
Jermaine Gallagher's website opens with the line 'a place to acquire, hire and admire offbeat furniture, design and objet d'art.' So, it would be mad to start with anything else. Jermaine's pieces are captivating and unique and you'd be hard pushed to find them anywhere else. Another place of note is the New Craftsmen, a Mayfair-based institution, for all things artisan and interesting. Their shop-come-gallery offers a space for artists and artisans to show off their distinctive and often extraordinary pieces.
Rugs
My first job out of university was working with the rug designer Luke Irwin on Pimlico Road. He has a truly magnificent range of designs, and from that, I realised the craftsmanship that goes into it. Once you see their work, you understand why these pieces cost so much. Two of my other favourites for handmade rugs are Sinclair Till and Christopher Farr Cloth - these rugs equate to art rather than soft furnishings. On the cheaper side, I would look to Ikea. I bought a rug there six years ago, and it always gets compliments.
Art 
A friend of mine, Georgia, set up Partnership Editions a few years ago. It's a terrific place to start and carry on your art collection. She has work from over twenty artists, all in very different in styles and technique. As well as new pieces of art, I'm always on the lookout for older oils. Puckharber offers artwork with charm and character, as well as being a fantastic source for antiques.
Abroad
I think only in my late twenties did I realise how lucky we are to be situated so close to Europe - the amount that can be gained from travelling to Europe is immeasurable. Now that I run Tat, these trips are not only beneficial for me personally, but they are also helpful to my business. Every summer, the crowds flock to France to the brocantes (French flea markets); I went last year for the first time and my eyes nearly popped out of my head. If you are heading to the South of France this summer, do a bit of research and find a market nearby. Closer to home is Kempton in London. I don't go as regularly as I should, but I always have fun when I do. I rarely come away empty-handed.
 
Visit Tat-London.co.uk