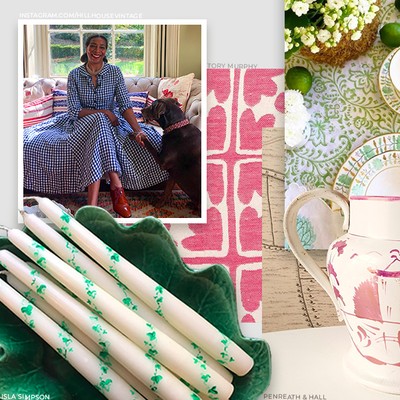 Interiors Little Black Book: Hill House Vintage

Paula Sutton is an interiors writer, stylist and the author of The Hill House Diaries Blog. Known for curating vintage and antique pieces, not to mention her quintessential English country style, she's also a firm believer in achieving the same results, whatever your budget. Here, she opens her little black book to reveal the names she relies on time and again…

Ceramics 
I'm a huge fan of mixing new and vintage pieces, so I like to rummage in antique shops, country brocantes and vintage emporiums for mismatched china, cabbageware and classically shaped vases. For new, I shop for classic designs at Spode, but I also love Burleigh, Birdie Fortescue and Spanish company LVM Ceramics. 

Glassware 
I love creating pretty tablescapes for outdoor lunches and dinner parties, so complimentary glassware in various colours is an absolute must. Oka do fabulous glassware in gorgeous colours, but I'm also a huge fan of Soho Home's chunky and solid Barwell cut crystal. 

Textiles 
I'm an Ian Mankin stripe and check addict – particularly in the peony red and sage green colourways. I had a Victorian button back chair reupholstered in Ian Mankin fabric 19 years ago and it's probably still the item that I'm asked about the most. I also love blowsy, faded floral prints and ticking stripes from Cabbages & Roses, Kate Forman and Peony & Sage, all of which are known for their beautiful vintage look. For modern prints I go to Tori Murphy for bold colours and stripes, and I'm currently loving Eva Sonaike's incredible contemporary African designs.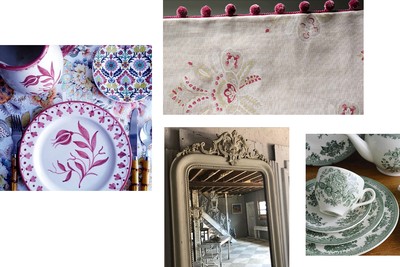 LVM Ceramics; Kate Foreman; C'est Tout Interiors; Burleigh
Furniture 
Once again, my preference is usually to go vintage and then get things re-upholstered in contemporary textiles. However, when I'm not plundering antiques markets, I look for traditional shapes, elegant curved lines, button back upholstery and a mix of painted and dark wood from places like Soho Home, Sofaworkshop and Oka.
Mirrors 
The ones I go for are almost always French and vintage. I found both C'est Tout Interiors and Decorative Antiques UK via Instagram and the founders have now become some of my firm friends. 
Lights 
To counteract the femininity of a space, I love to use metals (particularly aged brass) and more masculine lines when it comes to lighting. I love Pooky, Original BTC and Jim Lawrence. I do tend to soften them up with gathered fabric shades, though. 
Decorative items 
So many of my favourite decorative items are vintage finds, such as my beloved Constance Spry planters, which look divine with or without flowers. But I also love Pentreath & Hall, Tat London and Catesbys' quirky pieces. I've also recently discovered The Edition 94, whose twisted candles I love. Amanda Brooks' shop Cutterbrooks is just sublime, too – I could scoop up the entire shop and take it home.
Rugs 
Edit 58 is a wonderful source for fabulous rugs and textiles, and I've also discovered a few beautiful runners on eBay – you just have to have the patience to scroll! Bombay Sprout in Norfolk – where I live – have some incredibly pretty and colourful designs. Look out for their jute scalloped rugs, all of which can be made to a custom size. 

Art 
My entire home is filled with vintage art. There are also a few pieces painted by my husband's grandfather who was an abstract artist. Natalie Williams at The Medium Room has some wonderful vintage pieces, as does Jazziere at One Off To 25, but I also like to browse regular art sales at places like Cheffins auction house. Despite the misconception of art auctions, there are usually some great bargains to be found. 
Unusual objects 
Matilda Goad, Isla Simpson and Luke Edward Hall are three great resources for unusual bits and bobs – always colourful, always unique and often with a sense of humour. Their pieces stop rooms from looking too formal and stuffy, as well as offering something slightly surreal. Also, I love Tabara at La Basketry for beautiful baskets and homeware.
Tiling
I'm currently redesigning one of my bathrooms, and I've been looking at Otto Tiles who have some stunning designs. And, of course, Fired Earth is always a go to for beautiful quality. 

Shopping Abroad
LVM Ceramics in Spain for plates, Astier de Villatte in Paris for the sort of ceramics you want to frame as art, Madame de la Maison for fabulous tableware and India Amory in the US for block print linens.
 
 
Visit HillHouseVintage.com