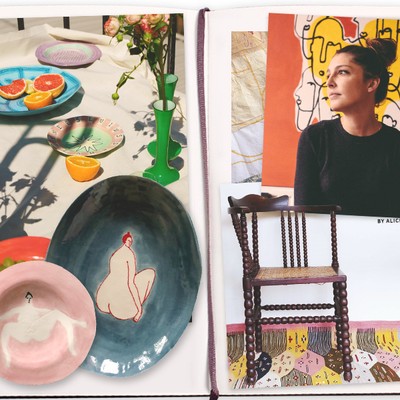 Interiors Little Black Book: Laetita Rouget

After studying at Central Saint Martin's School of Art, French native Laetitia Rouget started her career in fashion. However, it didn't take long for her work to evolve into different mediums, including print, textile, paint and ceramics. These days, her playful and quirky designs reflect her humorous, tongue-in-cheek approach. Here, she gives us a peek inside her little black book at the names she relies on time and again…

Ceramics 
I love to collect different pieces from all over the world. South Africa was one of the first places I discovered the ceramics from Wonki Ware. It's also where I had the chance to meet my favourite artist and ceramist Hylton Nel. He really took the time to show me his beautiful collection, and it's remained a constant inspiration ever since. 

Glassware 
Right now, I have a thing for glassware, and love to collect pieces that don't automatically go together. Ebay is one of my favourite places to source when travel isn't on the cards (I used it a lot during lockdown). Otherwise, I enjoy visiting antique markets, especially in smaller towns. I always check out @CasaViola's beautiful collection of pastel glassware, too, and who doesn't love Murano vases? Orence Store also has a great collection if you're looking for pieces at affordable prices.

Textiles
I'm completely obsessed with Asafo Flag – especially the colours and naivety of the drawings. I've had my eye on them for a long time, but unfortunately, at the moment, it's still a little bit out of my budget. I'm also dreaming about going to Ghana one day and finding the perfect piece during my trip. Alternatively, Maison Art recycle different fabrics to recreate one-of-a-kind pieces. I love their fashion pieces, as well as the way they use fabric and photography to recreate a totally different style and mood from something that might otherwise look quite generic. Finally, one of my friends, Rachel Lattimore, just started work on these personalised blankets that are absolutely beautiful. Today, there are so many options, so it's wonderful to have something unique and personalised. It's the perfect gift for a special occasion.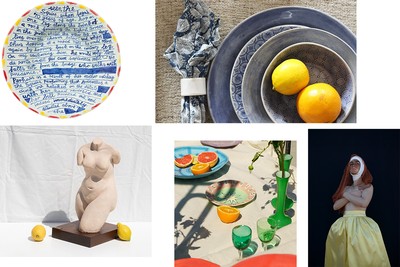 HYLTON NEL, WONKI WARE, ORENCE, EBAY, MAISON ARTC
Lights
The lamp collection from La Veste, with their beautiful bright candy colours, is exceptional. One of their pieces will probably be the first thing I buy when I have my own home. Cressida Bell's collection of hand-painted lampshades are also high on the list. The colours and prints are just dreamy. 

Decorative Items
Marina Mankarios's sculpture has been on my radar for a few months now, and I'm hoping to visit her studio in Paris soon. Her vision and the emotion behind her work is so clear. Orence Store – which I already mentioned – has a great selection of tableware at a very good price – but you need to be quick. Recently, I came across Melissa White's work and completely fell in love with her illustrations. The way she uses paint completely changes a space or an old vintage piece. It's truly inspiring.

Furniture
It really depends on what you're looking for, but at the moment, I'm loving By Alice's selection of antiques and vintage furniture. I'm also a big fan of Alfred and Tessa Newall's work. Tess is an amazing painter and her husband makes fine furniture. Together, they create this complete dream world. 
 
Art 
During the last few months, I've been following #artistsupportpledge on Instagram. It's a great platform for artists and collectors who want to find a special and unique piece at a reasonable price, and support the community. I bought a few pieces that I'm really happy with. Wondering People curates one of my favourite artist collections, too. They're a new online gallery, dedicated to supporting emerging talent, as well as makers and craftsmen. 

Unusual Objects 
I love Ranny Cooper's beautiful sculptures for their sensuality and the reaction they prompt. 

Shopping Abroad 
I always like to shop when I'm visiting a new place. During the last few years, I've spent a lot of time in South Africa, which I've found to be really inspiring. I love travelling to India as well, and always feel a very strong connection with the artisan community there. One of my favourite things to do is discuss different techniques with the craftspeople and learn from them directly. 
 
 
Visit LaetitiaRouget.com