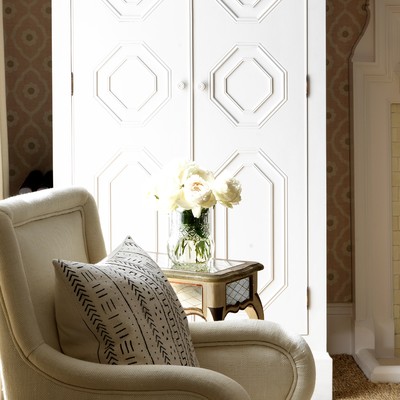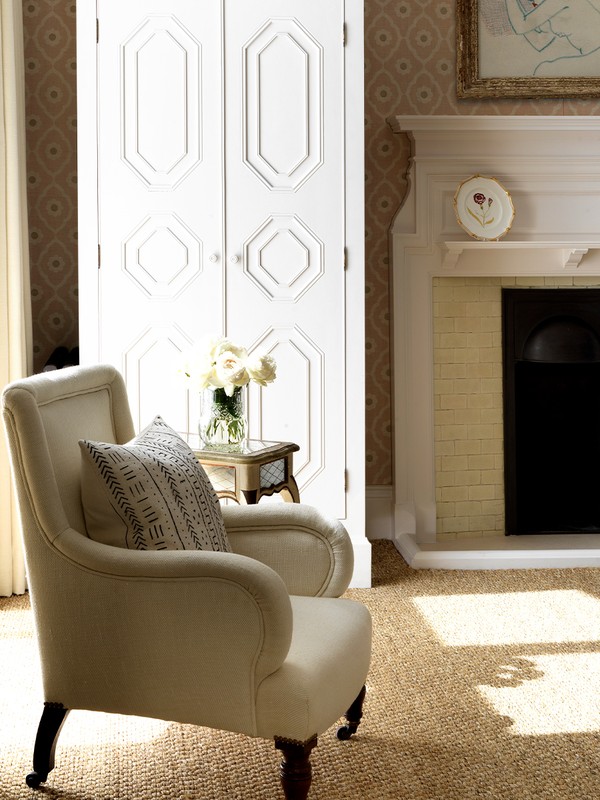 Interiors Little Black Book: Susie Atkinson

From luxury hotels – including Lime Wood, Beaverbrook and Soho House Berlin – to private homes, interior designer Susie Atkinson is known for creating inviting, timeless spaces, thanks for her use of colour, natural materials and different textures. As well as designing her own ranges of furniture, fabrics, wallpapers and home accessories, Susie has an extensive network of suppliers. Here, she shares her favourite shops and brands with us…

By Georgina Blaskey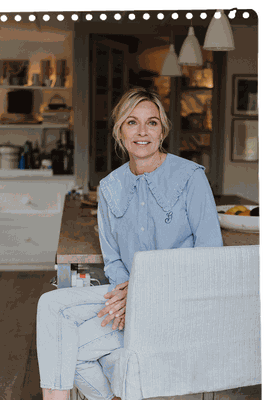 If I could only buy homeware from one place, it would be…
The Apartment in Copenhagen. It is a shop in an 18th-century apartment – and feels exactly like someone's home, but the joy is everything is available to buy. It's a lovely way to shop: you can take inspiration and ideas from the way things are set out and there's always something unique and special to find. I like the cross-section of homeware – from antiques to quirky pieces of sculpture or a poster or painting. The tableware is also gorgeous – hand blown and painted glasses, simple bamboo-handle cutlery – but best of all I like finding extraordinary one-off pieces. I go there with an open mind and who knows what I may come away with.
The most interesting interiors shop is…. 
Svenskt Tenn in Stockholm. I've only been there once and it was on a chilly dark day, but on entering the shop it was filled with colour, light and so many lovely things to look at. I have always admired the work of Josef Fran and his wife, so I was keen to see the fabric and furniture collections there. They were designed in 1940s, but still feel fresh and current today.  There were wonderful displays of furniture, antiques, crockery, cutlery, rugs, artwork, tableware – all my favourite things – so another visit needs to be booked in. 
The coolest interiors shop I've found on my travels is…
Rialto Living in Palma – I love going there for its fantastic range of things: the furniture, lamps, fabrics and rugs but also it has a fabulous clothing section and, even better, an amazing restaurant, so you can hang out there for most of the day and mull over what you might or might not want to buy.
The best department store in the world for homeware is…
The Conran Shop. It continually inspires and excites me. I love seeing the shop window change with each season, looking to see who the up-and-coming designers are as well as the classic mid-century pieces of furniture and lighting. It is a fun place to shop for presents and anything for the home, whether it's a picture, kitchenware, something for the bathroom or a gorgeous rug. It never disappoints and reminds me of how Terence Conran has had such a huge influence on designers around the world. 
The coolest independent interiors brands are…
Tobias and the Angel, The Edition 94, Mimi Pickard for her lovely textiles and wallpaper, and Otzi Design Studios, which specialises in beautifully handcrafted leather goods. 
The best destinations for independent designers and makers are…
Lewes and Rye, both in East Sussex. I particularly love Merchant & Mills which has a shop in Rye.   
The most unexpected destination for great homeware is…
Columbia Road. I love going there for bits and bobs, and home accessories – Straw London is great.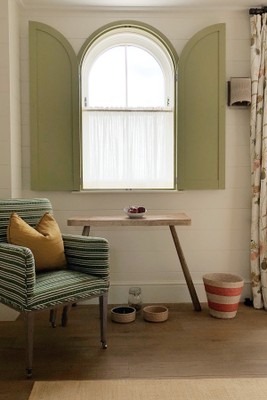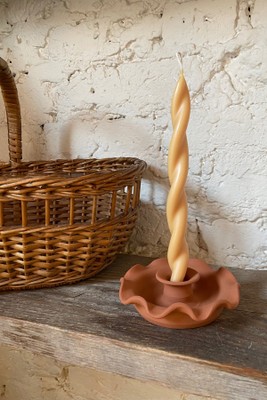 The coolest under-the-radar brand is …
The Drum by Flora Kinnaird – beautiful, framed, hand-pressed Irish seaweed! Also, The Green and Found in Deal, Kent, has lovely lifestyle products.  
My perfect shopping day would include…
Going to an early antiques market, exploring shops in Lille and northern Belgium, followed by a delicious lunch and a glass of something. I love researching an area to try and find an artisan or maker local to where I am shopping. Over the years, I have found basket makers, embroiders, leather workers, blacksmiths, vintage linen hoarders and even candle makers in this way.
The best vintage stores in the world are…
There are so many it is hard to say, but definitely Alex MacArthur in Rye for quirky and interesting finds, and Spencer Swaffer Antiques in Arundel for excellent quality, country and English antiques. For mid-century things I like The Old Cinema, Alfie's Antiques Market and Modernity. Each one has a very different price point, so it does depend on who and what I am buying for.
My favourite vintage piece is…
A 1950s sofa I bought in Miami. It was inspiration for the sofas used on the club floor in Soho House Berlin. It has a very unusual curved shape, is deep buttoned, and has a ruched velvet detailing. The sofa was petite so I had to have it scaled up to work in the large spaces at Soho House – it took a couple of attempts to get it right as changing dimensions on any seating can ruin a piece very easily. I still love them now – they have a feeling of glamour and are incredibly comfortable too.
For something special… 
I go to JamJar Flowers. I love anything floral or handmade and JamJar has beautiful flowers arrangements to buy but also flower presses, pictures of pressed flowers framed in a contemporary way, as well as other lovely and unique things. At Christmas time they make fairies out of sycamore leaves, acorns and dried flowers, and they are completely enchanting.
The best interiors gift I've ever given was…
One of our Sussex Chairs which I gave to my godson as a wedding present. I had the chair upholstered in our traditional black and white ticking and asked my god daughter, who runs @MarnMadeStudio, to embroider the back of the chair with the wedding date and the initials of the bride and groom. I like being sentimental and giving something that is unique.
The best interiors gift I've ever received was…
A painting I was given by artist Michael Vaughan. It's an abstract of two people which I absolutely love. It hangs in pride of place in my sitting room and reminds me of a really special birthday celebration where I walked in the countryside on a blue-sky day, surrounded by family and friends. We picnicked on rugs on the edge of a lake before gathering in a stunning but derelict house to dine and dance the night away.
The most recent item I bought for my home was…
Dipley Wallpaper in blue from our own collection. I have used this in my guest bedroom, and it has transformed it into such a happy and cosy space. The wallpaper is small scale and has a whimsical feel nodding to an 80s vibe – it's pretty blue and white daisies with red centres are cheerful. I love anything with a splash of red in it at the moment – especially when mixed with blue as it warms up the cooler tones
The most expensive investment I have made for my home was…
A beautiful collection of shells from a family in Ireland who had collected them over three generations. The shells are all meticulously ordered and labelled with wooden lollypop sticks in 26 glazed fronted boxes. I have them hanging in a collection up my staircase at home, I really like buying sets of things and hanging them close together on a large wall. I am passionate about shells – such natural beauty is a great wonder of the world. It also reminds me of walking with one of my daughters on the beach shell hunting – and the thrill of finding something special.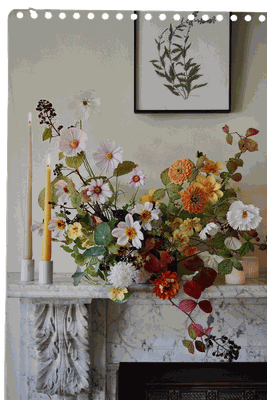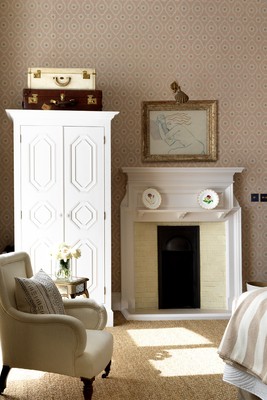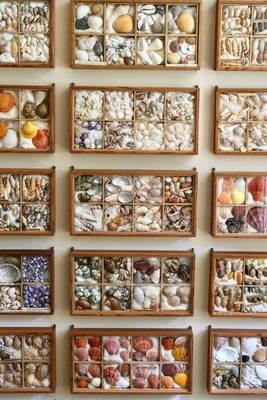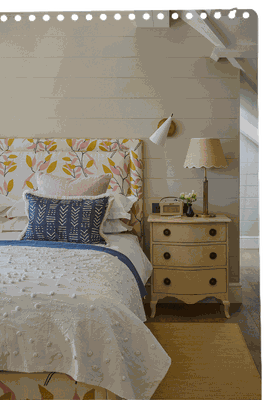 For tableware, I buy from…
A mixture of places. I love the tablecloth I recently bought from Yolke – it's a mass of flowers which I especially love at this time of the year. Hand-blown glasses from 8 Holland Street and ceramics either when on my visits to Mallorca ,where there is a wealth of ceramic studios, or from Charlotte Storrs in Oxfordshire who makes beautiful white ceramics plates, platters and cups, and adds akebia woven handles on platters or vegetable trugs.
For bedlinen, I like….
Buying a mixture of vintage and new bedlinen. London & Avalon and C&C Milano both give you the option to bespoke your bedlinen, for example adding embroidered initials or a contrast trim. I like to have some small colour detail on bedlinen if only so I know which room it's to go in – my linen cupboard is a bit of a jumble. I like buying vintage patchwork quilts and Welsh blankets to style the end of the bed and I enjoy hunting for vintage fabrics to use as a bolster or scatter cushion on the bed.
For glassware, I go to…
Antique shops and markets as I like vintage glassware. Green & Stone on the Fulham Road is great. If I was buying new glasswear, I'd buy from William Yeoward or The New Craftsman. But I feel old glassware has more character and beautiful shapes, and it is so easy to find at auction houses and in places like Green & Stone.
For art, I look at….
As many exhibitions as possible, and auction houses are a great place to buy art from. Jenna Burlingham Art Gallery has a great choice of contemporary and modern British art. For new and quirky artwork, I really like Wondering People.
For soft furnishings, I like…
I love slipcovers on sofas and chairs in plain linens as they can be easily removed and washed. I also love the throws from Anthropologie and De Le Cuona, and cushions from Elitis. Penny Worrall always has a fantastic selection of vintage fabric which she mixes together to make cushions, so you will always come away with something unique.
For furniture, I buy from….
A cross-section of auction houses, and shops in Hungerford, Petworth and Pimlico Road. If I'm in London, I would go to Lillie Road and Pimlico Road, but for me I like trawling through markets either here or in Belgium or France. There is something exciting about the early morning starts, the bartering with antique dealers, and finding a bargain or something unique.
The item I regret not buying is…
A pencil drawing by Stanley Spencer at The Decorative Antiques Fair many years ago. Spencer was the first artist I studied at school, and I actually found his work rather sad and depressing, as from memory there were many graveyards and ghost-like people appearing in his work. But this sketch was uplifting and without colour – it would have been nice to have something that marked the beginning of my fascination with the artworld.
If my house was burning down, I'd save…
Woody, my 14-year-old Cocker Spaniel. would also rush to save a painting of angels my son did for me when he was seven years old; he made it after a close girlfriend of mind passed away. It is hanging in my bedroom and is completely perfect and reminds me of her every time I look at it.
Next on my shopping list is…
Maybe a new house. After 20 years in the same house I feel like a change may be nice – alternatively a little place in the sunshine so that January and February can be spent in the light and somewhere a lot warmer than here!
Visit SusieAtkinson.com
DISCLAIMER: We endeavour to always credit the correct original source of every image we use. If you think a credit may be incorrect, please contact us at info@sheerluxe.com.