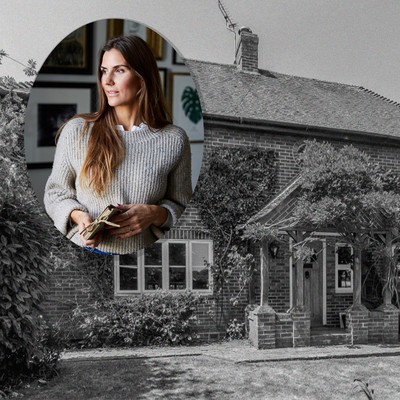 An Interior Designer's Home Renovation: Meet The Project

Earlier this year, Jojo Barr, founder of House 9, the successful interior design practice behind stylish hotel Gara Rock and numerous private residential projects, upped sticks and left London for the countryside – and a full renovation project. In the first of a series following her design journey, Jojo introduces us to her new home and the challenges it presents – as well as the solutions she has in mind.

Why We Decided To Move
It was October 2020. Living in West Hampstead with my husband Brad, our two-year-old daughter Ziggy and a new baby girl Rocket, we decided that we would start to think about maybe – just maybe – making the move out of our beloved London. Covid had given us that all-important breather from our ships-passing-in-the-night lives and a bit of space to reflect. Now we were a family of four, if we were going to move, we wanted to find a house where we could invite our friends and family to stay for the weekend, and that was also big enough for me to hide from the children when needed (for work, of course!). Other absolute must-haves were that the house had to be rural, off the beaten track but close enough to London so that we could still easily drive or commute to our offices. But first and foremost, for me, the house had to be a project. I wanted a house that I could put my stamp all over. My work life is spent renovating homes for other people and it was about time I renovated one for myself again. I wanted a real doer-upper.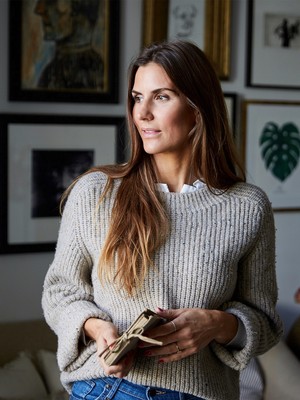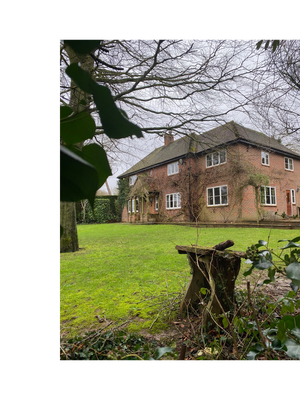 How We Found Our House
Both being busy with our kiddy-juggling, work-clogged lives, we decided to enrol the help of a house-buying agent to just – very lightly – put some feelers out for us, with a view to buying the following summer. Just two weeks and one very short viewing later, on a cold and rainy morning with absolutely stonking hangovers to boot, we fell hook, line and sinker for the first and only house we ever saw – a very dated, overgrown country house in need of a whole lot of love and attention (and a whole lot more cash to do it). We placed a cheeky offer, it got declined. We upped our cheeky offer, it also got declined. So, we settled for a shaving off the asking price, and we had our house. We were moving out of London!  A relatively quick five months later, we had the keys. 
What The House Is Now
The house is situated in a little village in Buckinghamshire, not far from Henley-on-Thames in the Chiltern Valley, an area of 'Outstanding Natural Beauty'. And that it is, let me tell you. The agents described the house as a 'charming home' with brick elevations under a clay tile roof. It has been extended, not too well, over the years. The ground floor compromises an entrance hall, living room with an open fire, dining room and family room, kitchen with breakfast area, utility room, downstairs loo and small boot room. Upstairs, there's a master bedroom with an ensuite bathroom, four further bedrooms, a family bathroom and landing/dressing area. There is also a separate double garage with a room on top that we have plans to convert into a self-contained granny annexe. 
We wanted to live in the house before we did anything to it, to really get to know it, understand how the light moves around it at different times of day. Having these few precious, yet somewhat testing, months in the existing house has meant that not only have I had to learn some serious control and restraint, it really has taught me everything I need to enable us to make this into our perfect family home and to ensure that I truly maximise its potential.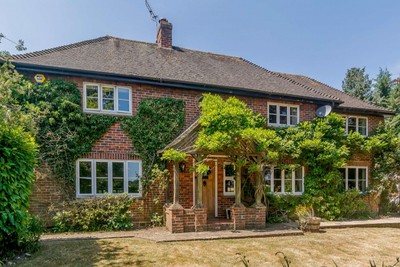 What We Plan To Do
Over time, we will be completely refurbishing the house, top to bottom. The first priority is to replace all the windows as, not only are they broken and leaking a lot of heat, they are UPVC and do nothing to add to the charm of the house. The house really needs insulating and we are looking into the possibility of solar panels, potentially on the rear of the garage or on the stable block. The long galley-style kitchen is currently situated at the back, in the darkest side of the house, with no access to the garden or those views out across the valley. We intend to move the kitchen to the front of and knock through this side of the house to create a large open-plan family kitchen/dining/living space, with a new side extension and French doors out to the patio and garden.  I also intend to relocate the staircase to the back of the house – again, maximising the entry hall and creating a bigger more useable space. This will also allow for more space on the first floor to add an ensuite to the main guest bedroom.  The master suite is being reconfigured and I will be maximising storage wherever possible with built-in joinery.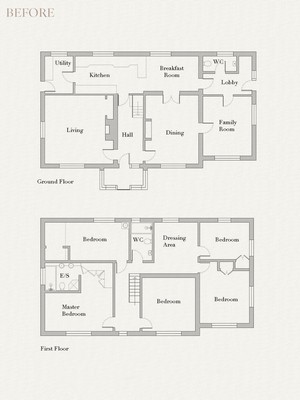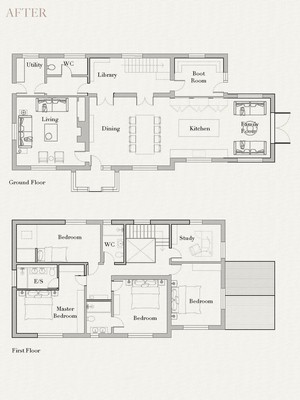 How I'm Getting Started
All in all, we expect the renovation to take in the region of 18 months. To start with I've decided to decorate the rooms that won't be undergoing any structural changes, the first one being the living room – I'll save the horror show of inherited brown carpet and half-height curtains for my next update! We will also be decorating Ziggy's room, then moving onto Rocky's room and one guest bedroom and bathroom.  We will incorporate the other rooms into the main renovation that will be happening at the end of next year.
Next time: The Living Room….
Visit HouseNine.co.uk and follow @HouseNineDesign
DISCLAIMER: We endeavour to always credit the correct original source of every image we use. If you think a credit may be incorrect, please contact us at info@sheerluxe.com.