10 Easy Flatbread Recipes To Make This Week

Flatbreads are delicious, versatile and pretty simple to make. From Mexican tortillas to Indian naans, they can be filled with everything from Korean greens and smoked salmon to ricotta and asparagus. Here, ten chefs explain how to make your own at home – plus, some tasty topping suggestions if you decide to go down the shop-bought route.

How To Make Your Own Flatbreads
Chef Koj, Learning with Experts, Japanese Cuisine
Ingredients
300g

of organic plain flour, plus extra for dusting
Method
Step 1
Mix the butter and milk together and heat until the butter has melted.

Step 2
Add the flour and salt to a mixing bowl or direct on a clean worktop and incorporate the melted butter and milk. Knead for 3-4 minutes until smooth – add more flour if it is sticky (organic flour usually takes more liquid).

Step 3
Cover in cling film and rest at room temperature for 20-30 minutes.
Step 4
Dust the worktop with flour, cut the dough into 4 pieces and roll each piece into a ball. Roll out each bowl to less than half a centimetre thick.

Step 5
Pre-heat ½ tbsp of oil in a non-stick pan over a medium-high heat. Cook each flatbread for 1-2 minutes until it puffs up, then flip it and cook the other side.

Step 6
Stack the flatbreads inside a clean tea towel (trapping the steam helps make them softer for folding). You can brush the flatbreads with melted butter or garlic butter.

Ingredients
350g

of self-raising flour
Method
Step 1
Mix together all the ingredients and shape into a ball.
Step 2
On a floured surface cut the dough in half and leave half aside.
Step 3
Cut into six and roll into small balls. Gently press each ball into a flatbread shape.
Step 4
Fry on a medium heat in a dry frying pan until brown and crispy on each side.
Inspired? Here are eight recipes and toppings to try…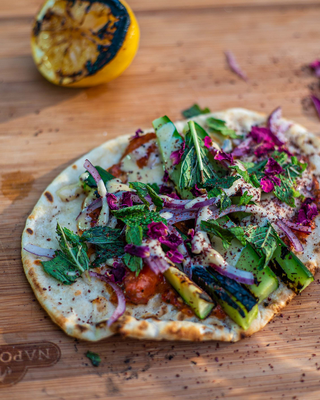 Grilled Cucumbers & Burnt Harissa Flatbread: Neil Rankin, Temper
Method
Step 1
Throw the garlic into the fire in some foil.

Step 2
Grill the chillies and tomatoes until black and toast the spices. Blend or use pestle and mortar to make the harissa.

Step 3
Grill the onions, courgettes, cucumbers and lemons.

Step 4
Add the lemons to the tahini and honey.

Step 5
Grill the bread then plate everything on top.

Step 6
Top with the sauces, sumac and herbs.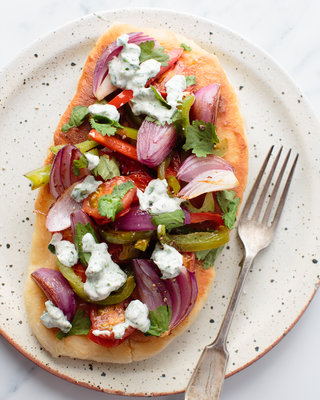 Loaded Vegan Maple Naan: Maple From Canada
Ingredients
For the bread:

250g

of strong white flour
8

tbsp

of low-fat soy yoghurt
2

tsp

of fast-acting yeast
Method
Step 1
Mix the dry and wet bread ingredients separately.

Step 2
Combine all ingredients and knead for 5 minutes, cover with cling film and leave to rise for 60-90 minutes in a warm place or until it has doubled in size.

Step 3
Once risen, divide into six pieces and shape into rectangles 2cm deep.

Step 4
Fry each in a lightly oiled pan on medium heat for 3-4 minutes, until browned.

Step 5
Remove from the pan and leave to cool on a wire rack, repeating the process until all naans have been cooked.

Step 6
In the same pan, fry onion on high heat until starting to brown, add the peppers and tomatoes and fry until softened.
Step 7
Brush naan with melted sunflower spread and add the fried vegetables and sprinkle coriander. Mix remaining yoghurt with chopped mint and dollop on top.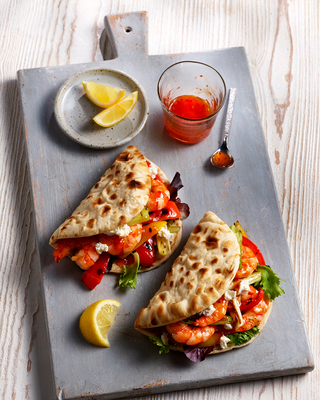 Prawn Saganaki, My Deli Kitchen
Ingredients
1

red or yellow pepper, or a mixture of both
175g

of shelled raw tiger prawns
Salt and ground black pepper
1

handful of mixed salad leaves
25g

of feta cheese, crumbled
A drizzle of sweet chilli sauce
Method
Step 1
Slice the pepper and cut the spring onions in half. Put on a plate with the prawns and drizzle with oil, salt and pepper and toss to coat.

Step 2
Cook the vegetables and prawns on a hot griddle pan, turning until chargrilled on both sides before transferring to a plate. Cut each of the spring onions into three pieces and squeeze over the lemon juice. Warm the flatbreads on the griddle pan.

Step 3
Heap a handful of salad leaves in each of the warm flatbreads, then top with the vegetables and prawns. Sprinkle over the feta and sweet chilli sauce. Serve straight away with a squeeze of lemon.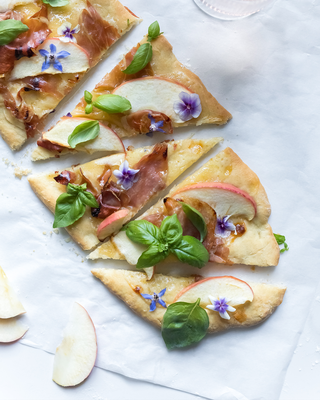 Pink Lady Apple, Cheddar & Prosciutto Flatbread: Mirabeau
Method
Step 1
Prepare the dough: in a bowl, combine water, sugar and yeast. Leave to rest for 5 minutes. In the bowl of your stand mixer, combine flour and salt. Add the yeast mixture and the olive oil. Using the dough hook attachment of your stand mixer, mix until the dough is smooth. Cover with a tea towel and leave to rise in a warm place until doubled in size (it should take 1 to 2 hours).

Step 2
Line two baking sheets with parchment paper. Transfer dough onto a floured surface. Take half of it and roll it into an oblong shape of about 5mm thickness. Place it onto the baking sheet, then repeat with the rest of the dough. Keep aside for 10 minutes. In the meantime, pre-heat the oven to 200°C. Bake for 10-12 minutes until golden, poking bubbles that might form with a knife or fork to deflate them.

Step 3
Remove the baking sheet from the oven. Add thin slices of cheddar, shredded prosciutto and thin slices of apples on the flatbread. Drizzle with honey and bake for another 10 minutes. Add a handful of fresh basil and pepper to taste just before serving.

Step 4
Serve with a green salad and a chilled glass of rosé.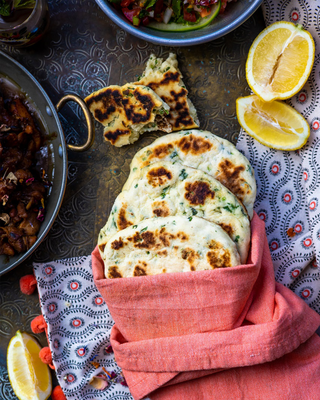 Garlic & Watercress Flatbreads: Watercress.co.uk
Ingredients
2

tbsp

of watercress, finely chopped
Method
Step 1
Add all the ingredients for the flatbreads to a large bowl. Mix until combined, you are looking for a soft but not too sticky dough so add a little extra flour if needed.

Step 2
Turn onto a lightly floured surface and knead for 3-5 minutes or until soft and fully hydrated. Cover with a damp tea towel and rest for 10 minutes.

Step 3
Weigh the dough and divide into 6 balls. Roll each ball so it is approximately 5-8mm thick, the thicker the dough, the fluffier the bread.

Step 4
Heat the oil over a medium heat and cook each flatbread for 2 minutes each side or until puffed and lightly charred, stack and store wrapped in foil (they can be warmed in the foil in a low oven if making in advance).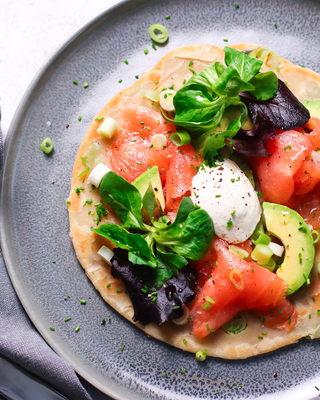 Korean Spring Onion Flatbreads With Smoked Salmon, Avocado & Horseradish Cream: Gemma Simmonite, Gastrono-Me
Ingredients
For the flatbreads:

5

spring onions sliced, save some for dressing the plate
For the horseradish cream:

15g

of creamed horseradish
1

small pinch of dried red chilli flakes
1

tbsp

of snipped chives, save some for dressing the plate
Ground black pepper and salt, to taste
To serve:

A selection of baby leaves
Method
Step 1
Add the flour and salt to the bowl of a food processor and pulse for 10 seconds. With the motor running pour in the boiling water in a slow stream and continue until the dough starts to come together.

Step 2
On a floured surface knead the dough a little and put in a bowl covered with cling film and allow to prove at room temperature for 30 minutes, or overnight in the fridge.

Step 3
When proved, divide the dough until 4 equal pieces.

Step 4
Take one piece of dough, (keep the rest covered until finished with the first) and roll into and 8-inch circle. Brush lightly with garlic oil and give a sprinkle of salt, then sprinkle with a quarter of the spring onions. Carefully roll the dough into a snake shape, then shape into a coil finishing by tucking the end underneath. Flatten the coil with your hand and again roll into an 8-inch circle. These steps are important because this re-rolling creates the flaky deliciousness of the crispy flatbread

Step 5
Continue with the other three flatbreads in the same way and keep them under a damp clean cloth until ready to fry.

Step 6
Add 1 tbsp of vegetable oil to a non-stick frying pan and set over a medium heat. When hot carefully slide 1 flatbread into the pan and cook on one side until golden, approximately three minutes, then cook on the other side the same. Keep warm in a very low oven until all the flatbreads are cooked.

Step 7
For the horseradish cream, in a bowl simply beat all the ingredients with a wooden spoon until combined, taste to make sure of your flavours and tweak where necessary, then chill until required.

Step 8
Place a warm flatbread on each plate and arrange with curls of smoked salmon, avocado slices and leaves. In the centre decorate with a dollop of horseradish cream. Sprinkle with more spring onions, chives, ground black pepper, a drizzle of garlic oil and a wedge of lemon.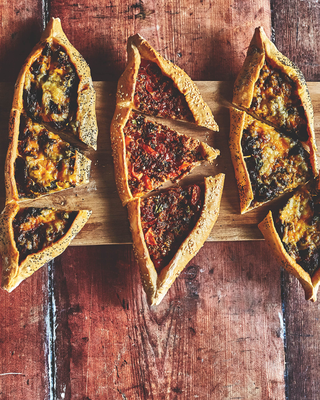 Turkish Pepper Pide: Henry Russell, Belazu
Ingredients
For the dough:

3

sachets of active dried yeast
For the meat filling:

½

red onion, peeled and finely chopped
8

cherry tomatoes, finely chopped
10g

of flat leaf parsley, finely chopped
2

tbsp

of Turkish pepper paste
For the veg filling:

1

red onion, peeled and finely sliced
2

tbsp

organic extra virgin olive oil
½

lemon, zested and juiced
2

tbsp

Turkish pepper paste
To finish:

1

tbsp

seeds, e.g. sesame, poppy or black onion
Method
Step 1
Combine the flour, sugar and salt in a bowl and mix together. Dissolve the yeast in the water, make a well in the middle of the flour mixture and add the water. Bring the flour and water together with a knife until combined, turn out onto a clean work surface that has been dusted with a little bit of flour, knead for 5 minutes, adding more flour if necessary, to stop it sticking. Put the kneaded dough back in the bowl, cover with a damp tea towel and leave to rest for 30 minutes.

Step 2
Divide the dough into 4. Roll into a ball, cover and allow to rest for a further 15 minutes. Whilst the dough is resting, you can start to prepare your fillings. For the meat filling, put all the ingredients in a bowl, season well and mix until combined and then set aside.

Step 3
For the veg filling, place a large pan on a medium to high heat, add the olive oil and when hot add the onion. Fry for 3-4 minutes until soft and then add the spinach and season with the salt and pepper. Cook until just wilted, remove from the pan and place in a colander to allow the excess liquid to drain. Put the spinach in a bowl, add the lemon zest and juice and the pepper paste and mix well.

Step 4
Preheat the oven to 240°C. Get two baking trays ready, lined with greaseproof paper. Dust a clean work surface with flour and use a rolling pin to roll each ball of dough into a large rectangle and then place on the tray.

Step 5
Divide each filling between two rectangles of dough and spread into a thin even layer. Fold up the edges by 2cm around the rectangle and pinch the dough together at the top and the bottom, leaving you with a boat shape. For the veg filling, spread the cheese over the spinach mixture and repeat the folding technique.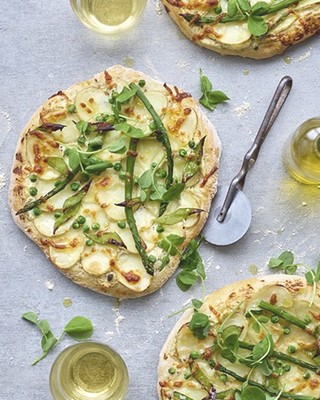 Ricotta & Asparagus Flatbread: Jersey Royals
Ingredients
For the base:

500g

of strong white flour, plus extra for dusting
1

tsp

of easy-blend yeast
For the topping:

300g

of Jersey Royal potatoes, sliced thinly
75g

of asparagus spears, trimmed
2

smoked garlic cloves (or just use normal), finely chopped
2

tbsp

of olive oil, plus extra for drizzling
75g

of mange tout, sliced
75g

of peas, defrosted if frozen
100g

of grated mozzarella
15g

of parmesan cheese, freshly grated
Method
Step 1
In a large bowl, combine the flour, yeast, sugar with ½ tsp salt and 400ml of tepid water. Mix into a dough, tip the dough out onto the work surface and knead for five minutes until smooth and elastic. Return to the bowl, cover loosely with a tea towel and leave to rise in a warm place for 30 minutes or until it has doubled in size.

Step 2
Bring a pan of water to the boil, add the potatoes and simmer for five to six minutes until just soft. Add the asparagus for one minute, then drain and refresh in cold water. Beat the ricotta with the garlic, olive oil and plenty of freshly ground pepper and some salt.
Step 3
Preheat the oven to fan 200°C. Dust a couple of baking trays with a little flour. Divide the dough into four pieces and roll out or hand stretch as thinly as you can.

Step 4
Spread with the ricotta mixture, top with the potato slices, asparagus, mange tout and peas. Then scatter over both the mozzarella and parmesan cheese and bake for 12-15 minutes until golden and the base is crisp. Serve hot drizzled with extra olive oil and the pea shoots.

DISCLAIMER: We endeavour to always credit the correct original source of every image we use. If you think a credit may be incorrect, please contact us at info@sheerluxe.com.