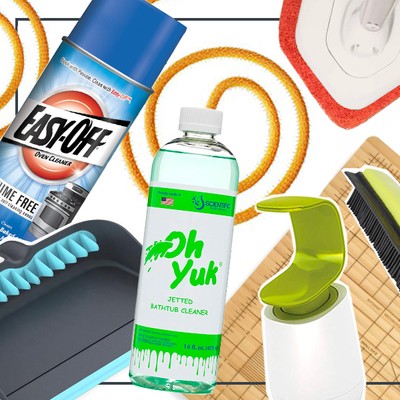 10 Handy Cleaning Gadgets You Didn't Know You Needed

If ever there was a moment to lead a clean life, it's now – and we're not talking health, we're talking home. We've scoured the the internet to find the handiest household products that we've never heard of before but need in our homes right now.

1. No Fume Oven Cleaner
You know the feeling when you finally get around to cleaning your oven and you have the either leave the house for six hours or risk becoming delirious from all the fumes coming out of the kitchen? This is the product you need: Easy Off Oven Cleaner is an overnight solution that'll get rid of all the grime from inside your oven and it's completely fume-free (but has a lovely lemon-fresh scent). And judging by the amount of five-star reviews on Amazon, it really does the trick.

2. Broom Groomer
Channel your inner Monica Gellar with this nifty tool – once you're done sweeping and your broom is filled with stray hairs and dust bunnies, you can brush its bristles through the teeth attached to the Broom Groomer dustpan (with a handle that you can hold in your hand or stand on, depending what kind of broom you're using) so it's fresh and clean for next time.

3. Fred Obsessive Chef Chopping Board
When cooking for guests, we all want to impress with our chef skills – but as we probably all know, it can very easily go wrong, when our crudités are all different shapes, sizes and lengths. This Chopping Board will appeal to the obsessive chef in all of us: burnished with guide lines of different grid sizes and angles, it'll help you make eight different impressive cuts: medium dice, small dice, brunoise, fine brunoise, batonnet, allumette, julienne, and fine julienne. Your friends will never have seen such attractive carrot sticks.

4. Palms Up Soap Dispenser
If you're a clean freak, you've probably contemplated how clean it really is washing your hands after chopping meat when you've got to put your dirty hand on the soap pump to get the liquid out. Your hands are now clean, but the soap dispenser is dirty… Anyway, before you get lost in a downward spiral of cleanliness, this Palms Up Soap dispenser allows you to pump out soap without having to put your dirty mitts all over the dispenser. Problem solved!

5. Pumice Stone (For Cleaning Toilets)
Beauty fans will know that pumice stones are great as a skin exfoliant, often used in pedicures to remove dry skin from the heel of your feet. But perhaps more surprising is how well these little hunks of volcanic rock clean toilets. In fact, you can get these Kuulander pumice sticks to use down the loo – they're said to get rid of even the most stubborn limescale build-ups.
6. Rubber Broom
The Smart Clean Rubber Broom is one of those things that, once you've used it, you'll be unable to fathom how you lived without it for all this time. There's no surface that a rubber broom can't handle. Patios? Great. Decking? Even better. Getting pet hair out of carpets? It's the best. Throw out your normal broom immediately and replace it with this.

7. FlexiSnake Drain Cleaner
Anyone who has grown up around women will know that blocked drains due to hair is a real thing (not to mention the bane of your life). But what do you do about it? Pour bleach down there? Hook it out with your finger? No – you get a FlexiSnake. Known as a 'drain millipede', this 18-inch tool has over 4000 hook and loop micro-hooks that's able to grab onto drain hair without you having to disassemble the stopper. And it's reusable – just remove the hair and clean with soapy water and a brush.

8. Jetted Bathtub Cleaner
For those of you that are lucky enough to have a hot tub, you'll likely to know that if they're not cleaned regularly, it basically turns into a filth cauldron of dead skin cells and built-up body oils. Which is why you must clean them thoroughly – Oh Yuk's Jetted Bath Tub Cleaner gets into all the nooks and crannies of the jets to ensure you're having the cleanest hot tub experience there is.

9. Extendable Tile Scrubber
Never underestimate how much easier this OXO Good Grips Extendable Tile Scrubber will make your cleaning regime – particularly for those a little on the short side. Trying to clean the hard-to-reach top tiles in the bathroom is no easy task. This sturdy steel pole extends from 66cm to 103cm, while the angled cleaning head pivots and has an anti-microbial abrasive pad to ensure a thorough and extensive clean.

10. Brabantia Laundry Folding Board
Folding your shirts like they belong in a Moss Bros window display is HARD. But Brabantia's Laundry Folding Board makes it easy – or easier, at least. The board has instructions on it to show you how to have a crease-free, fancy fold to your favourite shirts, making them easier to slip into a drawer if you've run out of space in the hanger section on your wardrobe.
DISCLAIMER: We endeavour to always credit the correct original source of every image we use. If you think a credit may be incorrect, please contact us at info@sheerluxe.com.