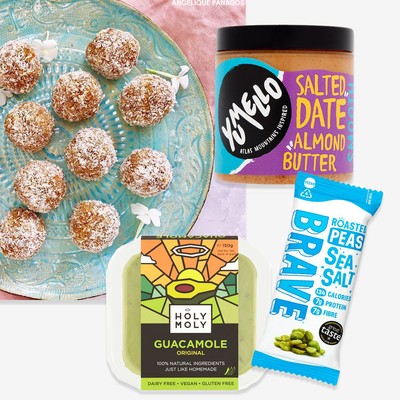 10 Women In Wellness Share Their Go-To Healthy Snacks

If your snacking habits aren't as healthy as they could be, help is at hand. We asked some of the wellness industry's top names to share their go-to snacks – from protein-packed smoothies to better-for-you sweet treats, here's what they turn to for a mid-afternoon pick-me-up.

Emilia Herting, co-founder of Escapada Health and TCM practitioner
"On busier days when I might end up skipping lunch and needing a snack in the afternoon, I always have a handful of nuts – usually almonds, walnuts or Brazil nuts – and a couple of Medjool dates. It's a nutritious and filling combination. I also stock up regularly on Foodloose's nut bars, which are great to have to hand. Their Coco Caramella bar is my favourite – it's packed with cashews, coconut, sea salt and vanilla and is gluten and lactose-free."
Visit EscapadaHealth.com
Isabel Zapf, founder of Z-Ora Nutrition
"Dark chocolate is my go-to snack when a craving hits. You can't go wrong with some good quality dark chocolate, especially if it's at least 70% cocoa. My favourite recent discovery is Chokay's Almond Speculoos – it's my new guilty pleasure. A mix of dates, almonds and spices coated in dark chocolate, it's absolutely delicious and feels like a treat while still be relatively healthy. Each serving contains a good amount of fibre and healthy fats. I also love a flat white and often make a caffeine-free version with Chikko Not Coffee, which is made with roasted chicory root. I always serve it with a splash of oat milk, and often add a spoon of raw cacao powder, too."
Visit Z-Ora.com
Keri Perkins, founder of We Are Boogie Sound
"Because I lead an active lifestyle, snacks are essential to keep energy levels topped up. My go-tos include homemade kale chips, which I roast in the oven and serve with a sprinkle of vegan parmesan and organic almonds, which are simple but so nutritious. If I am heading to a yoga class or am out and about, I'll always pop a Pri's Pudding snack in my gym bag. The Pop Squares, which are suitable for vegans and are gluten-free, are addictive – they're like healthy mini Pop Tarts."
Follow @WeAreBoogieSound
Angelique Panagos, registered nutritional therapist and author
"When I'm looking for a quick snack, I often go for apple and nut butter with a sprinkling of cinnamon; seaweed thins; green olives with boiled eggs, cherry tomatoes and avocado; or mashed avocado mixed with pesto as a dip for crudites. When I have a sweet craving, I turn to dates, which I cut in half and stuff with almond butter. If I have time to prepare something in advance, I make a batch of my almond cashew protein balls, which are packed with fibre, protein and healthy fats to keep you full and satisfied. If you're hungry, don't be afraid to eat a smaller-sized meal, such as some leftovers from the night before or a small bowl of soup."
Visit AngeliquePanagos.com
Hilary Rowland, co-founder of Boom Cycle
"I used to drink a lot of green juices but am now more aware of the benefits of fibre so make an effort to eat whole fruit and vegetables over their liquid counterparts. If I'm at work, I tend to grab a couple of punnets of berries or a bag of tangerines, which I keep on my desk and snack on throughout the day. In the evening, I'll often make a homemade guacamole, which is versatile and packed with healthy fats."
Visit BoomCycle.co.uk
Lolade Alakija, nutritional therapist and certified health coach
"I'm a creature of habit when it comes to snacking. My staple, which I eat regularly throughout the week, is peanut butter on sourdough toast topped with banana slices. You can't beat this combination – not only is it simple and satisfying, but it also offers a balance of macronutrients to balance blood sugar levels, with fibre and protein to keep you full until your next meal.
Follow @LoladeHolisticHealth
Kathryn Danzey, founder of Rejuvenated
"Brazil nuts have superfood status thanks to the fact they're brimming with healthy fats, protein, antioxidants, vitamins and minerals. The Brazil nut is also the richest-known food source of selenium, an essential mineral and antioxidant. Just two per day will provide you with enough selenium for the day. I also love a protein-packed smoothie – Rejuvenated's Chocolate Protein Smoothie contains 21g of organic pea protein with cacao. Throw this into a blender with some frozen black cherries and almond milk for a nutrient-rich snack. The powder also contains inulin, which keeps you full for hours."
Visit Rejuvenated.com
Rhian Stephenson, registered nutritionist, naturopath and founder of ARTAH
"As a rule of thumb, I don't tend to snack much nor do I recommend it as a habit, but there are times when it's necessary. Keep snacking simple – you can't beat carrots and red pepper with hummus, or a bowl of blueberries with a handful of walnuts. If I'm near a juice bar, I'll pick up a green juice, which is hydrating, and we can often feel disproportionately hungry if we are dehydrated. Plus, since juice is absorbed immediately, it's great for immediate energy." 
Visit Artah.co
Jenna Hope, registered nutrition consultant
"Brave Peas are some of my favourite snacks – they're rich in protein and contain nearly 7g of fibre per serving, which will stabilise blood sugar and energy throughout the afternoon. Moorish Smoked Hummus also offers the perfect combination of protein, complex carbohydrates and healthy fats – serve with carrots for an extra portion of vegetables. If you want something sweet, try Nakd's Salted Caramel bars, which are the perfect size for snacking."
Visit JennaHopeNutrition.com
Paola Langella, integrative nutrition health coach
"Nut butter is a great snack as it's so versatile but be sure to buy oil-free nut butter, ideally made with 100% almonds or peanuts. Dark chocolate is also a good snack when you fancy something sweet – I eat 100% cocoa where possible. Montezuma's do a fantastic range of dark chocolate, which is worth trying if you're looking for a healthier sweet snack."
Visit PaolaLangella.co.uk
DISCLAIMER: Features published by SheerLuxe are not intended to treat, diagnose, cure or prevent any disease. Always seek the advice of your GP or another qualified healthcare provider for any questions you have regarding a medical condition, and before undertaking any diet, exercise or other health-related programme.
DISCLAIMER: We endeavour to always credit the correct original source of every image we use. If you think a credit may be incorrect, please contact us at info@sheerluxe.com.