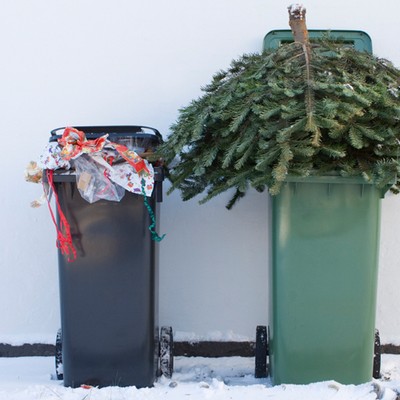 12 Ways To Minimise Waste This Christmas

From mountains of leftover food to miles of ripped-apart wrapping paper, Christmas is a time of year when waste can really pile up. With more of us conscious of our carbon footprint these days, we've rounded up some handy tips to keep your festive season a bit more sustainable…

Don't Turn Fairy Lights On During The Day
Most of us will have a tree up by now, while the more adventurous might have added lights outside their homes too. Ideally, the lights will be LED – and only turned on during the evening, then switched off at midnight. You could rig up a timer system or simply remember to manually switch them off; either way, this sort of schedule will keep energy bills low and minimise disruption to the neighbours.
Try Making Your Own Decorations
If the tree is looking a tad bare this year, resist the temptation to seek out more expensive baubles to fill the empty space. Instead, use any leftover materials or packaging to fashion some homemade trinkets. The end result might not be quite as stylish, but it'll provide hours of entertainment for little ones, and will be full of festive memories. If it becomes a tradition, remember to date mark each item, so you remember who made what and when. Handmade decorations crafted by the kids also make the perfect gift for a grandparent or elderly relative. 
Walk To A Friend's House Or The Pub
When it's freezing cold or lashing down with rain, it's tempting to jump in the car – even for the shortest of journeys. Chances are we all own the right weather-proof gear for a short walk. Whether you're heading to a Christmas party around the corner or the local pub for a last-minute get-together, consider walking there. It'll help minimise the impact on the environment, while giving everyone a short burst of exercise in the fresh air. 
Do A Christmas Party Dress Swap
Charity Hubbub recently found the UK spends an average of £2.4bn on Christmas partywear which barely gets worn. Although the office Christmas party always feels like the perfect excuse to add something new to your festive wardrobe, there could be an eco-friendly way to track down a new outfit. Suggest to friends or colleagues that everyone brings one dress or top to a 'swap' event where people lend each other pieces to see them through the party season. As long as there's the understanding that items will be returned clean and in the same condition, it could give everyone the wardrobe update they're looking for. 
Donate Or Reuse Unwanted Gifts
Don't automatically throw unwanted gifts away. Edible, but not your taste? Think about taking it into the office to share round. A household item you already own or doesn't fit with your décor? It might make a good gift for someone else – just ensure friendship groups aren't likely to overlap! As for books you've already read, they too can be moved on easily. If you really feel you're at 'peak stuff' suggest to friends that material gifts aren't necessary and offer to go for a lunch or a drink to celebrate the festive season instead.
Upcycle Any Packaging
No matter how smartly we all try to shop, it's sometimes impossible to avoid packaging altogether. If recycling doesn't feel good enough, consider upcycling empty materials. Jam jars make simple yet effective votive holders, while empty ice cream tubs are a good alternative to Tupperware. It's also an opportunity to get creative –check out Pinterest for crafty ideas about turning empty wine bottles into olive oil holders, or empty takeaway cartons into portable pet dishes.
Use Recyclable Wrapping 
Statistics show Britons throw away more than 230,000 miles of Christmas paper every year – enough to wrap around the world nine times. Ribbons are almost always salvageable, so keep them back to reuse next year. Meanwhile, look out for schemes from companies like Lush, which offers reusable gift wrap options on its products. Finally, check your roll is fully recyclable. If it's dyed, laminated or contains non-paper additives such as gold and silver coloured shapes or glitter, it's unlikely. Any lingering sticky tape could also result in a local recycling authority rejecting it. The 'scrunch' test is a good one: if your paper scrunches well, chances are it's recyclable. 
Buy Your Christmas Food Loose 
It's all too easy to keep dropping into the supermarket on your way home to top up on festive snacks or get ahead of the Christmas rush on potatoes and vegetables. Where possible, try not to buy festive food in layers of plastic packaging. A local greengrocer is more likely to sell vegetables and potatoes loose, while assembling your own simple canapés at home will cut back on the mountains of complicated plastic – most of which probably won't be recyclable. Writing out a list ahead of any shopping trips can help reduce unnecessary 'extras' that end up going to waste.  
Recycle What You Can On The Day
Disposable roasting trays for turkeys often emerge from the oven covered in grease and fat. They can only be recycled once they're completely clean, so think about whether you'll have to use an unnecessary amount of water to get it spotless. Foil used to cover leftovers in the fridge is usually in a good enough condition to be recycled, as is the plastic base turkeys arrive on. Just ensure any plastic packaging isn't black: the lasers used at recycling plants generally can't see black objects to be sorted correctly. If you're still confused, give the recycling guidelines on packaging a proper read through. 
Build An At-Home Compost
Food waste is something many of us feel guilty about this time of year. Instead of throwing away leftover vegetables or unloved roast potatoes, why not fashion an at-home compost heap? Compost is an organic material that can be added to soil to help plants grow, while food scraps and other garden waste makes up more than a quarter of what we throw away. Government guidelines recommend we compost it instead. Great for those with a garden, but you might try popping down to the local allotment to see if they need any help too.
Ban The Party Poppers
It's New Year's Eve and guests are looking to get in the party mood. But party poppers are one of the hardest things to recycle. The paper inside isn't usually glossed or laminated, so it can be recycled or put on the compost heap, but the plastic bottle-shaped containers are nothing short of an environmental nightmare. Many of them are coloured, making them automatically non-recyclable, while others are covered in sticky glues or glitter, which also makes them a big no-no. If you really don't want to go without, consider seeking out a biodegradable or recyclable version, like these. 
Recycle Your Tree
Real trees are fully recyclable and can be shredded into chippings which are then used locally in parks or woodland areas. Sticking yours on the pavement for the green bin men to collect isn't the only option for disposing of the Christmas tree. You could strip the branches and saw the stem to use as firewood in January and February. The needles, which decompose slowly, can be used as mulch for the garden. Artificial trees are typically made from materials which cannot be recycled, but unwanted trees which you don't plan to use again next year might be accepted by charity shops for re-sale. 
Always remember to check your local authority website for more information on recycling guidelines.
DISCLAIMER: We endeavour to always credit the correct original source of every image we use. If you think a credit may be incorrect, please contact us at info@sheerluxe.com.