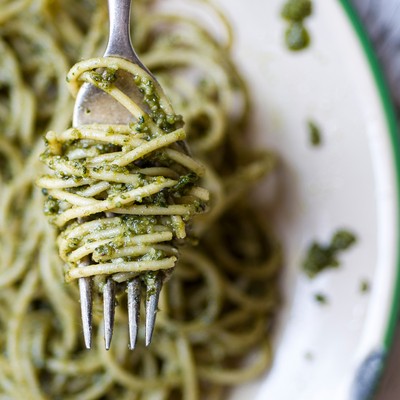 15 Healthy Ways To Enjoy Comfort Food

Whether your winter warmer of choice is macaroni cheese, sticky toffee pudding or a bowl of chips, it's possible to put a healthy twist on comfort food classics. From simple ingredient swaps to alternative cooking methods, these healthier options will satisfy your cravings – without the calorie hit.

Comfort food doesn't have to be heavy and full of calories. Here Owen Morgan, the chef & owner of Bar 44 & Estrella Galicia Gastronomy Ambassador shares some easy swaps…
Olive oil is a great substitute for butter in a bechamel sauce if you're looking to cut saturated fat content and calories.

Try subbing natural yoghurt and olive oil into potato toppings for shepherd's pies, cottage pies, fish pies etc rather than all the butter and cream that usually goes in. A great trick that still makes your dishes really tasty.

At home, I love using wafer-thin layers of courgette, pumpkin or squash to replace the pasta layers in lasagne, as well as using zero-fat natural yoghurt instead of white sauce, cheese sauce or bechamel sauce. 

If you still want to make chips, par-boil wedged potatoes, then strain and evaporate the moisture before chuffing like you would for roast potatoes. Next, lightly dress with olive oil and then roast them, rather than deep-fat frying. You still get a deeply crispy chip, which is soft and fluffy in the middle, without all the extra oil. If you're after healthy fish and chips, just remove the batter element and frying altogether and have a beautiful piece of pan-roasted cod. 

Substituting mash in sausage and mash with a can of butter beans whizzed up with some olive oil, seasoning and spices is another great alternative. Though don't bother with low-fat sausages – some things have to be enjoyed! 
Visit Bar44.co.uk
Inspired to cook comfort food? Here are nine full recipes to try…
Healthy Mac 'n' Cheese: Maryanne Hall, Vegan Recipe Club
Make It Healthier By: Using veggies instead of cheese.
This sauce is really easy to make and tastes really cheesy, even though the main ingredients are potatoes and carrots. You can use the sauce anytime you need a cheesy sauce, such as in pasta bakes, cauliflower cheese, jacket potato and nachos.
Ingredients
300g

of macaroni, plus water for cooking
For the cheese sauce:

Optional extras: Wilted spinach (just add to the pasta a few minutes before end), fried cherry tomatoes, mixed seeds, fresh rocket, fresh basil, vegan parmesan, steamed broccoli, fried mushrooms, garden peas and mixed chopped nuts.
Method
Step 1
Bring the macaroni to the boil and then simmer according to the instructions on the packet or to your preferred texture.

Step 2
Peel the potatoes and carrots and cut them into small chunks. In a large saucepan, bring them to the boil and then simmer until soft (around 15 minutes).

Step 3
Drain the water and then add them to the blender.

Step 4
Add all the other ingredients to the blender and then blitz until really smooth.

Step 5
Add the cheese sauce straight onto the pasta and stir through until fully covered.

Step 6
Add any of the optional extras or enjoy the dish on its own... it's great either way.

10-Minute Spaghetti
Make It Healthier By: Swapping normal pasta for edamame pasta.
Ingredients
200g

of edamame spaghetti (you can find this in most health food shops)
1

clove of garlic, finely chopped
200g

of mushrooms, sliced
2

large handfuls of spinach
Optional extras: Toasted pine nuts, a few tablespoons of nutritional yeast and a handful rocket per person.
Method
Step 1
In a large frying pan, cook the mushrooms in a little oil until soft. Add the garlic after a few minutes of cooking.

Step 2
Add the cherry tomatoes and spinach, stirring occasionally. Heat for a few minutes until the spinach has wilted.

Step 3
While the veggies are cooking, place the spaghetti in a large saucepan, add water, bring to the boil and then simmer for around 5 minutes or until just soft.

Step 4
Drain the spaghetti and mix together with the vegetables and pesto.

Step 5
Season then top with rocket, pine nuts and nutritional yeast.

Sticky Toffee Pudding: Justine Murphy, MyMuyBueno
Make It Healthier By: No dairy or refined sugar.
My sticky toffee pudding is plant-based, so no butter or eggs, and I use coconut sugar too for the toffee sauce, swapping out cream for coconut milk. This creates an equally delicious and rich pudding that rivals the original but is much more guilt-free and healthy.
Ingredients
For the pudding:

110g

of coconut oil, plus extra for greasing
200g

of medjool dates, pitted
200g

of self-raising flour, sifted
1

tsp

of bicarbonate of soda, sifted
1

tbsp

of apple cider vinegar
For the toffee sauce:

400ml

of tinned coconut milk, shaken well before opening
Method
Step 1
Preheat the oven to 170°C and lightly grease a small heatproof lasagne or pie dish with coconut oil.

Step 2
Add the water and dates to a small saucepan and simmer for 5 minutes, until the dates have absorbed at least half of the water, then use an immersion blender to whizz them into a purée.

Step 3
In a small saucepan, melt the coconut oil and then pour it into a bowl with the coconut sugar and stir until all the sugar has been dissolved.

Step 4
Stir the flour and bicarbonate of soda into the coconut oil and sugar mixture, then mix in the almond milk and maple syrup.

Step 5
Lastly, stir in the date purée and apple cider vinegar. Mix until everything has been well incorporated and the batter is smooth.

Step 6
Pour the mixture into the prepared dish and cover tightly with foil. Bake for 1 hour and 10 minutes, until a toothpick inserted into the middle of the pudding comes out clean.

Step 7
To make the sauce, add all your ingredients to a saucepan over a medium to high heat, stirring to combine everything while it comes to the boil and starts to thicken.

Step 8
Remove the pan from the heat and pour the toffee sauce into a jug ready for serving. You can make this in advance and store it in the fridge, then gently reheat in a saucepan before serving, or make your toffee sauce while the pudding bakes. Pour it while hot over your servings of sticky toffee pudding.

Chicken Ramen
Make It Healthier By: Using maple syrup over honey, sugar or mirin.
I use maple syrup to sweeten my ramen broth as it's so much better for you, and like to enjoy it with chicken, salmon or just extra shiitake mushrooms and pak choi. This is also amazing with salmon or even just vegetables. The broth is full of flavour and after a long day this really hits the spot. 
Ingredients
4

skinless chicken breasts
3

tsp

of garlic, peeled and grated
2

tsp

of fresh ginger, peeled and grated
1

.2 litres of vegetable or chicken stock
200g

of shiitake mushrooms, thinly sliced
4

packs of dried ramen noodles
100g

of pak choi, sliced in half lengthways
Handful of fresh coriander
Method
Step 1
Preheat the oven to 180°C and season the chicken generously with salt and pepper.

Step 2
Add the sunflower oil to a frying pan on a medium heat, then lay the chicken breasts into the pan. Cook for 5 minutes until the chicken is golden brown. Turn the breasts over and cook for another 5 minutes until golden on both sides.

Step 3
Transfer the chicken breasts to a baking tray and roast them in the preheated oven for 15 minutes, until cooked through. Remove the chicken from the oven, transfer to a plate and cover loosely with foil until ready to serve.

Step 4
Next, make the ramen broth. Heat the sesame oil in a large pot over a medium heat, until simmering. Add the garlic and ginger, cook for a few minutes until softened, then add the soy sauce and maple syrup. Stir to combine then cook for another minute. Add the stock, cover the pan, and bring to the boil.

Step 5
Remove the lid, turn the heat down, simmer the broth uncovered for 10 minutes, then add the mushrooms. Simmer gently for a further 10 minutes to allow all the flavours to develop.

Step 6
Add extra salt to taste then add the ramen noodles and pak choi to the broth and cook for 2 to 3 minutes. Once they are ready, use tongs to divide the noodles and vegetables between bowls. Top with your sliced chicken breast (no end bits) and ladle over the broth.

Step 7
Add half a soft-boiled egg to each bowl along with some fresh coriander, togarashi and a lime wedge to serve.

Pepperoni Pizza: Lo Dough
Make It Healthier By: Using a low-carb base.
Who doesn't love a pepperoni pizza? Delicious though it is, all that meat and pizza dough can be problematic for people trying to adhere to a lower-calorie, lower-carb and lower-fat diet. That's where Lo-Dough comes in – used as a pizza base, calories are minimised, leaving you to enjoy the pepperoni as a once-in-a-while treat.
Ingredients
1

piece of Lo-Dough, lightly fried on both sides in spray oil
Method
Step 1
Preheat your oven to 250°C/Gas Mark 9.

Step 2
Spread the passata across the dough in a thin layer, right up to the edge.

Step 3
Spread most of the grated cheese on top of the passata and then add the pepperoni. Add the last sprinkle of the cheese and then put the pizza in the oven for 7 minutes or until golden and bubbling.

Step 4
Serve with a crack of black pepper on top.

Penne Rigate with Tomato, Basil, Aubergine & Garlic: Barilla
Make It Healthier By: Swapping minced beef for aubergines.
Ingredients
40ml

of extra virgin olive oil
2

medium aubergines, sliced thinly
1

clove of garlic, chopped
300g

of plum tomatoes, chopped
50g

of parmigiano reggiano, grated
Method
Step 1
Bring a large pot of water to the boil.

Step 2
Meanwhile, heat a drizzle of extra virgin olive oil in a large pan over medium heat. Add garlic and sauté for 1-2 minutes, or until garlic turns golden in colour.

Step 3
Add aubergine to the pan and sauté for an additional 3 minutes.

Step 4
Add the tomatoes and basil; simmer for 2 minutes and season with salt and pepper.

Step 5
Cook the penne according to package instructions, then drain and toss with sauce in the pan.

Step 6
Sprinkle with cheese and serve.

Turkey Meatballs: Tesco
Make It Healthier By: Swapping beef or pork for turkey mince.
Feed your family right with this simple, delicious and nutritious turkey meatball traybake recipe. Serve the meatballs and vegetables with torn basil leaves before topping liberally with homemade cucumber yogurt.
Ingredients
1kg

of baby potatoes, halved (or quartered if large)
4

garlic cloves, left whole and lightly crushed
2

red of onions, cut into wedges
336g

pack of turkey meatballs
75g

of pitted green olives
150g

of low-fat natural yogurt
¼

cucumber, coarsely grated, excess liquid squeezed out
5g

of fresh basil, leaves picked
Method
Step 1
Preheat the oven to 220°C/ 200°C Fan/Gas Mark 7. Put the potatoes and garlic in a large, deep baking tray, drizzle with ½ tbsp oil and season. Roast for 20 minutes.

Step 2
Add the onions, pepper and meatballs to the tray, drizzle with the remaining oil and season with pepper. Return to the oven for 10 minutes, then stir in the tomatoes and olives. Roast for 10 minutes more.

Step 3
Meanwhile, mix the yogurt and cucumber in a bowl; lightly season. Serve the meatballs and veg with the basil leaves torn over and the cucumber yogurt spooned over.

Cajun Fries: The Tofoo Co
Make It Healthier By: Using tofu instead of potatoes.
Ingredients
For the Cajun seasoning:

1

tsp

of ground black pepper
Method
Step 1
Add 1cm of sunflower oil to a frying pan and bring to a medium heat.
Step 2
Take the tofu and cut it length ways into batons 1cm x 1cm.

Step 3
Mix all the Cajun ingredients together with the flour and toss the tofu batons until well coated.

Step 4
Fry the tofu fries, turning until golden brown on all sides.
Step 5
Put the fries in a bowl and serve with dips of your choice.
Vegetable Lasagne: Discover Great Veg
Make It Healthier By: Swapping minced beef for vegetables.
Ingredients
500g

of sweet potatoes, cut into

1cm

slices
9

sheets of fresh lasagne
300g

of low-fat cottage cheese
125g

pack of low-fat mozzarella, grated
Method
Step 1
Preheat the oven to 200oC, gas mark 6.

Step 2
Cook the potatoes in a large saucepan of boiling water for 4-5 minutes, add the kale and cook for a further 3 minutes. Drain.

Step 3
Meanwhile, heat the oil in a frying pan and fry the onion for 2-3 minutes, stir in the tomatoes, stock, nutmeg, potatoes and kale. Bring to the boil and season.

Step 4
Spread a thin layer of kale mixture on the base of a shallow 2 litre dish, top with 3 lasagne sheets, spread over half of the remaining kale. Top with another 3 sheets lasagne. Spread over the remaining kale and then the last 3 lasagne sheets.

Step 5
Mix the egg and cottage cheese together and season, spread over the lasagne and sprinkle with cheese. Bake for 30 minutes until golden and cooked throughout.

DISCLAIMER: We endeavour to always credit the correct original source of every image we use. If you think a credit may be incorrect, please contact us at info@sheerluxe.com.