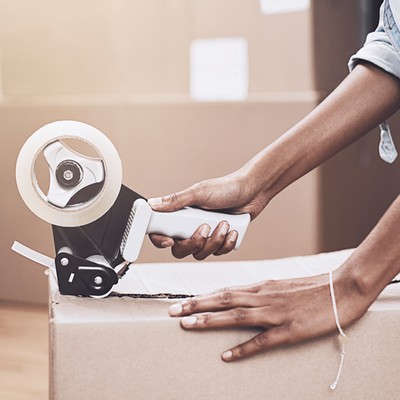 16 Things To Do Before You Move Out

Moving house is stressful at the best of times – throw in a pandemic, and it can sometimes feel like you're pushing uphill and the world is against you. If you're moving any time soon, to help you get organised ahead of the big day, we consulted a couple of moving experts to create a helpful to-do list.

Think about the cleaning situation
You might not think it necessary to clean the home you're about to leave, but you'll certainly want to think about how clean the home you're moving to is. Ahead of time, arrange for the professionals to come in either on day one or two and consider specialists, like carpet and window cleaners, too. Finally, take it from someone who knows – but depending on the history of the house, it's been known to have someone come in and sage the place of negative energy before you start your new life there.
Make a list of everyone who needs to be notified
"Think of everyone who is reliant on your current address," advises the moving team at removal company Pickfords. "As well as friends and family you'll need to tell your employer, your children's schools, your doctor, dentist, optician, bank, building society, insurance companies, and so on. Consider all the people and organisations who call on you or send you post and let them know you're moving."
Adjust your utility providers & subscription services
For all utility bills, as well as any subscription services such as magazines or food parcels, you should change your address with the service provider directly. "You may have to battle call queues, but it will be easier to sort it out in advance than trying to locate a missing bill when it urgently needs to be paid," advises the Pickfords team. "Only do this a week in advance to reduce the risk of post turning up at your new address before you get there. Also, remember your TV licence doesn't automatically change when you move house, so you should notify them of your change of address or risk having to pay a fine of up to £1,000." Finally, make sure your Wi-Fi is set up ahead of your arrival and get any applications for parking permits underway in good time.
Consider the curtains
It may well be the case that the new place won't have curtains (or that the current owners want to take it with them) – so it's worth thinking about how your first night might go. To that end, it might be a good idea to borrow or invest in some temporary blackout blinds, most of which can be purchased online. 
Book a removals company
When you book your removals company, you will need to give an estimate of how many items you'll be moving, advises the team at storage facility Safestore: "If you're not sure where to begin with choosing a removal company, you may want to check out British Association of Removers." Ahead of time, you can also begin packing those non-essential items, or putting some larger possessions into storage temporarily if necessary.
Find out what packing materials your removals firm supplies
"Speak to your removal company as early as you can to see what type of packing materials they will provide you," the Pickfords team agrees. "Those more conscious of how their belongings are organised could pack certain items, but it is recommended that you leave the packing to the experts at your removals firm."
If in doubt, throw it out (or donate or recycle it)
It's only when you come to move home that you discover how much of a hoarder you are. "As nice as it would be to keep all of the bits and bobs you've acquired over the years, you will have to be disciplined when sorting through your items," warns the Pickfords team. "If you don't use it now, consider whether you'll ever use it. If the answer is no, then get rid of it. For everything you don't wish to take with you, make a box for items that can be donated to charity, items that can be recycled and items to be disposed of."
Arrange storage for items wanted but not needed
"For belongings that you don't use now but can anticipate yourself using in the future, such as seasonal patio furniture or camping equipment, you may wish to consider placing those items into storage," advises the Pickfords team. If in doubt, there are decluttering services out there that can help you sort through your items to find those that aren't essential to you, and then place them into storage.
Pack the non-essentials 
Items such as DVDs, books and seasonal clothes should be gathered together to be packed. "These are the type of items that you might not use daily but like to have them accessible in case you want them," explains the Pickfords experts. "If you're concerned about any items breaking, you should leave them to one side and explain this to your professional packer."
Arrange for the council to pick up large, unwanted items
If you're not sure your old furniture and wardrobes will fetch anything if sold, you may have to arrange for the local council to come out and remove them. "This could come at a charge, depending on your council and the type of items, but it is something you will have to take care of, or you could be subject to a fine," advises the Pickfords team. "Another option would be to sell or donate these items. Try Gumtree for selling old furniture or see if you can donate it to a local charity."
Check what the current owners are taking
It's happened more than once, so take it from us that current owners can take far more than you expect with them – think light switch covers, all the lightbulbs and even picture and door hooks. Be prepared and think about booking a handyman for moving day to help you cover the basics should there be any nasty surprises. 
Make sure your home insurance covers you from the day of the move
Consult your home insurance documents to make sure they cover property as part of the moving process. "With a lot of heavy lifting in your old and new home, there is a possibility that the property may be damaged, so find out what your liability will be should this happen," explains the Pickfords team. "Alternatively, contact your insurers for personal advice and information, especially if you are considering changing insurance providers, as you may be able to push for a better deal."
Arrange any child and pet care for the day of the move
The day of the big move is usually quite hectic and busy, so the last thing you want is to have a little one (whether that be a child or a pet) running around to make the day even more complicated. "Try to arrange for family or a registered childminder to look after your little ones while you move house," suggests the Pickfords team. "For pets, you could take advantage of a pet shipping service to make sure they reach your new home safely."
Pack a moving-day survival kit
When the big day comes, you may not have time to pop to the shop if you need something essential. A survival kit should therefore include: a kettle, milk, tea, coffee, mugs, bread, bottled water, toilet roll, toiletries, cutlery and plates. "When you get your new home, there's a chance the water and electricity may not be switched on yet, particularly if your home is a new build, so try to pack items that will make your life easier in a world without amenities," advises the Pickfords team. 
Keep your valuables close
"Keep valuables, important documents and paperwork in a safe place away from the chaos of packing," advises the Safestore team. "Include any documents you need for moving and you can keep this with you in the car on moving day. Know where you've put all your important documents, such as: tax paperwork; birth certificates; marriage certificate; passports; and driving licences."
Have one last walkthrough 
Finally, check over your house one final time. "Have you forgotten to strip your beds or left toiletries in the bathrooms? Are any greenhouses or garages fully clear? Collect all of this up and clear down completely," suggests the Safestore team." Then, try to load your van logically if you're doing it yourself, grouping by room. If you have movers, be sure they know what is going with you and what is staying. On your final goodbye to your house, you will want to check everywhere is clear. Clean down your house from top to bottom and remove any rubbish. Don't forget to leave all your sets of keys for the new owners, too."
DISCLAIMER: We endeavour to always credit the correct original source of every image we use. If you think a credit may be incorrect, please contact us at info@sheerluxe.com.