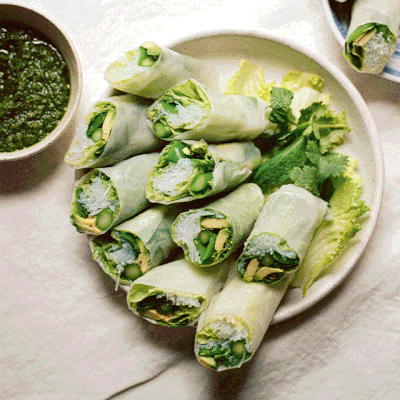 4 Springtime Asian Recipes To Try

Hetty McKinnon is a vegetarian cookbook author and food writer. In 2011, she established Arthur Street Kitchen, a local salad-delivery business run out of her home in Sydney. In 2015, she and her family relocated to Brooklyn, where she promptly published three bestselling cookbooks: Community, Neighbourhood, and the award-winning Family. As the editor and publisher of the multicultural food magazine, Peddler, Hetty also hosts its podcast The House Specials, and is a regular recipe contributor to The New York Times, Bon Appetit and Epicurious. Here, she shares four tasty springtime recipes to try at home…

All products on this page have been selected by our editorial team, however we may make commission on some products.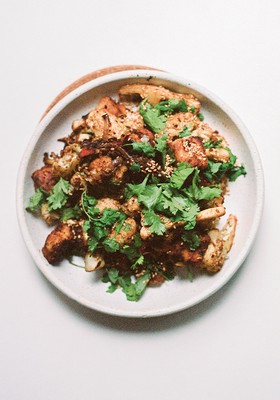 Cumin Tofu Stir-Fry
While cumin is one of the most-used spices in my pantry, using it in Chinese cooking is completely new to me. In Chinese cuisine, cumin lends more complexity, which makes otherwise familiar dishes taste foreign. At Xi'an Famous Foods in New York, the unique cuisine of Xi'an in northwest China tastes unmistakably like the confluence of China and the Middle East. Dishes are heavily spiced with cumin, chilli and Sichuan peppercorns, resulting in bold, not for the faint of heart, flavours. I was particularly intrigued by the sound of their signature lamb dish, with chunks of meat dry-fried in a heavy cumin spice mix. This is my take on the dish, featuring tofu and cauliflower.
Ingredients
Vegetable or other neutral oil
½

-1

long red chile, sliced diagonally (remove the seeds if you prefer less heat)
2

.5cm piece of ginger, peeled and finely chopped
1

garlic clove, finely chopped
300g

of cauliflower, cut into florets
Big handful of coriander leaves
1

tbsp

of toasted white sesame seeds
For the tofu:

1

tbsp

of tamari or soy sauce
1

tbsp

of shaoxing rice wine
400g

of extra-firm tofu, cut into

¾

inch cubes
For the spice mix:

2

tsp

of gochugaru (Korean red chile flakes), red chile flakes or Sichuan chile flakes
Method
Step 1
For the marinated tofu, combine the tamari or soy sauce, Shaoxing rice wine and sea salt in a bowl. Add the tofu cubes and toss to coat. Allow to marinate at room temperature for 20-30 minutes.

Step 2
Meanwhile, to make the spice mix, combine all the ingredients in a small bowl and set aside.

Step 3
Drain the tofu. Place the cornflour in a deep bowl, add the marinated tofu cubes and toss gently to coat.

Step 4
Heat a large frying pan over high heat; when hot, drizzle with oil and add the tofu cubes, arranging them in one layer. Reduce the heat to medium and allow the tofu to cook, undisturbed, for 1-2 minutes, until the bottom is golden. Flip the tofu over and cook until golden on all sides. Transfer the tofu to a plate lined with paper towels to drain. Wipe out the pan. Add a little more oil to the pan, toss in the onion, chile, ginger and garlic and stir-fry for about 1 minute until fragrant. Add the cauliflower, season with sea salt and stir-fry for 4-6 minutes until the cauliflower is just tender. Add the tofu, along with the spice mix, and stir to combine. Take the pan off the heat.
Step 5
Taste and season with a touch of sea salt if needed. Top with the coriander and sesame seeds, then toss everything together and serve with rice.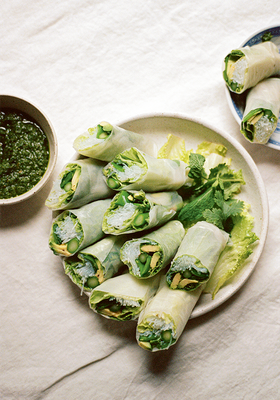 Springtime Rolls With Miso-Kale Pesto
If spring had a flavour, it would be these brightly herbaceous spring rolls. The asparagus, snow peas, lettuce and abundant herbs provide a fresh, crisp mouthful, perfect for a gathering or a fun roll-it-yourself midweek dinner for the family. Rice paper rolls are incredibly versatile – fill them with your favourite seasonal vegetables and add some pan-fried tofu if you're looking for protein. The miso-kale pesto dipping sauce makes the ideal companion; the miso adds a gentle umami, balancing perfectly with the earthy kale and sunflower seeds. If you're looking for a new go-to vegan pesto recipe, this is the one.
Ingredients
12

asparagus spears, woody ends removed
85g

of snow peas, trimmed
100g

of mung bean or rice vermicelli, soaked in water for

15

minutes
12

romaine lettuce leaves
1

avocado, cut into thin wedges
Handful of cilantro leaves
Handful of basil or Vietnamese mint leaves
For the miso-kale pesto:

2

garlic cloves, roughly chopped
45g

of toasted sunflower or pumpkin seeds
1

tbsp

of white miso paste
185ml

of extra virgin olive oil
Zest and juice of

½

lemon
Sea salt and black pepper
Method
Step 1
For the miso-kale pesto, bring a saucepan of well-salted water to the boil. Add the kale leaves and cook for 30-60 seconds, just until they are wilted and bright green. Remove from the water with tongs (keep the water for the other veggies), place in a colander and rinse under cold water. Drain, then squeeze out any excess water. Roughly chop the kale and place in a food processor or blender. Add the basil, garlic and seeds and whiz to a paste. Add the miso, then slowly drizzle in the olive oil, lemon juice and about 2 tablespoons of water and blend again until combined. Stir in the lemon zest and season with sea salt and black pepper, then set aside.

Step 2
If your asparagus spears are long, snap them in half so they are about 4 inches in length. Bring the pan of salted water back to the boil, drop in the asparagus and snow peas and cook for about 1 minute until they are bright green. Remove from the water with tongs (keep the water for the vermicelli) and place in a colander, then immediately refresh under cold running water until completely cold. Add the vermicelli to the boiling water and cook for 1-2 minutes until completely transparent. Drain and rinse under cold water. Drizzle a little sesame oil over the vermicelli and season with a pinch of sea salt. Set aside.

Step 3
To assemble the rolls, take a deep plate that is slightly larger than the rice paper rounds and pour in some lukewarm tap water. Working with one round at a time, dunk the rice paper into the water and allow to soften for 30-60 seconds – don't let it get too soft or it will break when rolling. When softened, lay it out flat on a cutting board and assemble your filling. Starting at the edge of the rice paper closest to you (and leaving enough room to begin the rolling process), layer a piece of lettuce, followed by a small handful of vermicelli, asparagus, snow peas, avocado and herbs. To roll, pull the edge closest to you over the filling – pull it tight to keep everything in place. Fold over once, then fold in the sides and continue to roll until you have a nice, tightly bound roll. Continue with the remaining wrappers and filling.
Step 4
To serve, cut the rolls in half and serve with the miso-kale pesto.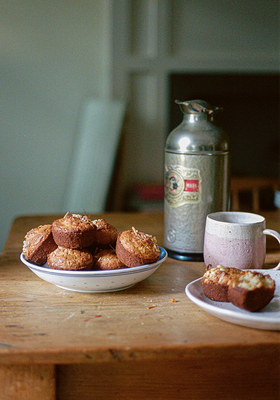 Peach & Coconut Mochi Muffins
The texture, the signature chew and the mellow sweetness of these mochi muffins instantly transports me back to childhood, to a crowded dim sum restaurant in Sydney's Chinatown, devouring lo mai chi, a sweet glutinous rice dumpling. There are many glutinous rice desserts in Asian cuisine, but mochi desserts are definitely the most popular, achieving cross-over into Western culture in the form of ice creams and chewy cakes. One of my favourite fillings is peanut and coconut, which is the inspiration for these muffins. Because they are so moreish, I've deliberately made this a big-batch recipe – 24 muffins. By all means halve the recipe if you want to, though I can easily eat two or three in one sitting. The muffins also freeze well and can be warmed up in the microwave or oven.
Ingredients
115g

of unsalted butter, melted and cooled
400ml

can of coconut milk
400g

can of condensed milk
4

large eggs, at room temperature
425g

of glutinous rice flour
250g

of peanut butter, stirred to loosen up
Method
Step 1
Combine the butter, coconut milk and condensed milk in a bowl. Break one egg into the mixture at a time, whisking well after each addition.
Step 2
In a separate bowl, combine the rice flour, baking powder, brown sugar and shredded coconut.
Step 3
Add the dry ingredients to the milk mixture a few tablespoons at a time, whisking well between additions to prevent lumps (the mixture should look like pancake batter, not too runny or thick). Drop in the peanut butter, a tablespoon at a time, and give it a gentle stir (you don't need to mix the peanut butter completely into the batter – just swirling it through is fine). Let the batter rest for 20 minutes.
Step 4
Preheat the oven to 180°C. Generously spray two 12-hole muffin pans with cooking oil.
Step 5
Spoon the batter into the muffin pans and bake for 30-35 minutes until the muffins are golden. Enjoy warm or at room temperature. Store in an airtight container for up to 3 days, or freeze for up to 3 months.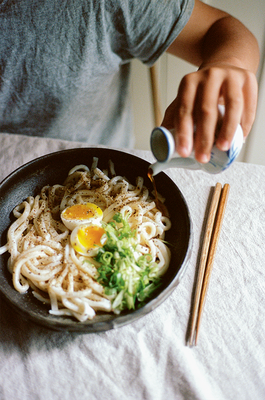 Life-Changing Udon With Soft Boiled Egg, Hot Soy & Black Pepper
In a diminutive noodle shop called Shin Udon, a short walk from Shinjuku station in Tokyo, I savoured a bowl of udon noodles that would ruin me for all other noodle experiences. Perhaps it's unfair to compare all noodles to this – the thick, chewy strands are made fresh, moments before they are served (we spent half an hour watching the noodle maker at work while we waited for a table). My bowl of udon with hot soy, soft-boiled egg, butter and black pepper blew my mind and entranced my taste buds. As I slurped the toothsome, salty strands, I knew I was having a life-changing experience. While there is no way to truly replicate this unforgettable experience at home, my humble rendition of Shin Udon's incomparable noodle dish is still satisfying and crave-worthy.
Ingredients
60ml

of tamari or soy sauce
85g

of salted butter, cubed
4

spring onions, finely sliced
1

tbsp

of toasted sesame oil
Sea salt and black pepper
Method
Step 1
Bring a small saucepan of water to the boil. Add the eggs and set the timer for 6 minutes. As soon as the buzzer goes, immediately drain the eggs into a colander and place under cold running water until they are completely cold. (This will make very soft-boiled eggs – if you prefer a firmer yolk, cook them for another minute.) Peel and set aside.

Step 2
Cook the udon noodles in a large saucepan of salted water according to the packet instructions until al dente. This will take 1-3 minutes, depending on whether your noodles are fresh, vacuum-sealed or frozen. Drain, then scoop the hot noodles into four bowls.

Step 3
Meanwhile, combine the stock, tamari or soy sauce and mirin in a small saucepan and place over low heat until hot.

Step 4
Pour the hot soy sauce over each bowl of noodles and top with a soft-boiled egg. Add a knob of butter and allow it to melt into the noodles. Add the onions and scatter a generous amount of black pepper over the noodles (use as much pepper as you like, but this dish is intended to be very peppery). Finish with a little drizzle of sesame oil and sprinkle with sea salt.

DISCLAIMER: We endeavour to always credit the correct original source of every image we use. If you think a credit may be incorrect, please contact us at info@sheerluxe.com.