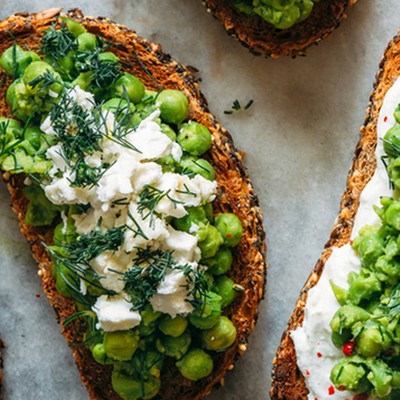 5 Easy Starters To Make For Dinner Party

Dinner parties may be more informal these days compared to our parents' generation, but that doesn't mean you should risk letting the side down. Thankfully, food writer and SL contributor Chloe Scott-Moncrieff is here to prove how easy it is to conjure up quick, delicious starters to begin the night right…

1. Pea, Rocket, Burrata Crostini
INGREDIENTS
200g of peas

1 bag of rocket, approximately 90g

200g of burrata, sliced

French baguette or ciabatta, sliced

Basil, mint or tarragon (optional)
Optional salsa verde: 
3 tbsp of olive oil

Juice of 1 lime 

Salt & pepper 

Chilli

Coriander leaves
METHOD
Preheat the oven to 190°C. 

Slice the bread diagonally into 1cm thick slices.  Place the slices on a baking tray and drizzle with olive oil, and sprinkle with salt and pepper. Pop into the oven for a few minutes to toast. 

Simmer the peas, drain, then blend with the rocket, a generous pinch of salt, pepper and olive oil. 

On the toasted crostini, add the puree, then a slab of burrata, a squeeze of lemon, black pepper, salt. 

If whipping up the salsa verde, blend the ingredients and drizzle over before serving.
2. Salmorejo In Cups
INGREDIENTS
2 x 400g tins of tomatoes

1 red pepper, chopped (optional)

150g of stale bread

1 tbsp of red wine vinegar or sherry

1-2 garlic cloves

1 tsp of sugar

50ml of olive oil

4 eggs
METHOD
Blend and liquidise all the ingredients except the eggs. You want it to be creamy smooth. Season with salt and pepper.  

Cover with clingfilm and pop in the fridge before serving in tea cups. 

Now, hard boil the eggs in water in a saucepan. When cooked, chop the eggs finely, and serve on the side.
3. Retro Vol-Au-Vents
INGREDIENTS
6-8 Vol-au-vent cases 

140g-150g of brown shrimps

1 tbsp of crème fraiche

Zest of 1 lime

1 handful of dill, finely chopped

1-2 avocadoes, chopped into 1cm cubes
METHOD
If you've bought frozen vol-au-vent cases, follow the packet's baking instructions. Brush with egg before popping into the oven, and remove when cooked. 

Meanwhile, in a bowl, mix the shrimps, finely grated lime zest, crème fraiche, black pepper and salt. 

Divide the mixture between the now cool cases. Sprinkle each one with the avocado cubes and use dill to garnish.
​4. Smoked Salmon And Horseradish Rye Bites
INGREDIENTS
3-4 tbsp of crème fraiche or cream cheese

1 blob of creamed horseradish

300g of smoked salmon

Juice of 1 lemon

1 handful of chives, finely chopped

400g of rye bread
METHOD
Slice the rye bread into 2-3cm square pieces. 

In a bowl, mix the horseradish and crème fraiche and season. Spread it across the pieces of bread and top with smoked salmon. 

Sprinkle over the lemon juice, black pepper and chives to finish.
5. Baby Veg Shawarma Skewers
INGREDIENTS
150g of baby carrots

4 peppers, sliced into chunks

100g of mushrooms, halved

225g of halloumi, sliced

1-2 tsp of Belazu Shawarma paste 

Wooden skewers
Optional side dip: 
200g of Greek yoghurt 

Finely chopped mint 

Half a garlic clove, finely chopped or grated

Salt & pepper
METHOD
Preheat the oven to 180°C.

Slice everything into bite-sized pieces, except the baby carrots. 

Mix the vegetables with the Shawarma paste and olive oil. Thread them with the halloumi onto the skewers. 

Roast for 10 minutes or until cooked. 

Serve alongside ramekins of yoghurt, mixed with plenty of mint and garlic.
DISCLAIMER: We endeavour to always credit the correct original source of every image we use. If you think a credit may be incorrect, please contact us at info@sheerluxe.com.