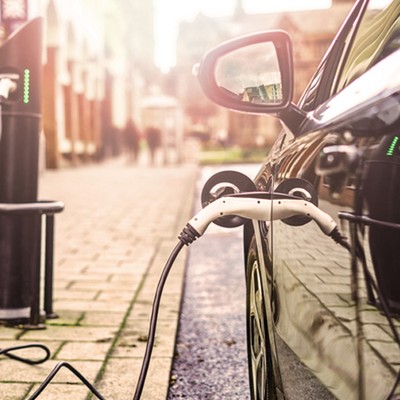 6 Reasons To Buy An Electric Car

This week, climate change targets moved the deadline for buying a petrol, diesel or hybrid car from 2040 to 2035 – and the idea of buying an electric car has never felt timelier. But with a vast array of options suddenly flooding the market, it can be difficult to know whether it's worth taking the plunge – especially when reliability, cost and convenience are all top concerns. Here's what to know first…

You Can Save Some Money
Although prices for an electric car can start at around £25,000, there are some very attractive tax incentives and cost advantages on offer. Since last April, all electric vehicles under the value of £40,000 have not been subject to road tax. Furthermore, experts estimate the average cost of charging an electric car is around 35p per kW rapid charging point, or as low as 12p if you choose to charge the vehicle at home during off-peak hours. To put it in context, you could fully charge an electric car with a 40kW battery for just £4.80. Based on a journey of 200 miles, that's a price per mile of less than 3p, compared to 18p for a standard diesel engine. 
You Can Apply For A Grant
If the upfront cost of buying an electric car still feels like too much, the vehicle might be eligible for a £3,500 government grant. That's the maximum total currently given out, but you could apply for anything up to that, depending which category your vehicle falls into. For example, if you can prove your electric car has CO2 emissions of less than 50g/km and can travel at least 112km (70 miles) without any emissions at all, the government could offer to pay up to 35% of the purchase price or £3,500 – whichever is greater. For vans, mopeds or motorbikes, the figure is closer to 20%. You might also qualify for £500 off the cost of installing a charger at home under the Electric Vehicle Homecharge Scheme. Just be sure to get in quick – transport secretary Grant Schapps has said he plans to scrap government grants over the long term.  
You Can Charge It At Home
Volkswagen says most of its models can receive an 80% charge in just 30 minutes, although it does depend on the voltage (kW) and the current (amps) from the wall box or charge point connector you use. It is possible to charge electric cars at home using a three-pin plug and socket, but a properly installed domestic charging unit can recharge batteries up to three times faster. Typically, a home charging point is a compact unit mounted to a wall with a connected charging cable. Cables tend to only reach about 5-10m in length – making them more suited to those with a private driveway – but it is possible to use an extension cord to reach a vehicle parked on the road. Just be careful to make pedestrians aware of any possible trip hazards. Most importantly, these cables are portable, which means you can charge more easily on-the-go using a three-pin connection. Finally, if you apply for a subsidy from the government, experts put the overall cost of at-home chargers in the region of £200. If you live in Scotland, government grants stretch into the region of £300, which means the cost of an at-home charger could become negligible.
Pick From The Big Brands 
More of the top-end manufacturers have come around to the idea of producing electric vehicles – not least to satisfy demand from a growing pool of customers. Whether it's VW, the Audi e-tron, Skoda, the Seat Mii or the Porsche Taycan, several of the industry's top names are determined to turn their backs on petrol and diesel. If those brands aren't in your budget, middle-of-range names, such as Renault, are also developing smaller, compact electric cars – such as the Zoe – which costs between £16,000-£21,000. With more models flooding the market, prices for used vehicles will also become more affordable over time. The good news is that used electric cars still qualify for government grants, so be sure to investigate all available financing options before taking the plunge.
You Can Enjoy Better Mileage
These days, there's little reason to worry about unreliable batteries and long distances. The newer models can get you far further than you think. For example, standard models from both Renault and Kia can travel for more than 200 miles before needing to be charged. The only difference is a bit of advanced planning. If you're returning home at the end of longer journeys, simply plug in and charge ready for the next morning. If you're stopping overnight or visiting family or friends, you can use a public charging point along the way – use OpenChargeMap or Zap-Map to track one down in advance – or simply plug your at-home charging cable into a friend's garage mains supply.
You Can Opt For A Halfway House
If you still have doubts about buying an electric car, it is possible to take a halfway house approach and opt for a hybrid model. These cars offer some of the same benefits as electric cars – such as an option for electric-only driving and reduced running costs – while also maintaining the security of a petrol engine for those times when you really need it. Because these cars are still better for the environment overall than traditional petrol or diesel models, it is still possible to apply for a government grant to help with some of the upfront costs, too. 
For more information, visit the Office For Low Emission Vehicles website here. 
DISCLAIMER: We endeavour to always credit the correct original source of every image we use. If you think a credit may be incorrect, please contact us at info@sheerluxe.com.