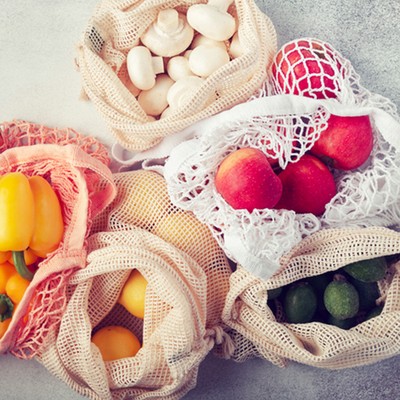 6 Ways To Use Less Plastic In The Kitchen

Whether it's non-recyclable food bags, single-use containers or the all too ubiquitous cling film, using too much plastic in the kitchen is something many of us are guilty of. But a range of next-generation products are making it easier than ever to improve our sustainable standards. Here are of some of the ones we've come to rely on…

COTTON BAGS
Hopefully, you ditched plastic bags at the supermarket a long time ago. But did you know there are reusable bags out there which really make a different? Not only are they kinder to the planet than their plastic counterparts, string cotton bags can be washed countless times to ensure the highest hygiene standards, too (something which is particularly important right now). Usually larger and stronger than plastic bags, if a cotton tote happens to break or tear, it's also a fully recyclable material – especially if it's made of jute or canvas. If that's not enough, the manufacturing process is also far cleaner, and uses less water, energy and oil as part of the supply chain to get it onto the shop floor. Use them to carry groceries or hang in the kitchen to store loose items.
FOOD WRAPS
Not only are the next generation of food wraps reusable, they help keep food fresher for longer thanks to natural anti-microbial fibres and breathability. When new, they may feel quite stiff but the warmth of your hands will soon make them pliable enough to mould over a bowl, plate or piece of food. They then hold their shape when cooled in the fridge, although it's not recommended to use them to wrap uncooked meat or fish. After use, wash with cold, soapy water and lightly scrub with a dishcloth or sponge. Then, pat them dry with a tea towel or hang to dry. If you find they're becoming permanently creased, simply iron between two pieces of greaseproof paper or place in the oven on a baking tray covered in greaseproof paper at around 100°C for three minutes. With a decent level of upkeep, you'll find they last around six months to a year. Use them to cover bread, sandwiches, fruits and vegetables.
REUSABLE SANDWICH BAGS
Stasher, the brand behind a wave of new, reusable sandwich bags claims food grade silicone is a game-changer. Just don't get it confused with traditional, single use plastic. "Food grade silicone is a non-toxic type of silicone that doesn't contain any chemical fillers or by-products, making it safe for use with food," the brand explains. "While glass containers are great for plastic-free storage, they can break, take up a lot of space, and are inconvenient for taking on-the-go. Our bags make it easy to store your food while keeping what you're eating away from plastic." Not only that, this kind of silicone is completely recyclable, BPA-free and microwave, oven and dishwasher safe.
JARS & CANISTERS
We can all make our peace with multi-use Tupperware, but that doesn't mean there aren't better options out there. Glass jars not only handle heat better than most plastic containers, they don't absorb odours or stains in the same way. They're also fully transparent, which makes it easier to see what you've stored where. Meanwhile, newer bamboo models also contain natural antibacterial properties. "Companies which use bamboo products, or prepare packaging products made from bamboo, usually build their own manufacturing unit and need the bamboo plants," adds Gabriella Tamaskó-Juhász from All In Packaging. "This helps in reducing a packaging-associated carbon footprint." Fully recyclable, bamboo plants are one of the quickest-growing varieties out there, which makes it highly sustainable to farm and manufacture.
FRUIT & VEGETABLE BAGS
Now available everywhere from Lidl to Amazon, as well as being washable and reusable, fruit and vegetable bags eliminate the need for carrying plastic bags to and from the supermarket – not to mention storing items in plastic wrap in the fridge. The mesh construction is stronger, and also allows air to circulate, so your food stays fresher for longer. Just be sure to hand wash them to extend their life, before laying flat to air dry.
BOWL LIDS & COVERS
How many times do you find yourself reaching for cling film to cover the top of a bowl or keep cut fruit and vegetables fresh? If the answer is often, it might be worth investing in a set of silicone or cotton bowl covers – both of which can be washed and reused. Creating an airtight and leakproof seal, they're ideal for fridge storage, or for carrying with you once we're all safely back on-the-go. Fine to use in the microwave (just loosen the seal on one side), the range of sizes lets you cover everything from a mug to half a watermelon. In fact, because they're so stretchy, they can be moulded to fit over tins and dishes of all shapes and sizes. We particularly like the mini versions too, which can cover the ends and edges of small fruits and vegetables to cut down on waste.
Looking to limit your plastic useage? Shop our pick of handy utensils below...
DISCLAIMER: We endeavour to always credit the correct original source of every image we use. If you think a credit may be incorrect, please contact us at info@sheerluxe.com.