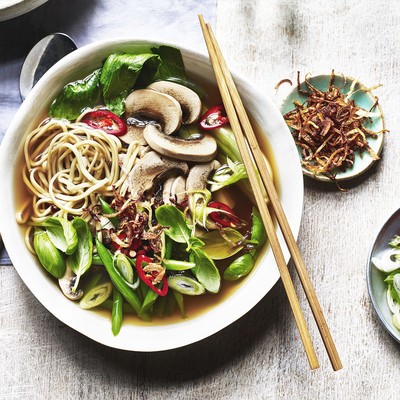 7 Tasty Pho Recipes & How To Make It From Scratch

There aren't many dishes as comforting as a bowl of pho. A great way of using up leftovers, this versatile Vietnamese dish uses bone broth as its base, which is great for the immune system, too. From how to make the best broth to supermarket cheats and ideas for toppings and accompaniments, look no further.

Tips For Making Pho At Home:
Giorgio Finnocio, Itsu
Pho is a Vietnamese soup dish, considered the national dish of Vietnam – it usually consists of delicious crystal-clear bone broth, rice noodles, thinly sliced meat and lots of fresh herbs. It is so aromatic and flavourful.

Pho is the ultimate comfort food – nothing beats a steaming bowl of noodle soup on a cold day. Traditionally pho is made from a slow-cooked beef broth made with bones and inexpensive cuts of beef simmered for several hours with star anise, roasted ginger, roasted onion, black cardamom, coriander seed, fennel seed, and clove. It also has a deep complex flavour, with a subtle spice kick to it. It's always finished with heaps of fresh herbs, beansprouts and a squeeze of lime to give it that freshness.

There are lots of variations of a traditional pho – if you can't get your hands on bone broth, Itsu has a range of warming broths in M&S and on Ocado. Simply add rice noodles, meat, tofu and any veg you have in your fridge for an easy pho-style bowl in minutes.

The key to an excellent pho is the broth – it needs to be deep, rich and aromatic in flavour. Make sure to top your pho with a big handful of coriander, mint and Thai basil, which is available in most big supermarkets.
Daniya Stewart, Phomo
I like to use chicken with my pho. Once you've eaten a roast chicken, you can make stock using the leftover bones – just add these to the pan with 1 litre of water rather than ready-made chicken stock. Adding a handful of fresh coriander to the broth as it is cooking will make it taste even better.

You can use any chicken meat. Breast is nice and lean, but thighs will give added flavour. Whichever you use, we like to shred our chicken meat so it pairs well with the noodles.

If you need to cook your chicken, you can simply poach it in the broth as it is simmering, and leave it until it's fully cooked through. This will add extra flavour to the broth and the meat.

I like to add my garnishes to taste. When I'm making it for a group, I like to chop them all up and let everyone help themselves. Be careful with the bird's eye chilli – it packs a punch!
 
Ellie Edwards, Souschef
Vietnamese pho is a fragrant noodle broth originating in the villages of Vân Cù and Dao Cù near Vietnam's convex southern coast. Pho is typically a very healthy dish consisting of noodles, a simple aromatic broth, fresh herbs and thin cuts of lean meat. 

Try using shirataki konnyaku noodles, which are famed for having near-zero calories, no sugar, fat or protein. They are made from the roots of the 'konjac' plant of the taro family – which are peeled, cooked, pounded, and then pressed into shape. Traditional shirataki konnyaku noodle nests used in pho are very similar to glass noodles, but tied with a simple knot into small bunches, making them easier to pick up with chopsticks – almost like dumplings. The pleasantly chewy texture of shirataki noodles compliments the simple authentic flavours of pho. And as the shirataki noodles have little or no flavour themselves, they are able to soak up the aromas of the star anise, cloves, coriander seeds and ginger used to flavour the broth.
Inspired? Here are seven simple recipes to try…
Speedy Chicken Pho: Daniya Stewart, Phomo
Ingredients
140g

of uncooked rice noodles, cooked as per pack instructions
Lime, spring onion, Thai basil, coriander, birds eye chilli and beansprouts, to garnish
Method
Step 1
Place ginger and onion (unpeeled and whole) in a baking tray and place under a medium/high grill for 15-20 minutes turning once or twice until charred, do not worry if they blacken a bit. Leave to cool and remove the onion skin and any blackened ginger.

Step 2
Place the onion and ginger in a pan with the chicken stock and spices, bring to the boil and leave to simmer for one hour.

Step 3
Remove from the heat and add fish sauce and salt to taste.

Step 4
Serve with rice noodles, chicken and garnishes of your choice

Super Speedy Asian Noodle Broth Bowl: Gemma Simmonite, Gastrono-me
Ingredients
1

tbsp

of toasted sesame oil
1

-2

cloves garlic, minced
A few strips of red pepper
Blanched vegetable of your choice – for example,

1

head of pak choi, a few florets of tenderstem broccoli and carrot ribbons
Black and white sesame seeds
Method
Step 1
Boil a kettle and when boiled pour the water into bowl add the noodles. After a minute stir them around gently to separate, after another 2 minutes drain the noodles while reserving the water. Toss the noodles with a little of the sesame oil.

Step 2
In a saucepan on a high temperature add the reserved noodle water, when it's returned to the boil add the halved pak choi, broccoli, and the carrot ribbons, cook for 2 minutes then drain.

Step 3
Make up the broth as per the instructions and add the miso paste, keep warm.

Step 4
In a hot frying pan, add the sesame oil and garlic, sauté the mushroom and red pepper.

Step 5
When ready to serve, arrange the noodles, the blanched and sauteed vegetables in a bowl, pour over the broth, and sprinkle with the sesame seeds and chilli flakes and serve with a wedge of lime.

Ingredients
For the broth:

1

large onion, skin removed and cut into quarters
100g

of ginger, peeled and halved
For the garnish:

500g

of Thai rice noodles
600g

of cooked turkey meat, cut into strips or shredded
3

whole red chillies, cut into half lengthways or thinly sliced
6

spring onions, cut into

1

-inch pieces and thinly shredded
Method
Step 1
To make the broth, heat the vegetable oil in a large stock pot over a medium-high heat and add the onion and ginger. Fry for 1-2 minutes until just starting to colour and then add the dried spices. Fry for 1-2 minutes until fragrant and then add the turkey bones and trimmings. Turn the heat down to low and cover the bones with the water. You might not need all of the water; you just want enough to submerge the bones.

Step 2
Gently simmer the stock for 90 minutes, skimming off any impurities that rise to the top of the stock. After 90 minutes, strain the stock over a large clean saucepan, through a fine sieve or a sieve lined with muslin and return to the heat. Add the fish sauce to the stock and then simmer until your stock is reduced to 1 ½ litres. Turn the heat down to low and keep the broth hot until ready to serve. Alternatively, cool down the broth and refrigerate until ready to use.

Step 3
To serve, cook the rice noodles according to the packet's instructions and the drain thoroughly. Divide the noodles between the 6 serving bowls and then equally top with the leftover turkey meat and beansprouts.

Step 4
Ladle the hot broth over the cooked noodles, turkey meat and beansprouts. Finally, top with the fresh herbs and half of a red chilli, half of a lime and the spring onions on each bowl. Serve immediately.

Vietnamese Pho With Shirataki Noodle Nests: Souschef
Ingredients
3

pieces of cassia bark (optional)
1

small onion, thinly sliced
2

inches of fresh root ginger, finely chopped
1

½

tsp

of concentrated vegetable stock
1

tsp

of fish sauce (optional, leave out to make the dish vegetarian)
228g

of shirataki konnyaku noodle nests, drained and rinsed
1

bulb of bok choi, or

100g

of spinach
To garnish:

½

red chilli, thinly sliced
2

sprigs of fresh mint, leaves roughly chopped
2

sprigs of fresh coriander, leaves roughly chopped
50g

of tofu, cut into

1cm

cubes
Method
Step 1
Heat a wok on a medium heat and lightly toast the cassia bark (if using), star anise, cloves and coriander seeds for 2 minutes to release their aromas.

Step 2
Add the sunflower oil to the pan and fry the onion and ginger until the onion is soft but not brown.

Step 3
Stir the vegetable stock powder into 750ml hot water. Add to the wok along with the soy sauce, fish sauce, beansprouts and shirataki noodles. Simmer for 5 minutes.

Step 4
Add the bok choi (or spinach) and simmer for a further 5 minutes. Lift out the spices using a spoon if you left them loose.

Step 5
Divide into bowls and serve alongside the sliced red chilli, lime wedges, mint, coriander and cubes of tofu to garnish.

Mushroom Pho: The Mushroom Bureau
Ingredients
For the broth:

Stalks from the mushrooms
1

½

litres of vegetable stock
1

lemon grass stalk, crushed
1

tbsp

of rice wine vinegar
To serve:

40g

of closed-cup mushrooms, stalk removed
3

shallots, finely sliced
20g

of green beans, cut in half
2

spring onions, finely chopped
1

red chilli, de-seeded and chopped
Method
Step 1
Firstly, make the broth. In a large saucepan add the vegetable stock, mushroom stalks, lemon grass, ginger, basil stalks, star anise and cinnamon. Bring to a simmer.

Step 2
Cook the shallots and garlic in a dry pan until nicely charred, add to the stock. Leave to simmer for about 15 minutes. Strain to leave just the liquid, season with soy sauce and rice wine vinegar and leave to one side.

Step 3
While the stock is simmering. Cook the finely sliced shallots in the sunflower oil until crispy, drain onto kitchen roll.

Step 4
Place a pan of water onto boil. Cook the green beans for 5 minutes, add the mushrooms and bok choy, cook for 1 minute and drain.

Step 5
Divide the mushrooms, green beans, bok choy and noodles between bowls. Pour in the broth and top with spring onions, chilli and basil leaves. Serve the crispy shallots on the side.

Chicken Pho: Tom Kerridge, Lose Weight & Get Fit
Ingredients
1

½

litres of fresh chicken stock
15g

of dried porcini mushrooms
2

.5cm piece of fresh ginger, thickly sliced
3

garlic cloves, lightly bashed
¼

tsp

of black peppercorns
¼

tsp

of Chinese five-spice powder
2

lemongrass stems, lightly bashed
3

spring onions, white and green parts separated
750g

of skinless chicken thighs (bone in)
200g

of carrots, julienned
Sea salt and freshly ground white pepper
To serve:

A large handful each of mint, coriander and thai basil
1

bird's eye chilli, finely sliced
Method
Step 1
Pour the stock into a medium saucepan, place over a high heat and add the dried porcini, ginger, garlic, spices, lemongrass and white spring onions. Add the chicken thighs, bring to a low simmer and cook gently for 25 minutes or until the chicken is tender.

Step 2
Meanwhile, put the carrot julienne and rice noodles into a large heatproof bowl, pour on boiling water to cover generously and leave to soften for 10 minutes. Finely shred the green spring onions for the garnish.

Step 3
Pour the broth through a strainer into a jug, remove the chicken from the strainer and set aside for later; discard the rest of the contents. Return the flavoured broth to the pan and place over a medium-high heat.

Step 4
Bring back to the boil and let bubble for 5 minutes to reduce and intensify the flavour. Stir in the fish sauce and lime juice. Season the soup with a pinch of sea salt if needed and a small pinch of white pepper.

Step 5
Shred the chicken, discarding the bones, then add to the broth to warm through for 2 minutes. Drain the noodles and carrot and share between warmed bowls. Scoop the chicken out of the pan and add to the bowls. Ladle over the broth and finish with the spring onions, beansprouts, herbs, chilli and lime wedges.

Pho With Healthy Hoisin: Carla Oates, The Beauty Chef
Ingredients
6

cups of beef bone broth
1

small carrot, peeled and coarsely chopped
5cm

knob of ginger, bruised
2

strips of mandarin peel (optional)
250g

of dry rice noodles, or zucchini noodles
1

½

tbsp

of freshly squeezed lime juice
4

large handfuls of bean sprouts
2

large handfuls of Thai basil leaves
2

large handfuls of mint leaves
2

large handfuls of coriander sprigs
2

red bird's eye chillies, thinly sliced
For the hoisin sauce:

⅓

cup of brown miso paste
1

tbsp

of apple cider vinegar
1

clove of garlic, peeled and coarsely chopped
2cm

knob of ginger, peeled and chopped
1

tsp

of five spice powder
Method
Step 1
Place the spices in a medium saucepan and toss over low heat for 3-4 minutes, until fragrant.

Step 2
Add the bone broth, carrot, spring onions, the ginger and mandarin peel, if using, and bring to the boil over high heat.

Step 3
Decrease the heat and gently simmer for 30 minutes.

Step 4
Wrap the beef fillet tightly in plastic wrap, to make a nice round shape. Freeze for 30 minutes, or until partially frozen, firm but not solid. This helps to make it easier to slice thinly, for serving.

Step 5
Meanwhile to prepare the hoisin sauce, soak the dates in the boiling water for 10 minutes.

Step 6
Combine the dates and their soaking liquid with the remaining ingredients in a high-speed blender. Blend until smooth.

Step 7
Soak the noodles in boiling water, or according to the packet instructions, until softened. Strain.

Step 8
Strain the broth, discarding the solids. Return to the pan. Add the tamari and lime juice.

Step 9
Unwrap the partially frozen beef. Using a sharp knife, slice into very thin rounds.

Step 10
To assemble, divide the noodles among four serving bowls.

Step 11
Top with slices of raw beef, bean sprouts, fresh herbs and chilli. Ladle over the hot broth.

Step 12
Serve with lime wedges. Drizzle with chilli and hoisin sauces, as desired.

Step 13
Chef's Tip: The hoisin sauce can be stored in an airtight container in the refrigerator for up to 3 weeks. It makes a wonderful marinade for meats, especially pork and beef.

DISCLAIMER: We endeavour to always credit the correct original source of every image we use. If you think a credit may be incorrect, please contact us at info@sheerluxe.com.