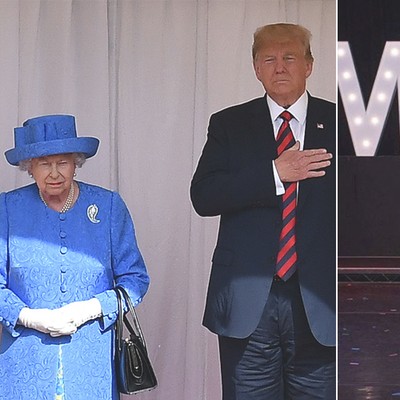 8 Amazing Things Women Have Done This Week

From making history to subtly trolling Trump, women have been doing some amazing things this week. Here, SL celebrates the achievements of the best and baddest ladies in the world right now…

Hannah Gadsby's Comedy Special Is Praised For Its Honesty
This week, everyone has been urging Netflix users to push Hannah Gadsby's comedy special Nanette to the top of their Must Watch list – but perhaps not for the reasons you might think. Although billed as a comedy, the laughs are actually few and far between beyond the first 20 minutes, as Gadsby reveals she's quitting comedy, because she feels her self-deprecating humour has been harmful to herself and those who identify with her.
Gadsby gets real very quickly, even calling her own jokes into question. Early on in the show, she tells a story about a man who threatened to beat her up when he thought she was flirting with his girlfriend. It was posited as a light-hearted tale, but she later revealed: "I couldn't tell that story as it actually happened. He beat the shit out of me and nobody stopped him."
Her set has been praised by critics – The New Statement called it "a tricksy, self-conscious beast, full of sleight of hand," while Esquire said "the brilliance of this ground-breaking comedy special lies within in its charge to improve the human condition". Many feel it raised a lot of important questions on difficult topics like homophobia, misogyny and holding men accountable. In particular, people are loving a speech she made towards the end of the show: "There is no way anyone would dare test their strength out on me," she shouts defiantly, "because you all know there is nothing stronger than a broken woman who has rebuilt herself."

Kirsty Boden Is Posthumously Honoured With Queen's Bravery Award
One of the heroes of last year's June 3rd London Bridge terror attack, Kirsty Boden is being honoured by the Queen for her bravery. The 28-year-old is featured on this year's Civillian Gallantry list after she rushed to help a victim at the scene, and was administering first aid when she was fatally stabbed by one of the attackers.
Boden, an Australian native, moved to London in 2013 and worked at St Thomas' Hospital. She was dubbed the 'Angel of London Bridge' for rushing to help in the face of danger. Her mother Christina Boden said of her daughter's posthumous accolade: "As you can imagine we're just really proud of her, proud of the person she was."

Underwear Brand Aerie Now Has Models With Visible Disabilities
We've come a long way since one-size airbrushed models graced the pages of our favourite fashion sites – and body positive underwear brand Aerie are taking that sentiment even further. As part of its new campaign, they've released images from its latest line that feature female underwear models with crutches, wheelchairs, stoma bags, type 1 diabetes and vitiligo, among other disabilities.
One of the models, Abby Sams, was thrilled to see her pictures on the site, and tweeted her delight. "A cancer survivor, down syndrome Paralympian, me, and fibromyalgia (plus body hair)," she wrote on Twitter. "[Aerie's] work in chronic illness and disability representation in this campaign was real and amazing'.
"Now, more than ever, we want to encourage women everywhere to feel empowered to embrace their own unique qualities and beautiful real selves," said Aerie's global brand president, Jennifer Foyle. We hear that.

The First Black Woman Crowned As Miss Universe GB in its 66-Year History
Dee-Ann Kentish-Rogers made history this week after she was handed the Miss Universe Great Britain crown, making it the first time a black woman had won since its fruition in 1952. The 25-year-old called it a "great achievement".
Kentish-Rogers, who's also a competitive athlete and recently passed her exams to become a barrister, said the overwhelming positive reaction to her win "kind of startled" her: "Although I've been preparing for this pageant for a long time, I've just been preparing as Dee-Ann," she told BBC's Newsbeat. "Now that I've won the pageant, I've come to the realisation that I've not only won the pageant as Dee-Ann, but as a black woman." 

Michelle Williams "Proudly" Checks Into Rehab
Singer Michelle Williams has never been shy about discussing her mental health, once revealing that she often felt "suicidal" during her years in girl group Destiny's Child. But now she is "proudly" seeking treatment for her mental health. "I recently listened to the same advice I have given to thousands around the world and sought help from a great team of healthcare professionals," Williams wrote in a positive Twitter post.
Many were quick to praise Willaims, including Beyonce's mum, Tina Knowles Lawson: "Michelle My Bell, I'm soo proud of you! You have given unselfishly of your time and support to so many and I know that you will be the best example of self-care which we all need."

Aly Raisman And The Survivors Of Larry Nassar Made A Moving Speech At The ESPYs
At Wednesday night's ESPY (Excellence in Sports Performance Yearly) Awards, Aly Raisman, Sarah Klein and Tiffany Lopez, along with dozens of other athletes who spoke out about the abuse they endured at the hands of USA gymnastics doctor Larry Nassar, accepted The Arthur Ashe Courage Award.
Between them, they were able to bring Nassar to justice; 100 women gave victim impact statements at the disgraced 54-year-old's sentencing trial earlier this year. He was later sentenced to 175 years in prison for the decades of sexual abuse thanks to their bravery.
In a powerful video, the survivors give an emotional speech on the importance of believing survivors. "It's a privilege to stand up here with my sister survivors as we represent hundreds more who are not here tonight," Sarah Klein said. "Make no mistake — we're here on this stage to present an image for the world to see, a portrait of survival, a new vision of courage."

The Queen Subtly Trolled Donald Trump
The weekend was a tense time for Brits, as Donald Trump's transatlantic visit sparked protests both for and against the divisive American president. But we all had a little chuckle when it seemed the Queen might have trolled Donald Trump to his face during their meeting.
In a Twitter thread that soon went viral, one user pointed out how Queen Elizabeth II's choice of brooches during her time with Trump might be a subtle clapback. On Trump's first day in the UK, she donned a vintage green flower brooch – which happened to be a gift to her from former US president, Barak Obama. On the day she actually met with Trump, she wore a Sapphire Jubilee brooch, given to her as a special gift from Canada, which some took as a sign of her allegiance to the nation and its leader, Justin Trudeau, who has locked horns with Trump on many occasions.
The user also noted that the Queen wasn't at the state dinner for Trump, which she would normally attend, as the invitation would usually come from her personally – which means it's likely Trump's invite probably didn't come from her.
The dinner was also held at Blenheim house – the only palace in England not owned by the Anglican Church or the Royal Family. "In short: The Queen wouldn't let Trump in her house," they concluded. Well, that's what you get for walking in front of the monarch…

Pussy Riot Members Jailed For World Cup Protest
France's win last Sunday wasn't the only exciting thing to happen on that World Cup final pitch. Four members of the Russian punk activist group Pussy Riot have now been jailed for 15 days after they invaded the pitch in the second half of the tense game.
Three women and a man ran onto the field wearing police-style uniforms, with one even managing to high-five French forward Kylian Mbappé, before being dragged off by security. The group claimed their protest aimed to make Russian authorities free all political prisoners; stop illegal arrests at public rallies; allow political competition in the country; stop fabricating criminal cases and jailing people on remand for no reason.
Pussy Riot's protest comes at a high price in Russia, who are infamous for their oppressive nature. In fact, in a video of their interrogation, one person off camera is heard saying, "Sometimes I regret that it's not 1937", alluding to the terror campaign instigated by Soviet dictator Joseph Stalin in the communist era. Three members were previously arrested in 2012 for an anti-punk song performed in a Moscow cathedral. But really, what is life without a little anarchy?
DISCLAIMER: We endeavour to always credit the correct original source of every image we use. If you think a credit may be incorrect, please contact us at info@sheerluxe.com.