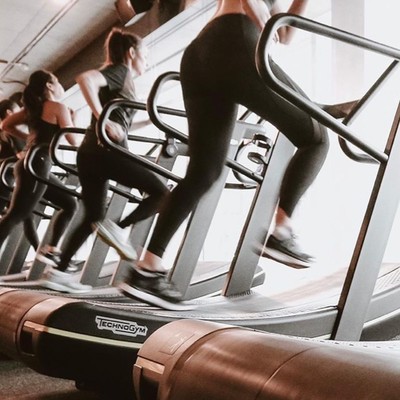 8 Of London's Best Bootcamp Classes

Desperate to kickstart your health regime this year? Whether you're into boxing, strength training, running or HIIT, there's a bootcamp class to suit everyone in the capital. Here are the studios to have on your radar.

Orangetheory
Running on the treadmill can be monotonous, but not on Orangetheory's watch. This cult 60-minute workout (it started in the US, where it now has over 1,150 locations) fuses cardio and weights for real results. You'll wear a heart rate monitor, with your metrics transmitted to a screen – you'll spend the class undulating between different intensities to keep the body challenged. Expect treadmill sprints as well as rowing and cycling and strength intervals. The aim of the game is to get your body working to a certain intensity (the 'orange' zone), which will leave you torching calories long after you've stepped off the treadmill. 
The Details: There are four studios in London: Aldgate, Islington, Wandsworth and Bromley. Your first class is free, and there are various packages to get you going thereafter. The team recommends committing to at least two classes per week for the best results.
Visit OrangeTheory.com
Cirq
If you're keen to make strength training a priority but aren't overly keen on group workouts, head to Cirq, which offers on-demand HIIT and strength workouts round the clock. There's no need to book ahead – just turn up and tune in to one of Cirq's pre-programmed, 30-minute interval sessions. As you press, squat, sprint and crawl through your circuit, screens and coaches keep you on track, ensuring you get the most from your workout, while interval timers, beeps and music will keep you in step. Each workout has nine stations, and with thousands of different exercise combinations, you'll never do the same workout twice, keeping the body guessing and challenged for unparalleled results. Coaches are always on hand for advice and technique tips and can recommend exercises if something feels too tricky. 
The Details: Get two weeks of unlimited workouts for £30 or pay £69 for unlimited monthly access.
Visit Cirq.Life
Victus Soul
If you're based out east, be sure to check out Victus Soul, which offers two bootcamp-style classes to keep the body challenged. HIIT and Run is the studio's signature offering, combining high-intensity intervals with hills, sprints, endurance and sled runs as well as strength and conditioning with weights. For something different, try HIIT and Box, which offers a full-body workout that'll tone both the upper and lower body in the same session, while also providing a killer cardio workout. Come here for top-class instructors, while extended cool-downs at the end will help your body recover more efficiently so you can hit the ground running day after day.
The Details: First-timers can get three classes for £30 or unlimited classes for £40 for seven days. Monthly membership – which includes unlimited classes and free boxing classes – starts from £149 a month.
Visit Victus-Soul.com
Sweat IT
The combination of running and strength may not be a new concept, but knowledgeable instructors combined with a results-driven workout makes Sweat IT one of the hottest workouts in town. Tucked away in Aldwych, Sweat IT classes have a 'run and rig' concept – think treadmill work paired with functional weight training on a 'rig' with 20 different workout stations. No two classes are ever the same – the specialist treadmills even have a clever parachute mode, which stimulates the resistance of pulling a parachute behind you. For the last few months, workouts have been virtual, but bookmark this studio for when things are up and running again. 
The Details: Your first three classes are £30 but must be used within ten days. Individual classes are priced at £21. 
Visit Sweat-IT.com
The Fore
For a high-energy class in super-slick surroundings, it doesn't get better than The Fore in King's Cross. At the top of the incredible space is where the magic happens – the gym floor features Skillmills (curved, self-powered treadmills), TRX and rip trainers (bars connected by a bungee cord to the wall, creating variable resistance depending on how far away you stand). The Fore's hero bootcamp class, Foretitude, is a fast way to get fit. Challenging and rewarding, each session works on building speed, endurance and strength, and with classes on the smaller side, it's ideal for those looking for a PT-like experience. Refuel post-workout at the smoothie bar and cool down in the seriously luxe showers. 
The Details: Get a seven-day trial with unlimited classes for £29. An individual class costs £20 but it's cheaper if you buy in bulk. 
Visit The-Fore.co.uk
Kobox
Kobox has long held the title as the capital's favourite boxing workout. The iconic 50-minute classes are split across drills on the punch bag and HIIT exercises on the floor. Each day the focus of the workout changes – it's either a leg, core or full-body day – and you'll hone your boxing technique as you go thanks to top-of-their-game instructors. Don't be put off if you're new to boxing, as each of the six boxing moves is assigned a number, and sequences are projected onto the wall for you to follow. Prepare to feel fitter in mind and body within a few weeks.  
The Details: Your first two classes are £30 and include a pair of Kobox wraps. A single, 50-minute class is £22, or £105 for a pack of five classes. Memberships are also available. Studios are in Chelsea, Marylebone, Waterloo and the City. 
Visit KoboxBoxingClub.com
Barry's Bootcamp
The world's original bootcamp now has six locations in London, all offering the same, sweat-inducing formula of sprints, incline runs and strength training. Each class combines 25 minutes of cardio with 25 minutes of weights, burning around 800-1,000 calories at once. There's a reason the Barry's formula is iconic – providing an aerobic workout to improve heart health and endurance, coupled with strength training to build muscle, promote fat loss and boost metabolism, it's about as efficacious as it gets. Classes are tailored to specific parts of the body and no two are ever the same – if you're in it for the long-haul, be sure to vary the classes you do throughout the week. If in doubt, head over at the weekend when all classes take a full-body approach. 
The Details: Studios can be found in Canary Wharf, King's Cross, Queensway, Shoreditch, Victoria and St Paul's. Individual classes are priced at £24 each, with membership starting from £231 per month. 
Visit Barrys.com
1Rebel
Suitable for all fitness levels, 1Rebel's Reshape class leaves no muscle untoned. Constantly switching between treadmill sprints and heart-pounding HIIT moves, each 45-minute class has been designed to supercharge both fitness and strength. Throw in slick studios, nightclub-worthy sound systems and energetic instructors, and you're bound to leave on an endorphin high. Throughout the week, there are various versions of the Reshape class, depending on the specific body part you want to focus on. The only problem you'll have is deciding which trainer to book in with – there are 35 Reshape instructors on the 1Rebel team, each with their own training style. 
The Details: Reshape is available at 1Rebel studios in Angel, St Mary Axe, Broadgate, South Bank, Bayswater, Oxford Circus and Holborn. First-timers can get their first three classes for £29, individual classes from £23 thereafter.  
Visit 1Rebel.com
DISCLAIMER: Features published by SheerLuxe are not intended to treat, diagnose, cure or prevent any disease. Always seek the advice of your GP or another qualified healthcare provider for any questions you have regarding a medical condition, and before undertaking any diet, exercise or other health-related programme.
DISCLAIMER: We endeavour to always credit the correct original source of every image we use. If you think a credit may be incorrect, please contact us at info@sheerluxe.com.