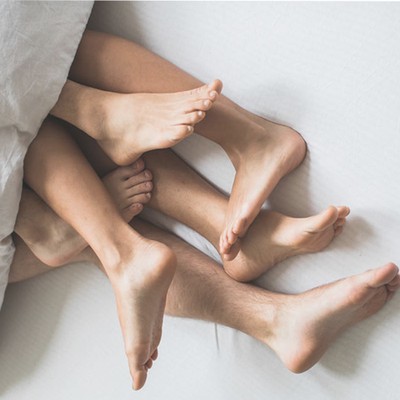 8 Things Polyamorous People Want You To Know

These days, polyamory is no longer considered such an enigma – it's far more common and tends to suit the lifestyles of plenty of busy millennials. But despite its growing familiarity, it still remains sexual taboo to plenty. As is the case with many relationships outside of what's considered the norm, there are a number of misconceptions about polyamory and the people who enjoy it.

SL spoke to Autumn, a 24-year-old tattoo artist who lives in Salem, Oregon and a member of OpenMinded.com. They joined the site in August 2016 looking to try something new after a bad breakup. Here's what they want you to know about polyamorous relationships…

1. We Do Get Jealous Sometimes
I think it is natural to feel jealous when you find a real connection with someone that you care about. I'm always curious as to what experiences they may be having with their other partner, but considering we are pretty open with each other, I think it's normal to feel that way. Just like we can't control who we fall in love with, it's natural to have feelings of jealousy. How we act upon those feelings is what turns it into a negative situation.
2. Polyamory Isn't Just About Sex
It's about building relationships and getting to know the other person. Polyamory is defined as a romantic relationship with multiple partners at one time. Romance does not always equate to sex. There are plenty of asexual (someone without sexual feelings) polygamous people (the act of marrying multiple spouses) who are happy in their relationships and never have sex.
3. Polyamory Doesn't Always Involve Group Sex
If that's what you choose to do with your partners and it's been communicated as an activity of interest, then sure, group sex can be a part of the equation. It's all about choice and what your preferences are. For me, there are plenty of times where I will have relations with my partners separately.
4. Communication Is Key
Polyamorous relationships thrive on open communication and an understanding of your interests, desires and limits – as well as those of your partners. You all should be on the same page. This lifestyle may not be fit for someone who's frequently jealous or prefers a committed relationship. I also think it takes a great deal of maturity to understand what you want from a polyamorous relationship.
5. Polyamorous Relationships Can Be Hard
Every relationship will come across challenges. Polyamorous relationships can be particularly difficult for those who may not feel like they can handle them.
6. Polyamory Isn't So Different From Monogamy
Beyond the multiple partners, they're not too different. Usually, people who are more experimental and open-minded partake in polyamorous relationships.
7. It's Entirely Possible To Raise Children In A Poly Environment
I certainly think it is possible to raise children in a polyamorous home. However, since the concept is so misconstrued it makes people question how healthy it could be. If we were to compare it to polygamy (not that it should be compared), we see plenty of families that are built on having a number of partners raising the same children.
8. Polyamory Still Involves Commitment, Just A Different Kind
It's not in everyone's interest to stay committed to just one person. If you are in a committed relationship with one person for a long time, you may get the occasional urge to try new things with someone else without leaving your partner. I often considered that with my previous monogamous relationship, which likely inspired me to pursue a different dating style. A lot of singles – especially younger adults – are generally interested in developing a relationship with multiple people before they decide what they want for themselves when they're older.
Visit OpenMinded.com for more information.
DISCLAIMER: We endeavour to always credit the correct original source of every image we use. If you think a credit may be incorrect, please contact us at info@sheerluxe.com.