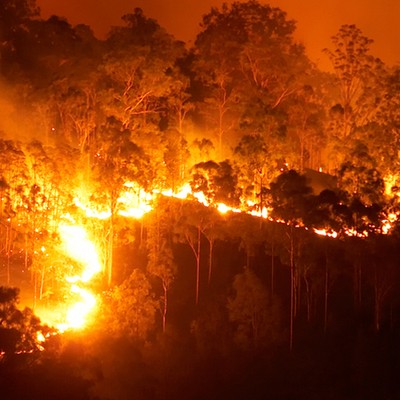 8 Ways To Donate To The Fight Against Australia's Bushfires

As extreme wildfires devastate local communities and wildlife across Australia, it's impossible not to feel emotional. January might be a long month when it comes to finances, but pennies make up the pound and every little helps. Here are the main places where you can donate to ensure the country gets back on its feet.

At the start of this week, police in New South Wales (NSW) in Australia confirmed the state's 20th death as a result of extreme bushfires, which have ravaged local communities and wildlife since 20th December. Although immediate danger in NSW is lessening, more than 31 fires continue to burn in neighbouring Victoria, with conditions expected to worsen on Thursday and Friday this week. More than half a billion animals are said to have perished in the fires, with families forced to abandon their homes with the prospect of returning to nothing.  
We all know January is a difficult month for finances, but if you can spare even a little bit, here are eight of the main sites currently accepting donations.
The NSW Rural Fire Service
You can donate to the NSW Rural Fire Service directly here – either to the service as a whole or to specific brigades. It doesn't matter how to plan to pay either: cheques, credit cards and bank transfers are all accepted.
The Queensland Fire and Rescue
It's possible to donate money and items to the Queensland Fire and Rescue here, to ensure local communities are supported through the recovery process.
The South Australia County Fire Service 
The Country Fire Service in South Australia is entirely run by volunteers. It's accepting donations and bequests. To donate, head here. 
The Country Fire Association in Victoria
Another volunteer and community based fire and emergency services organisation, you can give money to local firefighters in Victoria via the Country Fire Association here.
The NSW Wildlife Information, Rescue and Education Service
The NSW Wildlife Information, Rescue and Education Service is the largest wildlife rescue and rehabilitation charity in Australia. As a non-profit organisation providing rescue and rehabilitation for all native Australian fauna, its animal rescuers and carers are all volunteers. The charity is accepting donations here.
The Port Macquarie Koala Hospital
While half a billion animals are believed to have died during the course of the bushfires, it's understood that 1,000 koalas have perished. The Port Macquarie Koala Hospital helps those that have been rescued, and is also accepting money. You can donate here.
The Salvation Army
Salvation Army Emergency Services teams are responding to bushfires around Australia, with the charity describing the situation as "unprecedented". Head here to donate to the SA's own fundraising campaign.
The Australian Red Cross
As the bushfires continue, Australian Red Cross teams are busy providing services in evacuation and relief centres across four states, as well as helping to distribute food and water to communities in need. Donate here. 
DISCLAIMER: We endeavour to always credit the correct original source of every image we use. If you think a credit may be incorrect, please contact us at info@sheerluxe.com.