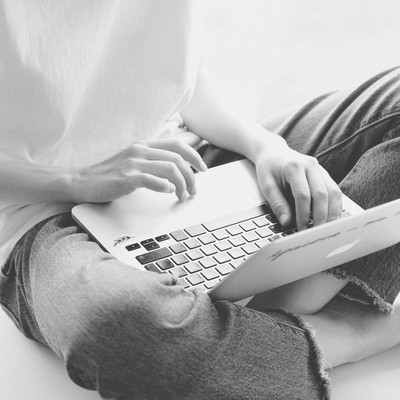 8 Ways To Protect Yourself When Shopping Online

Right now, we're all shopping online more than ever before. A direct result of modern technology and a pandemic, the ease of being able to find exactly what you need at the touch of the button and at the best possible price has given consumers complete control. Or has it? Ask any money, crime or cyber security expert, and they'll tell you there are plenty of dangers associated with online shopping. To find out what they are and how to protect yourself, we asked a few to share their advice.

Choose Where You Shop Carefully
"It's worth doing some research on online retailers to check they're legitimate," explains the National Cyber Security Centre. "Some of the emails or texts you receive about amazing offers may contain links to fake websites. If you're unsure, don't use the link, and type a website address that you trust directly into the address bar, search for it, and follow the search results."
It's also worth knowing fraudsters often use stock images or other people's images on their site or use the same image on multiple websites/adverts. To check if images appear elsewhere on the internet, and whether the seller is therefore authentic or not, you can use websites like TinEye or Reverse.Photos.
Check The Prices & Policies
Do some research to find out what a fair or competitive price is for similar goods in the same condition," advises the Metropolitan police. "If the offer sounds too good to miss out on, it might not really exist, be fake or of inferior quality." While you're at it, check the seller or buyer's review history and feedback from other reviewers. "Beware of accounts that may have been set up very recently with lots of favourable feedback that sounds similar, this could be an indication of fake reviews," adds the Met police.
There's also something to be learnt from the delivery and returns policies. Longer than normal delivery times might imply the goods are being imported, and that they could be counterfeit. Equally a shady returns policy – or lack of one altogether – are also red flags.
Use A Credit Card For Online Payments
When shopping online, always use a credit card, if you have one. "Most major credit card providers protect online purchases, and are obliged to refund you in certain circumstances," explains the NCSC team. "Using a credit card (rather than a debit card) also means that if your payment details are stolen, your main bank account won't be directly affected. Debit card payments and purchases are not covered by section 75 of the Consumer Credit Act. But you might be able to make a claim for a refund under a voluntary scheme called 'chargeback'. You should also consider using an online payment platform, such as PayPal, Apple Pay or Google Pay. Using these platforms to authorise your payments means the retailer doesn't even see your payment details. They also provide their own dispute resolution should anything go wrong. However, they may not provide the same protection as a card provider, so check their terms and conditions before your sign up."
Look For The Padlock Icon
When it's time to pay for your items, check there's a 'closed padlock' icon in the browser's address bar. "The padlock icon doesn't guarantee that the retailer itself is legitimate/reputable (and that their website is secure)," warns the NCSC. "It means that the connection is secure. If the padlock icon is not there, or the browser says not secure, then don't use the site. Don't enter any personal or payment detail or create an account."
Be Wary Of Auction Sites
The most common scams occur on online auction sites, warns the Met police, where criminals pose as sellers of popular items, such as mobile phones, cars and designer goods at bargain prices. "Their aim is to encourage you to transfer money quickly. After the payment is made, they disappear, leaving you with no goods (or faulty or counterfeit goods) and no way of getting your money back."
Additionally, criminals can sometimes pose as buyers on auction sites, sending spoof emails as proof of payment transfer to the genuine seller. The payment fails to materialise, but the goods have already been sent. "Scammers can also enter a very low bid and then, using another name, enter an extremely high bid. Just before bidding closes the high bidder will withdraw leaving the scammer's low bid to win. Scammers also use fraudulent (phishing) emails to pose as well-known payment or auction sites to steal your financial details and/or money," adds the Met team.
Only Provide Enough Details To Complete Your Purchase
According to the experts, you should only fill in the mandatory details on a website when making a purchase." These are usually marked with an asterisk and will typically include your delivery address and payment details," explains the NCSC team. 
"You shouldn't have to provide security details (such as your mother's maiden name, or the name of your first pet) to complete your purchase. If possible, don't create an account for the online store when making your payment. You can usually complete your purchase without having to create an account, or by using an online payment platform (such as PayPal). If you think you'll become a regular customer with the store, then you may want to create an account with them." The store may also ask you if they can save your payment details for a quicker check-out next time you shop with them, but unless you're going to use the site regularly, it's best not to allow this.
Keep Your Accounts Secure
If you're using the same password for your online accounts (or using passwords that could be easily guessed), then the NCSC says you're at risk. "Hackers could steal your password from one account and use it to access your other accounts. For this reason, you should make sure that your important accounts (such as your banking accounts, shopping accounts and payment accounts like PayPal) are protected by strong passwords that you don't use anywhere else."
You can further protect your important accounts from being hacked by turning on two-factor authentication (2FA). "It's also referred to as 'two-step verification' or 'multi-factor authentication'," explains the NCSC team. "Turning on 2FA stops hackers from accessing your accounts, even if they know your password. It does this by asking you to confirm that it's really you in a second way – usually by asking you to enter a code that's sent to your phone."
Watch Out For Suspicious Emails, Calls & Text Messages
You'll probably receive emails or messages from online stores as a result of 'opting in' to receive communications from them – and there may well be fake ones (containing links designed to steal your money and personal details) in the mix. "Of course, not all messages are bad, but if something doesn't feel right, follow the NCSC guidance on dealing with suspicious emails, phone calls and text messages. If you have received an email that you're not quite sure about, forward it to the Suspicious Email Reporting Service (SERS) at report@phishing.gov.uk."
Think you've been scammed? What to do next…
If you think your credit or debit card has been used by someone else, let your bank know straight away so they can block anyone using it. Always contact your bank using the official website or phone number. Don't use the links or contact details in the message you have been sent or given over the phone.
If you've lost money, tell your bank and report it as a crime to Action Fraud (for England, Wales and Northern Ireland) or Police Scotland (for Scotland). Finally, if you don't receive the item (or it doesn't match the description given), Citizens Advice has some useful information about getting your money back if you paid by credit card, debit card or PayPal.
DISCLAIMER: Nothing written by SheerLuxe is intended as financial advice. Always consult a qualified, independent professional before making any decisions related to your personal finances.
DISCLAIMER: We endeavour to always credit the correct original source of every image we use. If you think a credit may be incorrect, please contact us at info@sheerluxe.com.