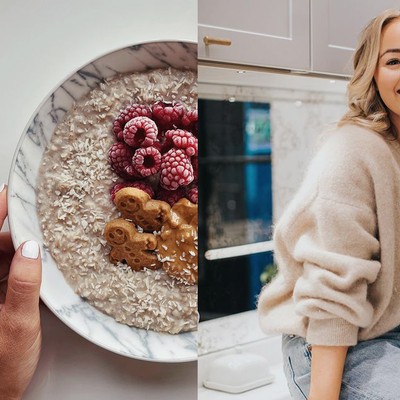 Alice Liveing: My Festive Health Rules

When Instagram star Alice Liveing isn't in the gym or training clients, she's working on her new app and raising awareness for domestic violence with Women's Aid. Here, she reveals how she stays healthy and happy over the festive season – and how she plans to help this important charity next year...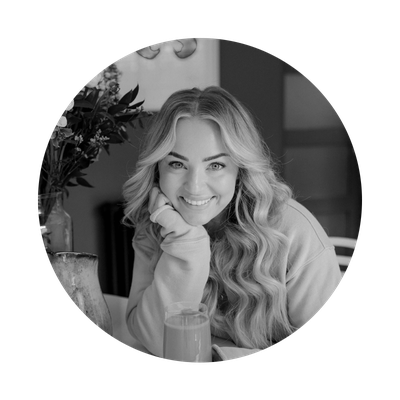 Don't beat yourself up about not working out. If you have the time and energy to exercise consistently throughout December, that's great. If you don't, try not to berate yourself.
Muscle is hard to build and even harder to lose; aerobic fitness is also difficult to lose in one, two or even three weeks. During December, I'm much more relaxed and will reframe how I approach movement in order to stay active but relaxed at the same time – it might be a long walk with the dogs or half an hour of yoga.
That said, resist the temptation to lie in bed all day. It can be tricky to find the energy or motivation to work out when there are parties and catch-ups to be had, so working out in the morning is usually best. The days between Christmas and New Year can be a bit of a blur, but getting up and doing something – even if it's just ten minutes of exercise – can make all the difference to your physical and mental health. Getting up early is a sure-fire way to not only feel motivated but also feel good for the rest of the day.
HIIT isn't the only way to work out if you're short on time. I'm a big fan of metabolic conditioning. Called MetCon for short, this type of workout focuses on circuits and is designed to kick your cardiovascular and energy-burning systems into high gear to build endurance and lean muscle. The beauty of MetCon is that it's hugely versatile – it can be running intervals on the treadmill or floor exercises like kettlebell swings, lunges, press-ups and squats. When I only have 20 minutes to fit in a workout, I'll stick to a 40 seconds on, 20 seconds off ratio – it's a quick and efficient way to raise the heart rate and get results.
When I only have 20 minutes to fit in a workout, I'll stick to a 40 seconds on, 20 seconds off ratio.

No one has time for a complicated workout. When you'd rather be lying on the sofa watching Christmas TV, avoid complicated upper or lower-body workouts. Instead, stick to a full-body workout that covers all the bases. And when it comes to kit, if you have a pair of weights to hand, by all means use them. If you don't, use what you have – resistance bands, gliders and even water bottles are all great alternatives.
The smallest of tweaks can make a workout more challenging. There are plenty of ways to make bodyweight exercises more challenging without using a single piece of equipment. Adding in plyometric moves – i.e. anything that involves a jump or explosive movement – is a great way to raise the heart rate. Instead of a squat, try a squat jump and, at the bottom, add in a hold for three seconds. If you only have 20 minutes, this will make a workout higher intensity.
Giving your body the chance to reset is important. This year has been full on for me: after launching an app (and filming all the workouts for it) and everything else, I can't wait to decompress and spend quality time with my family. While movement is important, giving your body the chance to fully rest is just as crucial – chances are, you'll feel even stronger and ready to go come January. Leaning into what your body needs and is trying to tell you is underestimated. 
Movement is the best remedy for overindulgence. Whether it's 15 minutes of yoga and stretching or a dog walk, gently moving the body will get the lymphatic system working and will boost circulation, helping you to feel less bloated. I also couldn't be without my daily dose of Symprove, which is a liquid probiotic. I also rate Wild Nutrition's Multi Strain Biotic, which has been designed to replenish the body's good bacteria following a high intake of alcohol, caffeine and sugar. 
Adding in plyometric moves – anything that involves a jump – is a great way to raise the heart rate.

Drinking can affect the chemicals in your brain that are vital for good mental health. When it comes to alcohol, I have a measured approach as it's not something that does my mental health any favours. Around the festive season, the last thing I want to be feeling is negative. I'll enjoy a glass or two of champagne with my family but will then move onto a Seedlip and tonic. Plus, the more you drink, the less motivated you'll be to work out – it's a vicious circle.
A January challenge is the perfect way to start the year strong. I'd love to challenge myself physically and mentally in 2022 – whether it's a half marathon or a climb. Running doesn't come naturally to me but I relish the challenge of it. I did a half marathon a few years ago and found the training and the run itself quite difficult, but rewarding nonetheless. I'd love to raise money for Women's Aid, a charity which supports women dealing with domestic abuse. I've been an ambassador for the charity for the last three years. 
You can't beat a pre-party facial. I love a good facial, and am currently obsessed with the IS Clinical Fire and Ice Peel at Harley Street Injectables (book in with Alice Henshaw). It combines a resurfacing mask with a peel and hydration to instantly brighten the skin, boost cell turnover and reduce the appearance of fine lines. Getting my brows done is another of my favourite beauty rituals – I regularly see @SophiaBrows and have booked in for a pre-NYE pamper. My boyfriend and I have a table for dinner on the rooftop at The Ned on NYE – the perfect spot from which to enjoy the fireworks.
 
Alice Liveing's Give Me Strength App is available to download across all platforms. The Give Me Strength January challenge starts on 3rd January for four weeks. For more, visit Alice-Liveing.co.uk and follow @AliceLiveing.
 
DISCLAIMER: Features published by SheerLuxe are not intended to treat, diagnose, cure or prevent any disease. Always seek the advice of your GP or another qualified healthcare provider for any questions you have regarding a medical condition, and before undertaking any diet, exercise or other health-related programme.
DISCLAIMER: We endeavour to always credit the correct original source of every image we use. If you think a credit may be incorrect, please contact us at info@sheerluxe.com.