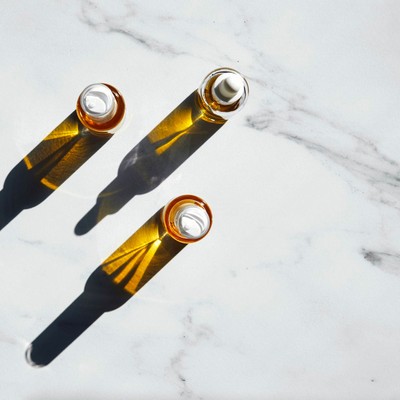 The CBD Range You Can Trust

It's common knowledge that the CBD market has boomed – rarely has there been so much newness in a single category and so many options available. If you're feeling overwhelmed by choice, Vitabiotics – the UK's number one vitamin company, now 50 years old – is a safe bet. From pharmaceutical quality grade material to being made right here in the UK, here's what puts its CBD range head and shoulders above the rest…

CREATED IN PARTNERSHIP WITH VITABIOTICS
It's Completely Pure
CBD is one of the biggest health buzzwords of the last decade. It seems that everyone, everywhere is talking about it, yet our understanding of this hemp-based ingredient is muddled. A large part of this comes down to quality, and that's where Vitabiotics comes in. Its CBD food supplement range has been formulated with API (Active Pharmaceutical Ingredient) certified CBD (a UK first) from Brains Bioceutical, a global leader in CBD and one of only three companies in the world certified to produce API grade CBD from a natural, plant-based source. Concentrated with CBD isolate made to pharmaceutical quality, its CBD is 99% pure. In fact, CBD isolate is the purest form of CBD, so you can rest assured you're getting a top-quality product. For even more peace of mind, Vitabiotics' CBD is extracted from the hemp plant in a highly controlled, approved facility environment to give you the highest quality CBD out there. 
It's Made In The UK
Unlike many other CBD products on the supplement shelves, Vitabiotics' CBD is made in the UK, and is tested and validated and only released following rigorous quality tests. Also, because it's made with CBD isolate – the purest form of CBD – the Vitabiotics range is of course free from THC, the psychoactive compound in CBD that causes the 'high'. In fact, for CBD oil to be legal in the UK, it must contain no more than 0.2% THC, making Vitabiotics CBD 100% legal and safe. If that wasn't enough, for every bottle of Vitabiotics CBD you buy, you can download its independently audited quality report by typing in the batch number via the Vitabiotics CBD website.
It Comes From A Reputable Brand
With so many CBD products out there, it can be overwhelming to know where to start, but rest assured you're in good hands with Vitabiotics, the UK's number one vitamin company. Founded in 1971, Vitabiotics has been leading the way for more than 50 years and is the only vitamin company in history to receive The Queen's Award on four occasions, including twice for innovation. Science has always been at the heart of Vitabiotics, no other vitamin company in the world has conducted such a diverse range of successful peer reviewed, double blind, placebo controlled nutrient trials.
There's A Level For Everyone
If you haven't used CBD products before, it's best to start with a smaller amount of a lower potency product to see how your body responds – remember, everyone is different. The Vitabiotics experts recommend starting with seven drops twice a day, increasing your way up to 28 drops per day. Start with their 500mg CBD and work your way up to the 1000mg CBD after a couple of months. When it comes to taking Vitabiotics CBD, it's best to take it sublingually for maximum absorption – drop the CBD liquid under your tongue and let it sit there for a minute. (An easy-to-use dropper format always gets our vote.)
It Also Provides Vitamin D
It's more important than ever to keep your levels of vitamin D topped up. Plus, with statistics from the Department of Health showing many of us are not getting enough vitamin D, it makes sense to think about boosting your levels with winter on the way. Fortunately, Vitabiotics has your back on this, too. It's CBD 500mg Plus Vitamin D is the ultimate ally for darker evenings. It contains vitamin D3, the body's preferred form of vitamin D. 
It's Free From Nasties
If that wasn't enough, Vitabiotics' CBD contains no additives or flavours, and is also free from pesticides, herbicides, chemical fertilisers and solvents. With its roots in nature, both its 500mg and the 1000mg products are vegan-friendly and 500mg+Vitamin D is suitable for vegetarians. And unlike many CBD products out there, it tastes great – without any tell-tale CBD bitterness.
Shop the products below...
Want in? The range is also available at Holland & Barrett and Superdrug. Learn more at Vitabiotics-CBD.com.
DISCLAIMER: Features published by SheerLuxe are not intended to treat, diagnose, cure or prevent any disease. Always seek the advice of your GP or another qualified healthcare provider for any questions you have regarding a medical condition, and before undertaking any diet, exercise or other health-related programme.​
DISCLAIMER: We endeavour to always credit the correct original source of every image we use. If you think a credit may be incorrect, please contact us at info@sheerluxe.com.