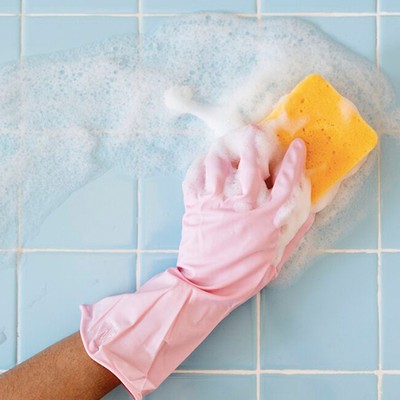 Cleaning Hacks To Know Now

We all want our homes to be as clean and as hygienic as they can be. But when it comes to sprucing up the doorframes or washing the windows, there are some tasks which take extra effort. Now that we all have a little more time on our hands, here are some innovative ways to get the quick and easy results you're looking for.

FIRST – MAKE A CHECKLIST
A tactic used by the queen of clean Sophie Hinchcliffe, aka Mrs Hinch, pick one day in the week to compile a checklist of what needs to be done. Walk around the house making notes, including those jobs which aren't part of your normal routine but have been bugging you for some time – think store cupboard organisation, untidy drawers or dirty windows. Once you've got your list, order the tasks in terms of priority and set one major goal for each of the next seven days. Be realistic and ensure time will allow for the task on each given day – ticking them off is bound to give you an added sense of control right now. 

WASHING MACHINE
Whether it's a washing machine drawer sticky with old conditioner or a dishwasher that isn't getting the dishes as clean as it used to, we should all be servicing our white goods regularly. For washing machines, try using a liquid bathroom cleaner (such as this one from Flash) to lift residue soap from the detergent drawer, before adding a cupful to the drum and running a warm wash. Failing that, you could even use a dishwasher tablet to get the drum completely clean. If you want to, try removing the drawer to check for grime which might have collected in the cavity or around the compartment. Remove grime with an old toothbrush or a Dishmatic washing up brush. Mrs Hinch recommends doing this once or twice a month: "It's just my rule," she says. "Little and often and you won't have to do a big dramatic clean." 

RADIATORS 
Often ignored as part of our cleaning efforts, Mrs Hinch advises regularly wiping down radiators to avoid a build up of dust and bacteria. Try taking a spritz of diluted disinfectant (Mrs Hinch uses Zoflora) on a cloth and gently wipe away dust and marks. To get into crevices or harder to reach places, try twisting the cloth into a point – especially good for cast iron radiators. If you find older radiators are starting to rust, dedicated followers of Mrs Hinch have been known to use one of her favourite products – The Pink Stuff's Miracle Cleaning Paste – to remove it. 
WINDOWS 
Most cleaning experts advise against using traditional or designated window cleaners, as these tend to smear. Instead, star of How Clean Is Your House? Aggie McKenzie recommends tackling dirty panes with a bowl of warm water, a soft cloth and fairy liquid. While they are still damp dust them with newspaper or a microfibre cloth. If the dirt isn't too bad, use a cloth with a bit of vinegar and water, before wiping them with newspaper. For any mildew which might have collected on the frames, don a pair of marigolds and dip a cloth in some mould remover (experts recommend this one) before wiping down the frames. Failing this, a diluted bleach solution could achieve a similar result. If you have large areas of glass to clean, such as a conservatory or patio doors, it's worth considering a window vacuum to save you time and energy. They vacuum up the dirty water from your window as they clean, making them a far less messy option.

DOORFRAMES
Even the most enthusiastic cleaners were floored when Mrs Hinch went live with this tip on This Morning in 2018. It was there she revealed fabric conditioner mixed with water allowed lifted marks on doorframes without removing the paint. Once the solution is mixed, dip a sponge (viewers flocked to buy The Minky version to mimic Mrs Hinch's technique) before gently buffing down frames – particularly good for those painted white or colours which tend to show dirt and dullness.

BATHROOM APPLIANCE 
When it comes to stainless steel, its close contact with water – whether it be in the bathroom or kitchen – makes it the stuff of lime scale nightmares. To keep stainless steel sparkling, look for specific cleaner (Mrs Hinch favours Perfect Finish by Cif) before gently buffing shower heads, towel racks and taps with a microfibre sponge. Extra tip: use a dry tumble drier sheet on your towel rails to remove all the dust first. As for glass shower screens, Mrs Hinch recommends spraying it with Astonish Mould before wiping with a Minky cloth to remove any build up. Rinse off using the shower head before buffing dry with a mircofibre cloth.
THE SINK
When it comes to keeping sinks free of blockages, Mrs Hinch recommends using soda crystals. Pour some down the plug before following with white vinegar. Once it's fizzed, pour down a capful of Zoflora and leave for five minutes. Finally, pour a kettle full of boiling water down the sink to get rid of the soda crystals. As for the sink surface, Mrs Hinch relies on The Pink Stuff to making it sparkle. Wipe it on before removing and follow up with the Cif stainless steel spray, before leaving for ten minutes. Finally, remove with a Spontex microfibre kitchen cloth. 

MATTRESSES & PILLOWS
There are no two ways about it: your bed is a hive of bacteria – not to mention mould, dust mites and body debris. With that in mind, aside from making sure you air your sheets each morning for at least 20 minutes, a regular refresh of the mattress and pillows is in order. On This Morning Mrs Hinch recommended removing all bed sheets before using bicarbonate powder on any stained areas of your mattress, sprinkling it on and rubbing it in with a rubber glove. Once the powder has settled into the mattress for an hour, simple hoover it off and watch the stains disappear. As for pillows, it is possible to put them through the washing machine with a cup of detergent. Just be sure to set it to a 'bulky' or 'large' cycle and add a couple of tennis balls in the tumble dryer so the filling doesn't clump.

THE FLOOR
When it comes to freshening up rugs (particularly important for households with pets) Mrs Hinch recommends adding one cap of fabric conditioner mixed with washing gel. Add warm water and mix before wiping onto the rug with a clean cloth. As for wooden or laminate floors, try using a mix of bicarbonate, white vinegar and Zoflora to mop, and remember to open patio doors or windows to let fresh air in afterwards. For hard-to-remove grease or dirt on tiles or linoleum, try rubbing in The Pink Stuff in small sections to lift grime away.

THE OVEN 
£50 for a professional oven clean is usually money well spent. But now, with businesses and homes under lockdown, it might be the case you need to take matters into your own hands. Rik Hellewell from oven valeting service Ovenu says prevention is often better than the cure, especially when it comes to oven trays or racks. "To keep the oven tray clean and avoid burnt-on stains, line your trays with baking paper or foil whenever possible. Always use a paper towel to wipe away excess grease and dirt after each use and soak pans regularly (ideally after each use), in hot water with washing-up liquid for an hour." When it comes to cleaning the inside walls, mixing vinegar and baking soda together to create an effective cleaning solution is a well-known method. A lesser known hack is to dip a dishwasher tablet in a little warm water to turn it into a little scrubbing-tool to work away at burnt-on stains. "In case your oven racks only need a mild clean, bathing them in a hot bath with dishwasher powder might be the appropriate solution," adds Rik. "Crumble a dishwasher tablet into the water and leave the racks to soak overnight. The next day you will be able to rub off mild stains using a sponge and warm water."

THE BIN
At the moment, a lot more home cooking risks a raft of different odours in your bin – not to mention possible leaks. To keep things fresh, use a disinfectant each time you remove a full bag and wipe away any excess moisture. Mrs Hinch follows up by dousing a piece of kitchen roll in Zoflora, before folding it up and leaving it at the bottom of the bin before replacing the bin bag.

THE FRIDGE
Food hygiene should be a top priority right now, so the first step is to make sure you're storing items as safely as possible. If you're still concerned about cross-contamination, consider investing in some fridge anti-spill liners to make any clean up jobs easier. When it comes to a deep clean, empty all shelves and drawers before wiping down with antibacterial wipes (baby wipes also do the trick). Some shelves might even be safe to put in the dishwasher. From there, clip on the slim attachment to your vacuum cleaner to hoover up any dust, food flakes or lint which might have collected towards the back of shelves or in drawer corners. After replacing all your items, keep a box of bicarbonate of soda in the fridge to soak up any strong smells.

FINALLY, DON'T FORGET THE LITTLE EXTRAS 
According to Aggie, coronavirus has made it more important than ever to go over small appliances and parts of the house we tend to neglect. That includes remote controls, door handles, loo flushes, kitchen taps, cupboard bases and light switches. Use an antibacterial wipe (Dettol's version are also antiviral) to go over items commonly used by members of the household. To minimise the spread of germs, keep all loo seats closed when not in use, regularly wash your bed linen and towels, and don't leave dishes sitting the sink, either.
DISCLAIMER: We endeavour to always credit the correct original source of every image we use. If you think a credit may be incorrect, please contact us at info@sheerluxe.com.