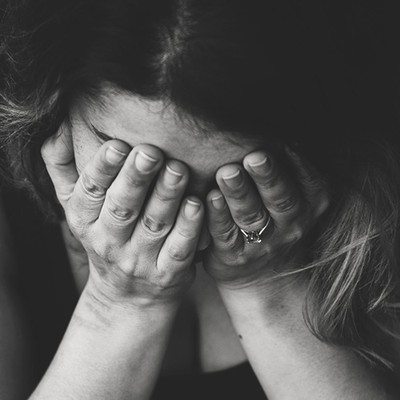 Could You Be In An Abusive Relationship?

Hear the term 'domestic abuse' and one image most likely comes to mind – a woman, beaten by her long-term male partner. But while that specific situation is a reality for so many women, abusive relationships can take myriad forms – and new research reveals a shocking number of young people are in them, but don't recognise the signs…

As part of a year-long partnership with Women's Aid, Cosmopolitan carried out research into the health of the UK's relationships. Their research found over a third of the 122,000 people surveyed had been in abusive relationships – but perhaps even more concerning was the number of people who said they'd experienced various 'red flag behaviours', yet didn't realise it was abuse. Of the 65.5% of respondents who said they hadn't been in an abusive relationship, almost two thirds had experienced at least one potentially abusive behaviour from their partner.
These behaviours included a partner making them feel bad about themselves with nasty comments, logging into their phone or social media accounts without their permission, criticising their social media interactions, turning up unannounced after they shared their location on social media, pressurising them into doing something sexual when they didn't want to, attempting to stop them from socialising with people who are important to them and making them feel intimidated with physically aggressive behaviour.
As Cosmopolitan explains, in isolation some of these behaviours may seem like small, insignificant acts – so it's vital to consider at the bigger picture, and look for consistent patterns in frightening or upsetting behaviour. Women's Aid also stress there are many myths about domestic abuse, and have shared some of the most widely-believed and deep-rooted misconceptions that are stopping victims from getting the help they need.
 

Read on for Women's Aid's top 5 myths about abusive relationships…
MYTH 1: Domestic Abuse Always Involves Physical Violence
In reality, many abusive relationships don't include physical violence, or even threats of them. Women's Aid defines domestic abuse as an incident or pattern of incidents of controlling, coercive, threatening, degrading and violent behaviour, including sexual violence, by a partner or ex-partner. These incidents can include coercive control, psychological and/or emotional abuse, physical abuse, sexual abuse, financial abuse, harassment, stalking; and/or online or digital abuse.

MYTH 2: If It Was That Bad, They'd Leave
People stay in abusive relationships stay for many different reasons, and they need support and understanding, not judgement. It can be very difficult for some people to leave an abusive partner – abuse rarely starts at the beginning of a relationship, often beginning once it's established and harder to leave. A victim of domestic abuse may still be in love with their partner and choose to believe them when they apologise and say it won't happen again; they may be frightened for their life or for the safety of their children if they leave; they may have nowhere to go, or no financial independence. Abusers often isolate their partners from family and friends in order to control them, making it even more difficult to exit the relationship.

MYTH 3: She Provoked Him
This myth is widespread and deep-rooted. It's often based on the belief that the man is the head of the family, and that his role is to punish his partner or children if they act in a way he doesn't approve of. It's a particularly damaging myth because any reference to 'provocation' means that the woman is blamed and abuser is relieved of responsibility for his actions. Abuse or violence of any kind is never the victim's fault. Responsibility always lies with the perpetrator, and with them alone.

MYTH 4: Women Are Just As Abusive As Men
While female-on-male and female-on-female domestic abuse certainly does occur, the vast majority of domestic abuse is experienced by women and perpetrated by men. Two women a week are murdered by a current or ex-partner in England and Wales alone. Of the 92,779 domestic abuse court prosecutions last year, 92.4% of defendants were male, and 84% of victims were female. Women are more likely than men to experience multiple incidents of abuse, different types of domestic abuse, and sexual violence in particular – and Women's Aid believe it's a gendered crime, deeply rooted in the societal inequality between women and men.

MYTH 5: People Often Lie About Abuse
False allegations about domestic abuse are extremely rare. The Crown Prosecution Service released the first ever study of this in 2013, and concluded that false allegations are even more infrequent than previously thought. In the 17-month period that the study examined, there were 111,891 prosecutions for domestic violence, and only six prosecutions for making false allegations. This myth is extremely damaging, because the fear of being called a liar can and does deter women from reporting the abuse they've experienced.
 
For help, support and advice about domestic abuse, visit WomensAid.org.uk
The 24hr freephone National Domestic Violence Helpline (run in partnership between Women's Aid and Refuge) is available on 0808 2000 247 24 hours a day, 7 days a week
DISCLAIMER: We endeavour to always credit the correct original source of every image we use. If you think a credit may be incorrect, please contact us at info@sheerluxe.com.