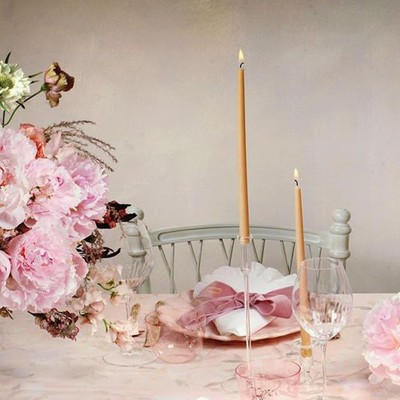 Designer Fiona Leahy Shares Her Christmas Styling Tips

With the countdown to the big day officially on, we've turned to one of our favourite women on Instagram for a little bit of Christmas styling inspiration. Fiona Leahy is one of the capital's best-known party planners and tablescapers – she made her name throwing lunches for Christian Louboutin and lavish suppers for Smythson and Dior – so who better to share some festive decorating tips? From her favourite colour palette to the small details that cost nothing, here's what she's planning this year.

All products on this page have been selected by our editorial team, however we may make commission on some products.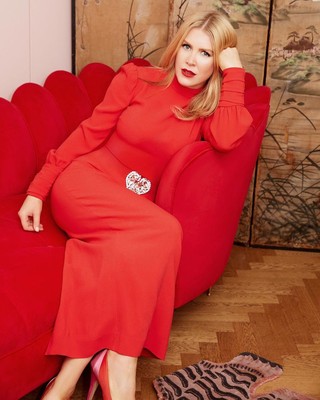 I always go home to Ireland to spend Christmas with my family. This year will be no different, assuming I can take my dogs with me and restrictions permitting. My birthday is 10th December, so I don't tend to decorate for the festive season until that's out of the way. This past weekend, for example, we put the tree up and hung the wreath. We then tend to make our way over to Ireland closer to the 25th – sometimes as close as Christmas Eve. I'm always that person on the plane with tons of luggage full of table decorations and materials…
My mum and I like there to be ATMOSPHERE, so we don't eat until it gets dark, and we can use lots of CANDLELIGHT.

We usually have a special dinner on Christmas Eve all together. Because I'm pescatarian, we serve more on veggie-type dishes than you'd typically get around Christmas time and to me, it always has a very magical air to it – almost more so than Christmas Day itself. Spirits are high, and the vibe is less formal and more grounded. Afterwards, we go to midnight mass and sing lots of carols. It really puts you in a festive mood. 
 
On Christmas Day, we have a late brunch and an early dinner. We're not really 'Christmas lunch' people – my mum and I like there to be atmosphere, so we don't eat until it gets dark, and we can use lots of candlelight. We also like the space to feel warm and welcoming – lots of burgundies, forest greens and garlands. One year, I put a sequence of mini Christmas tress down the centre of the table. Unlike Christmas Eve, this is the moment when all the little extras come out. I usually make my own crackers to use as place cards and put mini snow globes out to help capture the mood. This year I'm going to use my Hand & Lock initial bows to denote where everyone is sitting.
 
I've been renting a lot of my festive tableware this year. Maison Margaux is a favourite, but if you're looking to buy, then nothing beats the MATCHESFASHION home section. It's amazing these designer destinations are now offering homeware, even if it does make the online shopping experience much more dangerous! I just bought some beautiful plates by Gergei Erdei from there. My paper comes from Jemma Lewis Marbling and my ribbons (which are often embroidered or monogrammed) are from Hand & Lock. I love the linens from Once Milano and this Christmas, I'm buying lots of pieces in burgundy and chocolate brown. Ferguson's Irish Linen is another of my go-tos, and Zara Home is also so underrated for table linens – it's always worth a look. 
It's best to think of these as pieces you'll own forever. Like the rest of your Christmas decorations, if they're good quality and you look after them, you can then re-use them year after year. It's only wasteful if you throw them away after a single use. Also, if you're trying to be more sustainable, think about what you can upcycle or make from scratch rather than buying new. For example, I always make my own murano candlesticks – this year I've gone for a burgundy with a gold trim. 
 
It's perfectly possible to create a beautiful table on a budget. A couple of small pieces are all you need to elevate the look. Rather than investing thousands in pieces that get packed away for 11 months of the year, pick out one or two things which will tie everything together – for me, that's the napkins and the tablecloth. Those two items will really ground your scheme – and you'll probably be able to use them throughout the year, too. I also think charger plates are worth the money. Then, you can do so many other things that cost nothing – like handwritten menus. They add so much personality, but there's no need to pay a professional calligrapher if budget doesn't allow.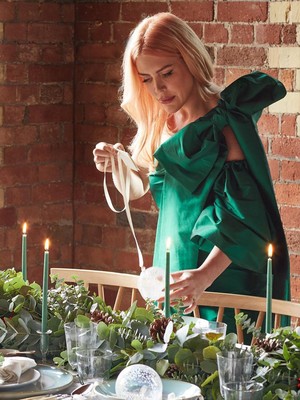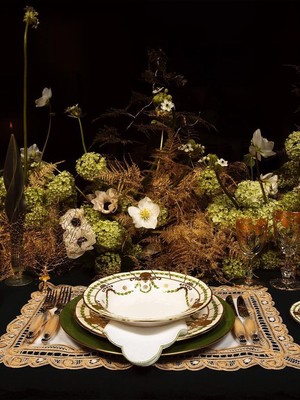 Flowers and candles are two more areas where you don't need to spend a lot. Both have the power to instantly elevate a table – so I wouldn't skip them altogether – but Ikea sells great candles and flowers can look beautiful even when they're on the minimal side. If you're lucky enough to have a garden, think about what you might be able to use from there. Also, things like fancy napkin rings – not necessary if you ask me. Get a simple piece of velvet ribbon and tie that round instead. So chic.
 
A cohesive Christmas table is all about layers and space. It also helps the tablescape transition as you serve the various courses. This is why charger plates are so important, because you can place different serveware on top without altering the overall theme too dramatically. I also like to put fruit and nuts on the table so people can sit and snack, either between courses or at the end of the meal. Whole walnuts looking really rustic and feast-like – just make sure you put some nutcrackers out for people to use. I love it when the tablescape feels almost interactive. 
 
To kick things off, you can't beat a champagne cocktail. My mix of choice is champagne with a little bit of angostura bitters, Hennessy and a sugar cube. It's like a lovely warm jolt. We're all big red wine drinkers in my family, too – consider using a magnum on the table or large carafe so you're not constantly getting up to open new bottles all the time. It sounds excessive, but if there's a crowd, it usually works out cheaper. Finally, I love to round things off with a good whisky sour. 
We're the kind of people who dress up on Christmas Day. In fact, dressing up at home feels a bit more like second nature due to the pandemic and lockdown! For me, it's easier to wear a dress than a track suit – the latter just makes me feel depressed. I have this long, red Alessandra Rich dress I love, so I'll probably wear that this year – it's actually really comfortable. In my opinion, the way people are dressed around the table helps bring the entire vision to life. The Christmas tablescape doesn't begin or end with the chairs – it's a visual feast, as much as a literal one.
 
I haven't really settled on my New Year's Eve plans yet. A typical Sagittarius, I'm fantasising about escaping off somewhere… I have this vision of being in Marrakesh dressed up like some sort of I Dream Of Jeannie character. But I'll probably be in London, in which case I'll likely drop by Chiltern Firehouse with friends. 
In my opinion, the way people are DRESSED around the table helps bring the entire vision to life. The Christmas tablescape doesn't begin or end with the chairs – it's a VISUAL FEAST, as much as a literal one.

If you're planning on putting together a New Year table, keep it simple. It should be all about the light – lots of candles, table lamps and crystal to reflect the light around the room. It's less about the rich dark colours by the New Year; I like to use a bright white or silver tablecloth (one of the only times I would) with lots of gold accents. It should look simple and cleaner, to signal a new start.
 
New Year is a time of rebirth, so there are some little rituals I like to incorporate. For example, everyone around the table is given pieces of paper on which to write something they'd like to let go of, then we burn them. We also talk about what our resolutions are and – it might sound a bit out there – but I like to sage the room using palo Santo, too. It feels like you're getting rid of any bad energy that might be hanging around. Ultimately, it's about doing something with meaning that marks the passing of time – getting rid of the old and welcoming in the new, whatever that might be.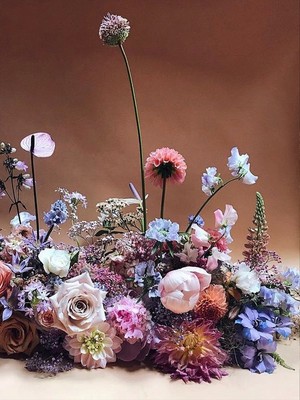 DISCLAIMER: We endeavour to always credit the correct original source of every image we use. If you think a credit may be incorrect, please contact us at info@sheerluxe.com.