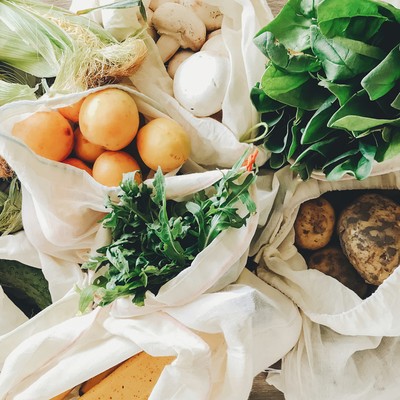 The Easy Ways To Be Sustainable In The Kitchen

On top of 'pandemic' and 'pivot', 'sustainable' is bound to go down as one of 2020's most-used words – and rightly so. From fashion to food, never has working to eliminate waste felt so high priority. If you're a keen cook, but know that it comes with more waste, then help is at hand courtesy of these sustainable kitchen habits from eight leading chefs.

Jamie Oliver, Celebrity Chef
Think about how you use your fridge. The temperature varies a bit in any fridge as heat rises so keep your meat and fish in the cooler part at the bottom and then foods like dairy in the middle and make sure you keep cooked meat on a separate shelf to any raw meat.
Use your leftovers. Sometimes when you look in the fridge, there's a few random bits and pieces that you just don't know what to do with. At home, meat is the third most wasted food, and of that meat, the most wasted is chicken. There are so many things you can do with leftover chicken – amazing noodle dishes, beautiful salads, comforting pies and stews, risottos packed with flavour – you name it, you can do it. 
Make the most of your freezer. Freezers are like time capsules for food, it's like pressing pause. I love freezing herbs before they go to waste. Just chop them up and pop them in an ice cube tray with a little olive oil, whack them in the freezer and they're like little flavour bombs, ready to be used. You can freezer other stuff too, like batches of homemade curry paste and leftover coconut milk – perfect for making a curry in no time at all. When I buy beautiful, fresh chillies, I always grab a handful and put them in the freezer. Once it's frozen, it goes completely hard and then you just need a fine grater to grate the chilli over a curry, salad, grilled meats and fishes. If you've got some fruit that's about to go bad, put it in the freezer chopped up in a container and use to make puddings and smoothies. Winner. 
Visit Hotpoint.co.uk

Lauren Clark, AO Life
Create an 'eat me soon' box. Prevent food waste by creating an 'eat me soon' area in your fridge. You could do this by getting a Perspex box and labelling it to ensure you store all of your food with an impending use-by date in it, which will stop you from forgetting about items that could be saved, and it might inspire you to try out a new recipe. 
Make the most of your condiments. Most of the time, your condiments end up on the top shelf and forgotten about until it's Christmas time when you realise the chutney expired a year ago. If you want to keep things ultra-organised, pop a lazy Susan on the top shelf for hard-to-reach products to avoid them getting lost.
Buy some baskets. Pop some baskets into your fridge to keep loose veg from rolling around. This also makes it easier to obtain that perfectly organised fridge aesthetic we're all striving for – plus, keeping fruit and veg in rainbow colour order is immensely satisfying.
Line your shelves to make them easier to clean. If you have any old placemats or laminated tablecloths spare, cut them to fit your fridge shelving to make cleaning your fridge effortless. This is particularly beneficial if you have a large American-style fridge freezer, as well as providing a welcome splash of colour. 
Group your food together to avoid chaos. Now that you've organised the top shelves, move all dairy products (including milk, cheese, cream, butter etc) to the middle shelves. Meanwhile, pop your meat products onto the lower shelf and all your salad-based products and vegetables into the drawers. This will save you time but is also more effective according to the circulation of your fridge, as well as preventing any unwanted drips from meat-based products. Just make sure you label your sections so that your kids or housemates don't interrupt your new system.
Visit AO.com

Jimmy Garcia, Jimmy's Pop-Up
Eat more veg and make it local. This is a win-win all round, for not only your own health, but also the environment and the local economy. By buying local, you'll always tend to find produce is bursting with much more flavour as it's picked at its peak. This really helps as there's a much shorter time before it lands on your plate so you get the full sensory experience, as it should be.
Be mindful. When we're thinking more consciously about what we're eating and when, with more forward planning, we naturally start to think more about our consumption and what we actually need in the week ahead, which in turn can really help to reduce household food waste as it allows more time to avoid buying convenience food, which can lead to so much excess you just don't get round to eating. 
Visit JimmysPopUp.com

Andre Dupin, Hello Fresh
Get creative with fruit. There is a common misconception that the skin on certain fruits can't be eaten. With the right recipes and cooking methods, fruit peels that are commonly thrown away can be turned into something quite delicious:
Apple Peel Chips: For a sweet yet crunchy snack, repurpose apple skin by baking them into tasty chips. Mix sugar and cinnamon together, sprinkle evenly over the peels and bake for 30 minutes.
Candied Orange Peel: Simply pop the peeled and sliced orange peel in an inch of water and bring to boil. Drain with a colander and repeat once more. Once that's done, add back to the pot with 2 cups of water, 1 cup of sugar and vanilla. Bring to boil and then simmer for 30-35 minutes until the sugar syrup has almost entirely evaporated. Let them dry for at least eight hours. When dried, roll in sugar.
Chocolate Dipped Orange Peel: Disguise orange peel with a delicious dark chocolate coating. Perfect for gifting, snacking or a healthier treat. Use the same recipe as the candied orange peel above, then melt and cover the treats in milk chocolate.
Grapefruit Tea: The rind of grapefruit is rich in fibre and should never be wasted. To make the most delicious and nutritious tea, simply add a grapefruit peel to boiling water and let it simmer for 15 minutes, then sweeten to taste with honey.
Lemon Peel Zesty Seasoning: Make your own zesty seasonings with lemon peels that would have once been thrown away. Before you halve a lemon for juicing, grate the zest to use for seasoning – add to cooked grains, such as couscous and bulgur wheat for a zingy crunch or mix in soups, stews or any curry dish to bring out the flavours. 
Visit HelloFresh.co.uk
Freezers are like time capsules for food, it's like pressing pause.

Hannah McCollum, ChicP
Get blending. You can blend virtually everything, from raw food to cooked food – and anything on its last legs. It usually gives it a new lease of life and turns it into something completely different and delicious. You can also add so many ingredients to a food that may be going off to spice it up, such as spices, herbs, oils, nuts and cheese.
Use your freezer. If you're not going to eat it or give it away to a food bank or neighbour, freeze it. Nearly all food freezes (including hummus!) 
Grab a baking tray. Whether it's meat, fish, plums, carrots or onions, putting it on a baking tray and roasting will increase its shelf life. The bacteria is killed and you've got some delicious goodies for another few days. I sometimes even roast my food and then freeze it into batches for lunches.
Designate a night a week to using up leftovers. This is often the most fun night to cook! There's no need to buy anything else, get creative, Google what can be done with the ingredients or delve into a cookbook, then get friends over.
Visit ChicP.co.uk

Laurie Gear, Artichoke at Old Amersham
Eat with the seasons. It sounds obvious, but bears repeating: all food will be in greater supply, invariably cheaper and at its best quality while in season. 
Ask questions. When selecting fish, meat or game, ask questions if you are not sure as to its sustainability – the fisheries website has detailed information regarding stock levels and endangerment when it comes to seafood, and butchery counters should know the provenance of the meat sold, from welfare through to sustainability. 
Take things back to basics. In the kitchen, this will not only pay dividends economically, but will greatly reduce waste. This can be as simple as using trimmings for stocks and sauces to using some forward planning such as using leftover Sunday roast chicken to create a delicious chicken soup or broth, using the carcass to make a stock, diced leftover vegetables and perhaps adding some pre-soaked dried grains or pulses. The water used to cook greens makes a simple but effective vegetable stock to make gravy, while staple family classics such as bubble and squeak gives mileage to leftover potatoes and greens. 
Visit ArtichokeRestaurant.co.uk

Cesar Fernandez, Miele Der Kern
Get into a good routine. Aim to plan a week of meals in advance and check the fridge, freezer and store cupboard before you head to the shops to make sure you're not doubling up on ingredients. Make a big batch of pesto or a curry paste, as these last for ages in the freezer. Just remember to label everything before you store with the name of the dish and the date it was made. Check the best before and use by dates of anything that you've got in the fridge and remember to move these ingredients to the front when you go shopping and move any newer products to the back.
Get creative. Try to keep the evening before you go shopping as your 'fridge foraging' meal. Check what needs to be used and get creative. Just a few vegetables can be turned into a delicious and creamy vegetable bake when topped with breadcrumbs, garlic and herbs.
Make your own snacks. You can make snacks by using the skins of vegetables like potatoes or sweet potatoes. Brush with a little oil, salt and pepper and bake in the oven. Or roast the seeds from a butternut squash or pumpkin that you're about to cook with.
…And your own pesto. Pesto is great way to use up any herbs that are starting to go a bit limp, and if you are buying bunched carrots, use can also use the tops in the pesto. Salsa verde is another great one for wilted herbs – simply blend with some vinegar, lemon juice and oil to brighten up grilled meats easily.
Make the most of all of the ingredients. Cauliflower leaves are great shredded through a bubble and squeak or roasted in the oven, while broccoli stalks are delicious shredded in a stir fry, or slow cooked with a little garlic, oil and chilli. There is also the same nutritional value in the stalks as there is in the florets.
Get freezing. You can freeze cooked pasta and rice, nuts, flour, butter, grated cheese, peeled bananas, bread, herbs, eggs cracked into small containers, raw or cooked meat and stock. Don't be tempted to freeze milk, potatoes, deep-fried food, sour cream or anything with a crumbly topping. Food with a high-water content such as salad leaves, celery and cucumber also won't freeze well. Prevent bread from going off by freezing slices. You can then take out slices as and when is needed and toast straight from the freezer.
Try pickling. To preserve ingredients for longer, pickling is one of the oldest methods of preservation, adding to the taste and flavour at the same time. Fruit and vegetables can be are soaked in a brine of water and acid mixed with salt until they are no longer raw or easily spoiled. The result is a naturally sour flavour, such as pickled onions or gherkins.
Visit DerKern.Miele.co.uk

Ligia Lugo, The Daring Kitchen 
Don't overlook fruits and veggies that aren't perfect. Just because some potatoes or carrots have a slightly unusual shape doesn't make them less delicious. Most people will avoid them because they are 'ugly' and they will probably end up getting thrown away. So next time you go shopping and see a funny-looking veggie, buy it.
 
Buy frozen fruit. Not only will it last longer – you won't end up throwing fruit that was forgotten in your fridge or counter for weeks – but it can also be just as nutritious or more so than fresh ones because they were picked at peak ripeness. I like to buy frozen mangoes, berries and peaches.
 
Visit the farmers market regularly. This is a great way to live and cook more sustainably and deliciously. Locally produced food is the most nutritious.
Visit TheDaringKitchen.com
 
DISCLAIMER: We endeavour to always credit the correct original source of every image we use. If you think a credit may be incorrect, please contact us at info@sheerluxe.com.