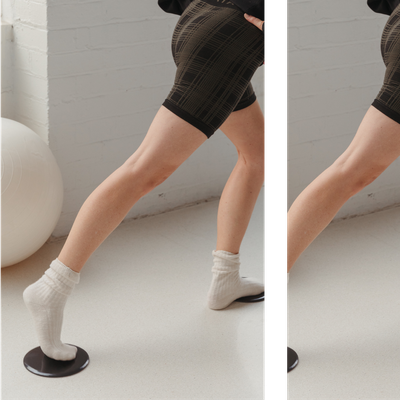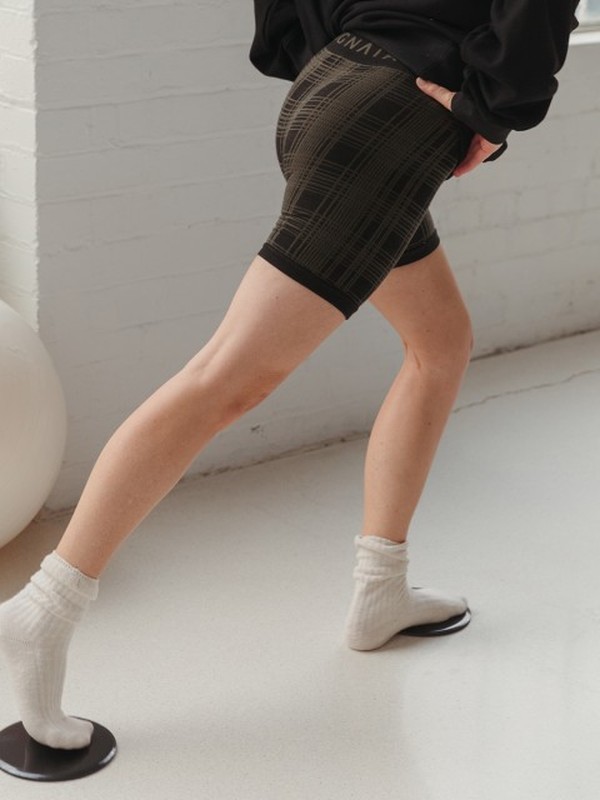 A PT's Guide To Working Out With Gliders

Gliders are a small but mighty piece of kit – they can transform a seemingly simple fitness session into a killer PT-approved workout. Here, we asked three trainers how best to use them.

By Tor West
All products on this page have been selected by our editorial team, however we may make commission on some products.
Know The Benefits
"Gliding discs – also referred to as sliders – may look basic, but they are a PT's best-kept secret, especially when it comes to building strength and toning in a low-impact way. Two circular, flat, frisbee-looking discs, they work in a similar way to the Pilates reformer, which is known for its body-sculpting powers. Gliders improve your stability and help you build core strength, as you need to 'switch on' your core when using them to keep the body stable. Think about it – it's impossible to do most glider exercises without working every muscle of your body – you're always working against an uneven surface, so you end up engaging so many more muscles without realising. They can also help increase your range of motion, encouraging you to go deeper into a move and helping to strengthen and lengthen muscles. If you're looking for a piece of kit to add intensity to a workout, you can't go wrong with gliders." – Maria Eleftheriou, head of barre at Psycle 
Take Inspiration From Reformer Pilates
"The reformer machine involves a system of springs, ropes and pulleys – during a class, you'll alternate between pulling and pushing to create resistance. Gliders work in a very similar way – only there's no reformer required. For a Pilates-inspired workout at home, use your gliders to do sliding lunges working with different tempos to keep the muscles challenged, or go into a classic bridge position, popping both your feet on a glider each and moving each one out a few inches at a time to strengthen the hamstrings. Sliding pikes to planks are also a fantastic way to tone the lower abs, while sliding hand push-ups are great for the shoulders, triceps and core." – Maria 
Incorporate Them Into Barre
"Pairing gliders with barre work is a no-brainer – the low-impact nature of the gliders pairs perfectly with the toning and strengthening powers of barre. If you don't have a barre at home, you can use a heavy piece of furniture to offer stability during leg work. Standing leg work with discs under the balls of your feet, moving one leg in and out through different planes – forward and back, out wide and in, on the diagonal and around in circular motions – will fire up both your moving leg and activate your glutes." – Kirsten King, founder of Fluidform Pilates
Gliders work in a similar way to the PILATES REFORMER, which is known for its BODY-SCULPTING POWERS.

Add In Other Pieces Of Kit
"To take things up a level, add a resistance band or pair of light dumbbells. Using a resistance band around your thighs with gliders can create a challenging leg set. Also, try using a pair of hand weights to work the lower and upper body simultaneously – think a gliding lunge with an overhead press. Ankle and wrist weights also work well with a pair of gliders, especially when used during mountain climbers, lunges and other leg work." – Kirsten 
Go Slow
"For gliders to be effective, think slow and controlled. One of the most common mistakes people make when using gliders is moving too fast, which means you lose control and the all-important muscle connection. Really think about your technique and you'll soon feel the glider burn and see the sculpting results." – Lizi Townend, founder of LT & Co.
For a CARDIO CHALLENGE, incorporate your gliders into a mountain climber. This will FIRE UP EVERY MUSCLE from your abs to your shoulders.

Think About Posture
"Gliding discs may look basic, but they're actually an advanced piece of equipment. When using them, ensure you maintain a neutral position – think shoulders down and away from your ears, chin slightly tucked and your pelvis neutral. When you lose form and neglect your posture, your muscles won't work correctly or efficiently." – Kirsten 
Make It More Challenging
"Gliders help bring fluidity to your movements and are a great way to drive your heart rate up. When used properly, gliders can provide the perfect cardio workout on those days you don't feel like running or doing any kind of traditional high-impact work. Low-impact yet heart-raising, they're the perfect way to work out. Remember – gliding discs require focus and balance across your entire body. Try a mountain climber with your discs under the balls of your feet – this will take the classic mountain climber to the next level as you are able to more swiftly, increasing the pace, while also challenging your stability on the discs. Instantly, you can fire every muscle from your feet to your lower abs, while also working your shoulders and upper back. Lunges – done with gliders under the balls of your feet – are also great." – Kirsten 
Think Little & Often
"When it comes to low-impact sculpting, consistency is key. Nail your technique, starting by using your discs a couple of times per week, and then work up to using them for 15-20 minutes daily. A quick, focused session of controlled, functional movement will significantly improve your strength and change the shape of your body." – Kirsten 
---
Shop These Expert Approved Products...
DISCLAIMER: We endeavour to always credit the correct original source of every image we use. If you think a credit may be incorrect, please contact us at info@sheerluxe.com.