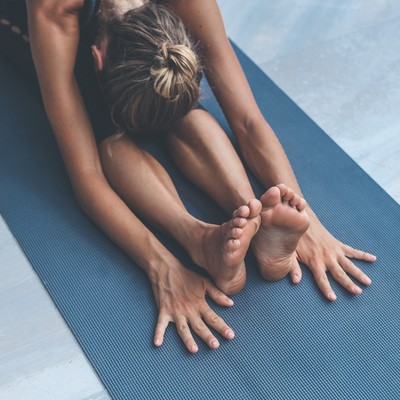 Why You Should Try Restorative Yoga

A slow-moving yoga practice – where simple poses are held for long periods of time – might sound a bit dull, but it could be just what the doctor ordered. Proven to reduce stress levels, release tension, aid sleep and soothe the nervous system, we went to three yoga experts to find out more.

What exactly is restorative yoga? 
"Essentially, it's a slower pace of yoga. Often referred to as restorative and yin yoga, this type of practice is complementary to more invigorating styles, such as strengthening and conditioning classes like vinyasa. In a yin or restorative class, poses are held for between three to five minutes, which helps to instil a sense of calmness and relaxation." – Monica Ruiz, instructor at House of Wisdom and yoga & meditation teacher
"Restorative yoga is a completely different experience from most contemporary yoga. In a nutshell, prepare yourself for deep relaxation. Props are a distinguishing characteristic of this style of practice, and many of the poses in a restorative practice are on the ground, either supine or prone, where the body is supported by bolsters and blankets. It's not uncommon to hold postures for quite some time – often up to 15 minutes, and the eyes are closed for the majority of the practice." – Anna Ashby, teacher at Triyoga
What are the benefits?
"Restorative yoga has so many benefits. Primarily, it dampens the nervous system 'survival' response, promoting relaxation, which effectively shifts the metabolism to rejuvenation mode, resulting in an increased sense of wellbeing and vitality and a stronger immune system. Secondly, it recalibrates your awareness so that you become more attuned to stillness and space, and thirdly, it cultivates openness by revealing patterns of holding, blocking, or bracing, both physically and mentally, that in time can be softened and released. Living in a city can throw the nervous system off balance, and a restorative yoga class will help slow the heart rate down and allow the body and mind to fully rest." – Anna
Exactly how does it help release tension in the body?
"These types of yoga help with your fascia, an invisible mesh that covers and goes through all body tissues, as deep as in between your cells, binding tissues together. Fascia is the network of connective tissue that surrounds and includes your muscles. This webbing is involved in musculoskeletal well-being and proprioceptive capacity (body sense, or knowing where you are in space), and it influences how signals of sensation (like pain) travel from your body to your brain. Interestingly, research shows that fascial release influences our nervous system, affecting the core of our muscles. This network is rich in sensory nerve endings, and gentle pressure on your fascia may help communicate to your nervous system that there is no longer any need for increased tension in that area." – Monica
How does it differ to other forms of yoga like vinyasa?
"Vinyasa is a movement-led practice, which involves invigorating sequences primarily led by the breath and the movement. However, vinyasa does not allow the release in deep connective tissue and fascia that is so necessary, especially with our current lifestyles which can be draining and exhausting. Yin and restorative yoga emerge as a balsam to compensate for these stress-related activities, engaging with your sympathetic nervous system (relax and restore) while the parasympathetic (action taking) gets a chance to rest, providing a space for the whole body to heal at all levels." – Monica 
Who should try it?
"As restorative yoga focuses on improving your natural range of motion, it's ideal for those recovering from an injury as well as those who want to increase their capacity to recover from more intense workouts and improve performance. If you're interested in mindfulness, then this type of yoga is definitely worth a try, too, as it often includes meditation and breathing exercises. In these softer styles of yoga you are still and very much in the moment, which in itself is a powerful mindful practice." – Monica 
"Restorative classes are very mellow, making them a good complement to more active practices and an excellent antidote to stress. There is a common misconception that restorative yoga is only for old people – while it certainly promotes healing, recovery and longevity, this practice is for everyone. If you have a nervous system, then restorative yoga is for you. In fact, a huge part of the practice is learning how your nervous system works to be able to take proactive and specific steps to support balance." – Anna
As restorative yoga focuses on improving your natural range of motion, it's ideal for those recovering from an injury as well as those who want to increase their capacity to recover from more intense workouts and improve performance.

Do you need any equipment to get going?
"If you have them, a bolster and two blocks will help. If you don't have a bolster, you can make your own by rolling two blankets together and tying them up." – Monica 
"During a restorative class, the nervous system tends to calm down, and this can result in a drop in body temperature, making you feel cold. It's important to therefore have clothing that's warm enough for your class – think layers or even an extra blanket. If you're practicing at home, you may also like to have some cushions or cosy socks to hand. It's all about being super comfortable. If you're going to buy one piece of equipment, make it a bolster, which will help you get comfortable and enable a deeper stretch into the pose." – Rishin Paonaskar, instructor at Yogarise
How quickly can you see results?
"You will feel calmer and more relaxed after your very first session, but if you develop a regular practice, you will begin to sense real changes in your stress levels within a few weeks." – Rishin 
Any other words of wisdom?
"If you're just starting out, or have a very fast-paced lifestyle, you may find it tricky to stay still during a class. I often see fiddling fingers and tapping toes as the body is in withdrawal mode from 'doing' all the time. Lying there being still can feel unfamiliar, but stick with it, as it offers a real chance to decompress and release from our busy lives." – Monica 
"Remember that the typical restorative class will involve very few poses. In 90 minutes, for example, you may only do five poses, holding some for ten to 20 minutes. There's absolutely no harm in trying restorative yoga – the worst that can happen is that you might leave feeling more relaxed than when you started the class. If you're unsure about restorative yoga, try and find a class that offers a combination of vinyasa flow and some restorative poses – this is a great way to dip your toe into a slower-paced class." – Rishin 
Try one of these SL-rated restorative yoga classes, all of which are available online…
Re:Mind Yin Yoga
If you're feeling frazzled, this blissful, seriously slow-paced class is the one. Holding poses for up to ten minutes in order to open up energetic pathways and de-stress the body, this 45-minute class is our go-to for those days when it all feels too much.
Visit RemindStudio.com
Triyoga
Having opened its first studio two decades ago, Triyoga is renowned for its world-class yoga, and its online sessions won't disappoint. On its roster are some of the world's top yoga teachers – think Julie Montagu and Leela Miller – and its restorative classes will leave you feeling calmer and at least two inches taller. 
Visit Triyoga.co.uk
Core Collective
Ensuring you're never without access to a stress-busting flow, the team at Core Collective is on hand for live yin yoga classes throughout the week, and if you can't make a class, there's an impressive selection of on-demand sessions to do as you please.
Visit Core-Collective.co.uk
Compass Chelsea
Founded by an ex-lawyer turned yogi, this new online studio offers a variety of mindfulness-focused classes, including a blissful Slow Flow that's held on Wednesday and Thursday mornings. Sunday afternoon's Gentle Vinyasa with Intention Setting is also worth a try. 
Visit CompassChelsea.com
Fly LDN
Flow from home with the Fly team, who offer some of the best restorative classes in town. Set to an uplifting playlist, Slow Flow is ideal for beginners, while Chill Live is an open-level, yin-inspired class that works deeper in the muscles, joints and fascia using the breath and props.
Visit FLYLDN.com
BLOK
Offering unlimited training across ten disciplines, BLOK is a studio like no other, and its yoga offering comes highly rated. Taking place virtually throughout the week, its 60-minute Yin Yoga classes are the ideal way to end a busy day. Plus, your first month is free.
Visit BLOKLondon.com 
For more information visit Yogarise.London, HouseOfWisdomStudio.com and Triyoga.co.uk
DISCLAIMER: Features published by SheerLuxe are not intended to treat, diagnose, cure or prevent any disease. Always seek the advice of your GP or another qualified healthcare provider for any questions you have regarding a medical condition, and before undertaking any diet, exercise or other health-related programme.
DISCLAIMER: We endeavour to always credit the correct original source of every image we use. If you think a credit may be incorrect, please contact us at info@sheerluxe.com.