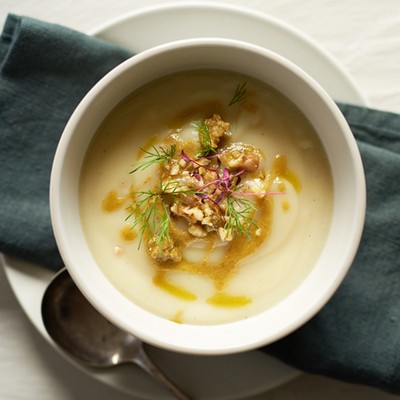 Five Easy Recipes With Celeriac

Despite being in season now, celeriac's earthy flavour means it is often gets swapped for more appealing root vegetables. It's a mistake, says SL contributor and food writer Chloe Scott-Moncrieff. Here, she shows us how to make the most of this winter staple…

1. Celeriac Fritters
INGREDIENTS
1 celeriac, peeled and sliced very thinly or grated

1 potato, peeled and grated

1 shallot, finely sliced

1 tsp of cumin seeds

1 egg

1-2 tbsp of plain, rye or spelt flour 

½ tsp of baking powder

Garnish: yoghurt or sour cream and fresh herbs, capers and spring onion
METHOD
Mix the celeriac, potatoes and shallot in a bowl.  Season with salt and pepper. Squeeze it so there is less water.  

Add any herbs or spices you wish to include: it marries well with tarragon, coriander, curry powder, or parsley and basil for a Mediterranean twist.  

Stir in the egg, flour and baking powder. Mix it to shape into 4cm wide fritters.

In a non-stick frying pan, heat butter or oil and fry the fritters for approximately 5 minutes on each side. Press down to flatten them and be sure to flip and cook through. 

To serve, scatter with fresh herbs and yoghurt.
2. Celeriac Purée With Venison Haunch
INGREDIENTS
 
700g of venison haunch

2 strips of streaky bacon

Half a garlic clove

1 celeriac, peeled and cubed

1 tin of butter beans, drained

100ml of sour cream or Greek yoghurt

Herbs: Thyme or parsley
METHOD
Preheat the oven to 220°C.  

Season the venison. If you wish to marinate it for 30 minutes before cooking, try muddling 1 tbsp of balsamic, 2 tbsp of olive oil, thyme and 2 garlic cloves and smothering the venison in the marinade.

When ready, place the cut in the baking tray. Wrap the top in bacon and then tin foil. Cook the haunch at 220°C for 20 minutes, then lower the heat to 170°C, continuing for 10 minutes per 500g if you want the meat to be pink inside. In the final 10 minutes, remove the foil.

Simmer the cubed celeriac in water until cooked. Then drain when softened. Now blend half a garlic clove, drained butter beans, cooked celeriac, herbs and season with salt and pepper. Add the Greek yoghurt. 

When the venison is just pink inside, carve. Serve in slices with the purée. French beans or roasties would make a good side. For a gravy, heat ½ a glass red wine with 250ml of chicken, beef or game stock and 1 tbsp of redcurrant jelly.
3. Silky Celeriac Soup With Browned Butter (v)
INGREDIENTS
 
600g of celeriac (or one celeriac), peeled and cubed

2 potatoes, peeled and cubed

1 onion, finely chopped

1 litre of stock

1 knob of butter + 25g for browning

Optional: 100g lardons
METHOD
In a large non-stick pan, fry the onion in the butter. After a few minutes, when turning golden, add the celeriac pieces and potatoes. Then pour in approximately 1 litre of stock. Season with salt and pepper. 

Simmer for 20 to 30minutes until the veg is soft. Meanwhile, cook the lardons in a separate pan, if using. Remove the veg from the heat and blend it.  

To finish, brown 25g butter until it's a light golden colour. 

When serving the soup, pour a little brown butter over each bowl and a sprinkling of herbs such as sage or thyme. If adding lardons, scatter these on top too.
4. Celeriac Mash (v)
INGREDIENTS
600g of celeriac, peeled and cubed

1-2 tsp of mustard

50g of butter

Optional: 1 tbsp of cream
METHOD
Cover the cubed celeriac with water in a pan. 

Place on the hob and simmer for 20 minutes until soft and cooked.

Drain. Return to the pan and mash with plenty of butter and mustard. You can stir in cream too.  Delicious with salmon or mackerel.
5. Celeriac And Chorizo Risotto
INGREDIENTS
200g of arborio rice

2 tbsp of capers, roughly chopped

1 handful of chorizo, chopped

1 celeriac, peeled and diced

2 shallots, finely chopped

1 garlic clove, finely chopped

1 glass of white wine + approximately 1 litre of stock

50g of butter
METHOD
In a large casserole pan, heat the olive oil and pan fry the garlic and shallots. Don't let them over cook. When they're starting to release aroma, stir in the celeriac cubes.  

Pour in the rice and wine. Stir in the stock one ladleful at a time. 

Let it simmer on a low heat, stirring until the rice is creamy. Keep stirring on a low heat so nothing gets stuck to the bottom. 

Add the finely chopped capers and chorizo and 50g of butter and beat in so the mix is intensely creamy. 

Taste and season. Serve.
DISCLAIMER: We endeavour to always credit the correct original source of every image we use. If you think a credit may be incorrect, please contact us at info@sheerluxe.com.