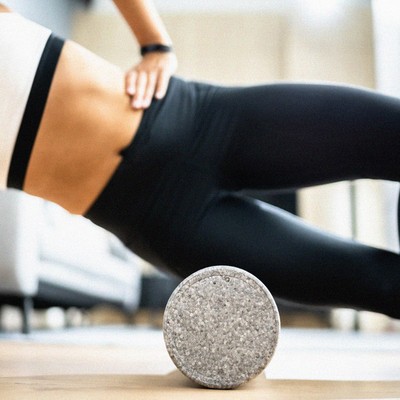 Foam Rolling 101: How To Do It & The Rollers To Try

If you take your fitness seriously, you'll know the benefits of using a foam roller. Think of it as a deep-tissue massage to sort out any sore spots. Here's a bit more about what it can do – plus, the ones we think are worth the money.

All products on this page have been selected by our editorial team, however we may make commission on some products.
First, what is a foam roller and do you really need one?
A foam roller may look basic, but it's a PT-approved way to release tension in your muscle fibres, akin to a deep DIY massage. As the surface of a foam roller comes into contact with knots in your muscles, it relaxes the surrounding tissues. "For many of us, foam rolling falls under the same category as stretching – one of those things we always plan to do, but in reality it rarely gets done," says Maria Eleftheriou, head of barre at Psycle. "Splashing out on a sports massage is a great way to soothe sore muscles, but a foam roller is a much more affordable and time efficient way to recover. A roller will break down your muscle fibres and help carry waste from the muscle tissues to decrease inflammation."
What muscles can it help with?
Whether you're a keen runner, cyclist, walker or HIIT enthusiast, a foam roller has you covered. "Foam rolling is great for tackling problematic areas such as the quads, hamstrings, calves, IT bands, shoulders and upper back," says Maria. "But don't feel you have to tackle them all at once. Instead, focus on the areas you've been mainly working that day and factor it in as part of your workout routine." 
When should you use it?
"Roll for around 20 minutes immediately after exercising to really feel the benefits and then again 24 and 48 hours later," Maria advises. "Target each spot for between 30 seconds to a minute, then take a ten-second rest and repeat. Aim to roll around two to three times per week, more if you are particularly active." Maria is also a fan of rolling prior to a workout to prep the muscles. "As foam rolling helps loosen muscles and joints and increase your range of motion, try including it as part of your warm-up. This can help you move better during your workout and protect your muscles from injury."
How should you use a foam roller?
The golden rule is: don't rush it. Start by pressing into the muscle gently, rolling up and down just a few inches. Stay there until you feel it release. There's no need to go hard or for too long – if you dig into the point of pain, you'll send a stress signal to your nervous system, which could make your muscles stiffen again. "It's not a question of quickly rolling up and down or back and forth on every major muscle group and then moving on," says LJ Holmes, trainer at Apex Rides. "Instead, focus on a particular muscle – say your calves – and be intentional with your movement, rolling with purpose and stopping when you reach a trigger point to hold it. Doing this will ensure you reap the benefits of releasing tight muscles, in turn speeding up your recovery time." Using the breath can also help, Maria adds. "Inhaling and exhaling deeply can really help, especially if your muscles are particularly sore. Always go gently and try to roll when the muscles are warm."
Splashing out on a sports massage is a great way to soothe sore muscles, but a foam roller is a much more affordable and time efficient way to recover.

How quickly can you see results?
Don't expect to see results overnight, says LJ. "Like any aspect of exercise, results from foam rolling won't happen instantly, although many people do find their first session or two on the foam roller quite tough if the body isn't used to being released in this way. Remember changes take time, and consistency is key to seeing improvements in decreased muscle soreness and increased flexibility. If you're consistent (i.e. ensure you roll a few times a week, every week for five to ten minutes), you can expect to see results within a few weeks. Recent evidence has also shown that rolling pre-workout can increase mobility and performance, so consider adding that into your routine."
What should you look for when buying a foam roller?
If you're new to foam rolling, a soft variety will get you going while keen gym bunnies should try something firmer or a grid roller. "A grid roller might look quite intimidating, but they are great if you exercise daily and frequently suffer with DOMS. They are really effective at helping re-align muscle tissue but be prepared for it to feel quite intense." LJ adds that where you plan to use your roller should dictate what type you go for. "If you're using it for a tight back, look for a longer roller, whereas if you're just focusing on your legs or want to take your roller to the gym, a shorter roller may be more practical."
 
Want in? These Foam Rollers Get Our Vote…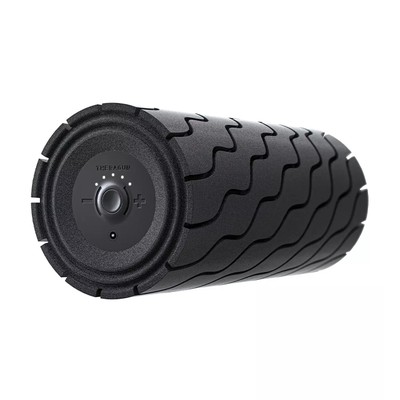 Theragun Wave Foam Roller, £125
Vibration coupled with foam rolling is believed to relax particularly tight muscles, leading to a less tense body and increased range of motion. This vibrating roller is controlled by an app and has five speed settings. Available at JohnLewis.com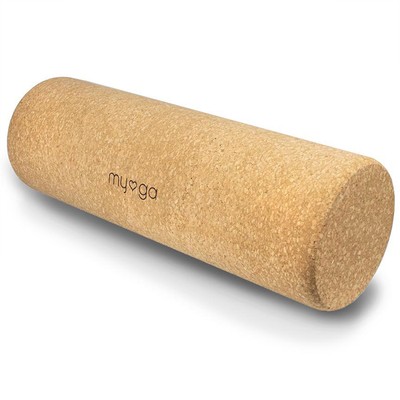 Myga Cork Roller, £19.99 (was £29.99)
A light, very firm roller that's perfect for areas that need targeted trigger point release, this cork roller is perfect for the glutes, upper back and shoulders. Cork is also naturally antibacterial and biodegradable. Available at Myga.eco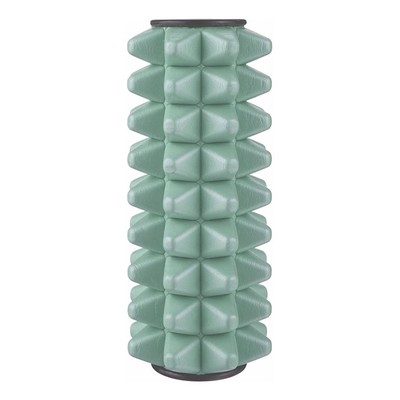 M.Life Mini Foam Roll, £12
At just 16cm long, this pastel-hued roller is ideal for tight hamstrings and glutes. Recommended by physios, it's been designed with heavy use in mind and has also been proven to aid in relieving sciatica.  Available at MLifeLondon.com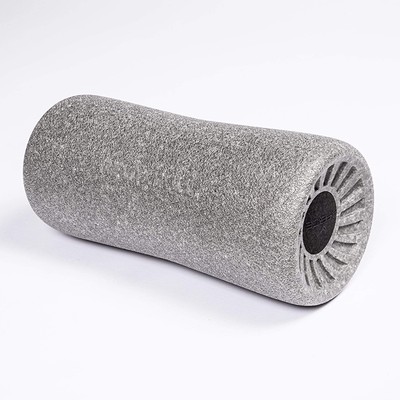 Hyperice Relaxroll, £24.90 (was £34.99)
With a clever ergonomic design, this industry-favourite foam roller won't put pressure on your back, allowing for effective and comfortable rolling. Available at StartFitness.co.uk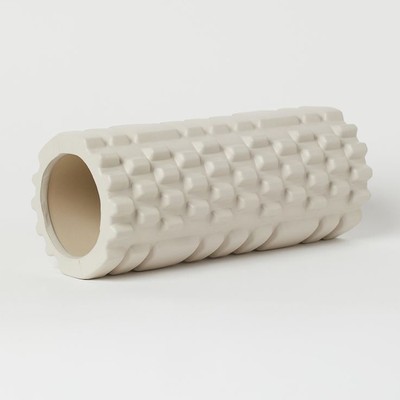 H&M Foam Roller, £19.99
If you're looking to take your foam rolling to the next level, the textured surface of this roller mimics the feeling of fingertips for a deep tissue massage effect. Use regularly to soothe trigger points and help with flexibility.  Available at HM.com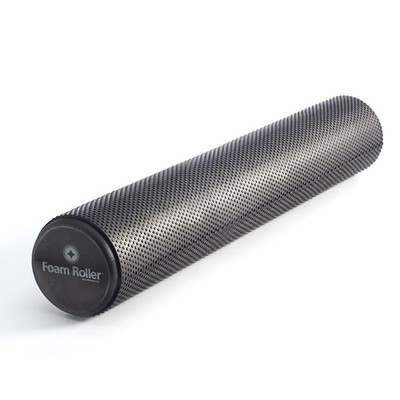 Merrithew Deluxe Foam Roller, £48
The perfect addition to your home gym, this supersized roller has a non-slip surface and a cushioned interior for ultimate comfort. Available at TheConranShop.co.uk
…And You Should Try One Of These Online Foam Roller Sessions…
Nourish Move Love 10-Minute Full Body Roll Routine
Tag this full-body stretch onto the end of a tough workout to banish tension and reduce DOMS. 
Visit YouTube.com 
Heather Robertson Foam Rolling For Legs
 Keen runners should bookmark this ten-minute foam rolling session, which will soothe sore quads, calves and IT bands. 
Visit YouTube.com 
Shona Vertue How To Foam Roll
Master the foam rolling basics with fitness guru Shona Vertue. 
Visit YouTube.com 
Foam Roller Tutorial For Low Back Pain Relief
If sitting at a desk for hours on end has wreaked havoc with your posture, try this 15-minute routine that focuses on the hips, hamstrings and lower back. 
Visit YouTube.com
 
For more information visit PsycleLondon.com and ApexRides.com
  
DISCLAIMER: Features published by SheerLuxe are not intended to treat, diagnose, cure or prevent any disease. Always seek the advice of your GP or another qualified healthcare provider for any questions you have regarding a medical condition, and before undertaking any diet, exercise or other health-related programme.
DISCLAIMER: We endeavour to always credit the correct original source of every image we use. If you think a credit may be incorrect, please contact us at info@sheerluxe.com.