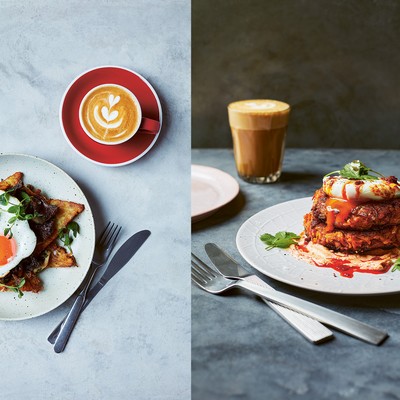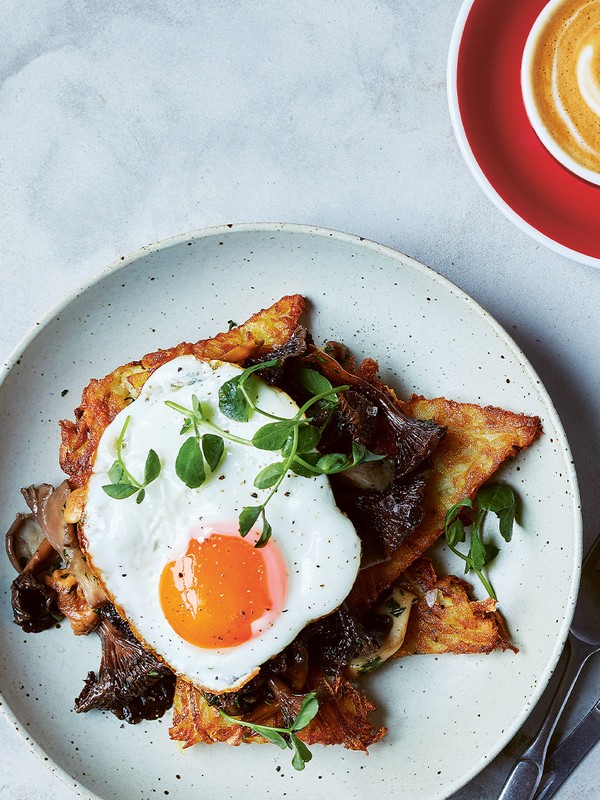 3 Delicious Brunch Recipes Worth A Try

Grind has earned a cult reputation among Londoners since it opened its first café in 2011. Now, the team's new book 'A Modern Guide To City Living' reveals the secret tricks and tips behind some of its most beloved dishes so you can recreate them at home. From sweet potato cakes with harissa, yoghurt and eggs to sweet and spicy one-pan gochujang eggs, here the brand's creative director Teddy Robinson shows us how to make the most of every weekend.

By Heather Steele
All products on this page have been selected by our editorial team, however we may make commission on some products.
The first Grind opened its doors in Shoreditch in 2011, right on Old Street roundabout. In a past life, it had probably been part of an escape tunnel for the tube station, but more recently it had been a mobile phone shop owned by Grind founder David's dad. When his father passed, David decided to call time on selling phones and turn it into the coffee shop the pair had long talked about. 
The flat white hadn't really arrived in London yet, but it was about to. At the time, Shoreditch was filling up with creative agencies and tech start-ups – all fuelled by coffee from Grind. Before long, Shoreditch Grind became a cocktail bar, too. Kaz, a DJ from Melbourne, who had helped David set up the Shoreditch sit, added a recording studio upstairs for friends and regulars to use when they were in town. Despite all the offers and questions, it was a few years before another Grind followed. First Soho Grind, then a handful of others across London. Each bigger than the last, they became proper restaurants – serving coffee, food and cocktails seven days a week. Today, Grind serves more than two million cups of coffee a year in its own stores, and 12 million more are made around the world by customers at home and across Soho Houses, using Grind coffee from our London roastery.
We open pretty early at Grind. Whether it's coffee for cabbies on their way home, or bacon sandwiches for those on their way to work in the City, Grind – and London – comes alive early in the morning. Once the doors open, it doesn't take long for a queue to appear. It's usually builders in first, or people still out from the night before. Soon after, breakfast begins, with some of the same dishes you'll find below. We have the music up louder than it should be, and by 9am we'll have served hundreds of coffees, and smashed more than a few avocados.
The new book is a collection of recipes, stories and guides, written during lockdown – a time when we missed city living more than ever. Below, you'll find some of our favourite recipes from a decade of serving coffee, food and cocktails across the capital.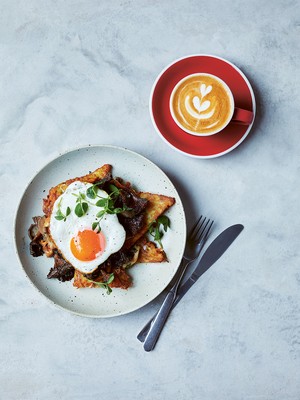 Wild Mushroom Hash
The secret here is totally overdoing it on the salt and the butter. That said, to limit the damage, we've also included our recipe for mushroom ketchup. It's much nicer than anything you get out of a bottle.
Ingredients
20g

of butter, plus extra for frying
1

clove of garlic, minced
1

pinch of chopped parsley
For The Hash Browns

500g

of potatoes – we use Agria potatoes, but you can use any medium to large potato, really. If it makes a good roast potato, it works for us.
For the Grind Mushroom Ketchup

1

clove of garlic, minced
1

½

tbsp

of white wine vinegar
Method
Step 1
Put your potatoes whole and unpeeled in a large pan, fill it with water and cover. Bring it to the boil on a medium heat.
Step 2
Boiled potatoes go soft, as you probably know, but here we're trying to get them to al dente and no further. This should take around 5 minutes after the water has come to a boil. You can check they're done by pricking them with a knife to see if they're getting softer.
Step 3
After carefully removing them from the heat, allow them to cool before peeling and grating them into a bowl.
Step 4
In the meantime, heat your oven to 200°C. Season your mix with salt and pepper, and then spread it about 2.5cm thick on a baking sheet lined with baking paper.

Step 5
Bake your hash-brown mix on a high shelf in the oven for 20 minutes. Once cooked, allow to chill before slicing into pieces – we do ours in triangles about 5cm long. You can chill these in the fridge for later or crack on.
Step 6
For the mushroom ketchup, add the mushrooms, onion and garlic to a saucepan and heat them in a little butter, keeping them moving for 4-5 minutes. Ideally, you want to do this right before the onions go brown, but picking your moment is a fine art here. Just wait until the onions are soft and almost translucent, then add the vinegar, thyme and caster sugar. Wait for the vinegar to reduce by half, then season and blitz in a blender until smooth.
Step 7
Mix into the double cream and then cover and keep in the fridge.
Heat two frying pans with a little butter. Fry your hash browns in one and your roughly sliced mushrooms and garlic in the other. Your mushrooms are going to reduce in size by about two thirds by the end of this.
Step 8
Flip your hash browns every few minutes. You'll want to wait for your mushrooms to brown before adding in the rest of the butter and lemon juice. At this point, break your egg into the hash brown pan.
Step 9
Once your egg is done – soft or hard yolk to your preference – add your hash browns to the serving bowl, followed by all the contents of your wild mushroom pan, juices and all. Finally, top it with your fried egg and season. Garnish as you like – we use pea shoots for colour.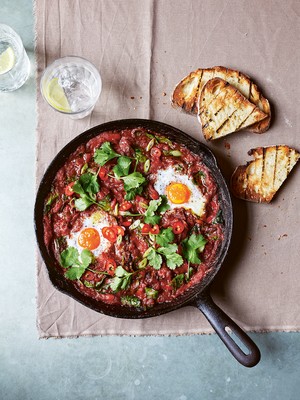 One-Pan Gochujang Eggs
Our one-pan eggs have been on the menu in some form since the beginning. It's changed a lot, starting as a shakshuka, then turning spicy with sausages and bacon. Today, it's a lot lighter and simpler, with plenty of spinach – not that you'd know it. While the gochujang isn't essential and can easily be substituted for chilli sauce, it's a nice touch and you'll find it in a lot of our recipes – it's a sweet, spicy Korean paste made from fermented glutinous rice, but it's got a lot more character than chilli sauce.
Ingredients
2

medium brown onions, sliced
1

clove of garlic, sliced
800g

of canned chopped tomatoes
Your choice of bread for toasting
Sliced spring onion, chilli & coriander for garnish
Method
Step 1
In a flat pan, heat a splash of oil at medium heat and add your onions, red pepper, and garlic. We're going to sauté them, so keep them moving and turning until they begin to brown, then add the canned tomatoes, gochujang, and salt and pepper.
Step 2
Give the whole mix a stir, turn the heat to low and leave to cook for 45 minutes, stirring occasionally. That's a long time, especially if you're cooking with gas or don't have a lot of ventilation in your kitchen, so make sure to check on it.
Step 3
You'll find the tomatoes will have broken down and that your whole kitchen smells amazing. You'll need to heat the grill to medium now. Turn the heat back up to medium, add the spinach, give it a stir, and break your eggs into the mix, then give the whole lot 3 minutes.
Step 4
Now, put the whole pan under the grill to finish for 3-5 minutes. Keep an eye on it, which will probably be easy if your pan handle keeps you from closing the oven door like mine does. Put your bread in the toaster.
Step 5
We're looking for the whites of the eggs to be cooked, but the yolks to be runny. When you're ready, put something down on your table or kitchen surface to rest the hot pan on and take the whole pan from the oven.
Step 6
We garnish it with spring onion, sliced red chilli and coriander, but you can add more spinach, or whatever you like really. Depending on how much you've made, this one is great served family style, with everyone helping themselves from the pan, but it's just as good for one.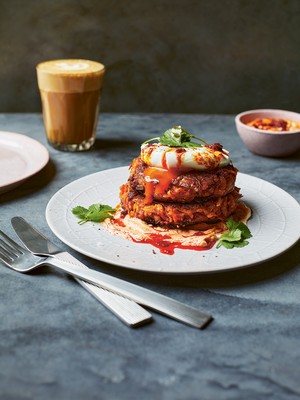 Sweet Potato Cakes With Harissa, Yoghurt & Eggs
This is one of our absolute favourites, and also the only dish you can find on the menu at any time of day. We serve it from as early as 6am to as late as midnight on some days, and will likely do so for years to come. Considering it's not much more complicated than beans on toast once you've prepped the cakes themselves – which you can do in advance – it looks pretty impressive.
Ingredients
250g

of sweet potato, peeled
25g

of harissa paste, plus extra for garnish
Sea salt and black pepper
Method
Step 1
Wash and grate your sweet potato on to a fresh, clean dish towel and wrap it up like a parcel. Keeping your parcel together, squeeze tightly until the liquid drains out. Remember, you don't want to dry your sweet potato out, just remove the excess moisture.
Step 2
Place your freshly squeezed sweet potato into a large mixing bowl, adding the harissa paste, flour, water, salt and pepper. Mix it together.
Step 3
Once mixed, scoop out a cupped handful of the mix and shape it into round, flat patties –you'll make around six with the quantities here.
Step 4
Cover the bottom of a shallow pan with oil and heat it on the stove until it starts to sizzle. Carefully add your patties without splashing the oil, and then flip them every minute with a spatula or fork. Meanwhile, bring a pan of water to the boil for your eggs.
Step 5
As your patties start to brown, it's time to get your plate ready. Mix the harissa with a dollop of the yoghurt and add to the plate.
Step 6
After three minutes, or four if you prefer a firmer yolk, scoop out your eggs using a slotted spoon and let them rest on a plate lined with paper towels.
Step 7
Once your patties are crispy brown, scoop them from what oil is left and add them to the plate. Assemble your patties into a stack, with your eggs on top.
A Modern Guide To City Living is available to buy now.
Photography By Luke Albert.
Visit Grind.co.uk
DISCLAIMER: We endeavour to always credit the correct original source of every image we use. If you think a credit may be incorrect, please contact us at info@sheerluxe.com.