7 Summer Roll Recipes To Try At Home

Filled with flavour, summer rolls make a perfect healthy snack, or side dish for an Asian feast. Here, seven chefs explain how to wrap the perfect roll, as well as the different flavour combinations to try…

How To Roll Summer Rolls, Chris Riley, The Daring Kitchen
Don't overfill them. Overstuffed rolls are harder to roll and you are more likely to tear the rice paper. It's better to be safe than sorry and verge on the side of underfilling them if you're not that experienced.
Get dipping sauce. Summer rolls should be relatively dry inside so prepare a dipping sauce to fully enjoy them.
Preparation is key. Before you start rolling make sure all ingredients are cooked, cool and ready.
Use lettuce to hold the fillings together. Wrap the shredded vegetable and noodles in a piece of lettuce to keep them in place and easy to roll.
Roll like a burrito. Start rolling up at one end, stop and fold in the sides and then continue upwards. This rolling style keeps everything in place and makes the rolls easy to pick up and eat.
Prawn Summer Rolls with Spicy Peanut Dipping Sauce
INGREDIENTS
1 bunch of coriander

1 bunch of mint

1 carrot

1 head of lettuce

1 baby cucumber

280g of prawns, peeled and deveined 

60g of glass noodles

¼ cup of peanut butter

1 tbsp of mirin

1 tbsp of soy sauce

1 tbsp of sriracha

10 rice paper wrappers
METHOD
Heat a small pot of salted water to boiling on high. 

Meanwhile wash and dry the produce. Pick the mint and coriander leaves off the stems and discard the stems. Peel and cut the carrots into thin sticks. Cut off the root of the lettuce and discard it. Cut the leaves of the lettuce into large pieces.

Season the prawns with salt and pepper. Heat 2 tbsp of oil on medium-high until hot in a large pan and add the seasoned prawns. Cook it, stirring occasionally, for around 2-4 minutes, or until cooked through and pink. When done, put the cooked prawns in a bowl or a plate and put it in the fridge to cool.

Add the noodles to the pot of boiling water and cook for 2-3 minutes or until they become transparent and tender. Drain and rinse under cold water for 45 seconds to stop the cooking process and set them aside.

Combine the peanut butter, mirin and soy sauce and as much of the sriracha as you'd like in a small bowl. Whisk in 2-3 tbsp of water to achieve your desired consistency for dipping.

Fill a shallow bowl with warm water. Submerge one piece of rice paper wrapper for 20-30 seconds, or until softened. Then transfer the wrapper to a clean surface and place 2-3 prawns, a few pieces of carrot and cucumber, a small handful of noodles, a few mint, cilantro, and lettuce leaves. Fold the bottom half of the wrapper over the filling, press down, fold the sides towards the centre to tuck in the filling. Roll the entire wrapper like a burrito. Repeat with the remaining wrappers and filling.
Visit TheDaringKitchen.com
Goi Cuon: Fresh Rice Paper Summer Rolls, Pho
INGREDIENTS
Cooked, sliced chicken breast, prawns or tofu

22cm rice papers 

Cooked thin vermicelli/rice noodles

Pickled veg (we use mooli and carrots)

Fresh mint

Fresh coriander

Little gem lettuce

Any other crunchy veg you like, such as sliced peppers or shredded cabbage

Medium bowl of warm water
METHOD
Prepare a clean, damp small towel or tea towel placed on top of a chopping

board, to roll on.

Dip one rice paper in warm water for about 20 seconds to soften.

Lay the rice paper flat on the towel.

Lay the chicken, prawn or tofu across the width of the paper on the bottom third, leaving room on either end so you can fold in.

Add in the herbs, lettuce, and other ingredients.

Roll up, rolling away from you.

Store chilled under a damp, clean towel.

When ready to serve, slice in two and serve with dipping sauce.
How to make quick pickled veg:
Chop your veggies – slice them nice and thin so they pickle fast and will fit in to the summer rolls nicely

Mix 100ml of warm water, 100ml of white vinegar, 1 tsp of salt and 1 tsp of sugar in a pan and bring to the boil – then transfer to a mixing bowl.

Transfer your chopped veggies into the hot mixture, cover and leave them until they come to room temperature, then store in the fridge (and eat within a few days).
Visit PhoCafe.co.uk
Fresh Summer Rolls, Saiphin Moore, Rosa's Thai Café 
INGREDIENTS
6 rice paper sheets

140g of dried rice vermicelli

250g of iceberg lettuce, shredded

100g of carrot, shredded

30g of mint leaves, roughly chopped

30g of sweet thai basil, roughly chopped
METHOD
First, cook the vermicelli for the filling according to the packet instructions. Once done, drain and leave to cool to room temperature.

To make the rolls, fill a large shallow bowl with warm water. Take a sheet of rice paper and dip it into the water for 3-5 seconds, until translucent, then place it on a clean work surface. Make sure they don't become too soft, otherwise you won't be able to wrap them easily.

Put a quarter of the lettuce in a mound in the centre of the paper, followed by a quarter of the carrot, herbs and vermicelli.

To roll up, fold the side of the wrapper closest to you over the filling, ensuring it is tucked in neatly and tightly over the filling. Next, fold the right side of the wrapper toward the centre, pulling it taut across the filling and press down the edges of the wrapper to seal. Repeat with the left side. Now roll up the filling in the wrapper, pushing the roll away from you, to create a log-shaped parcel.

Serve with a dipping sauce of your choice, such as sweet chilli or peanut sauce.
Visit RosasThaiCafe.com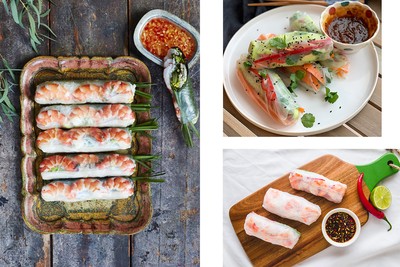 Little Vietnam Kitchen; Squirrel Sisters; Wing Yip
Prawn & Pork Summer Rolls, Thuy Diem Pham, author of The Little Thai Kitchen
INGREDIENTS
For the rolls: 
6-8 sheets of rice paper 

Fish dipping sauce, to serve 
For the filling: 
4 pinches of salt 

250g of pork loin 

250g of raw king prawns 

100g of dried rice vermicelli noodles 

½ a head of lettuce, washed and dried 

2 carrots, finely sliced 

100g of coriander, washed and dried 

100g of mint, washed and dried 

100g of Thai basil, washed and dried 

100g of garlic chives
METHOD
Bring a saucepan of water to the boil and add two pinches of salt and then the pork loin. Leave to cook for 15 minutes, then drain and plunge into iced water for two to three minutes. Drain again, pat dry with kitchen paper and slice very thinly. 

Rinse the pan and fill with fresh water, adding two pinches of salt. Bring to the boil, add the prawns and cook for two minutes. Drain and plunge into iced water for two to three minutes. Drain again, remove the shells and then slice in half. 

Cook the noodles in a saucepan of boiling water, following the timings on the packet. Drain, rinse in cold water, then drain again. 

Let the rolling begin… Have a bowl of lukewarm water to wet the rice paper, and a chopping board or plate that is big enough to hold your rice paper for rolling. 

Dunk the rice paper into the water very quickly and then lay flat on the board. Leave for about a minute, until almost dry before rolling. An easy way to set up is to work with three rolls at once. By the time you've laid the filling out on the third one, the first will be ready to roll. 

Place your filling ingredients except the garlic chives in a line along the centre of the rice paper. Fold each side inwards towards the centre and then fold the paper from the bottom up, like an envelope. Place a stem of garlic chive across the envelope, with about 2.5cm sticking out of the roll. Press firmly using your fingertips and start folding. Be gentle but firm, controlling the movement and not allowing any of the filling to come out, making sure that the roll is tight. Continue to repeat the process until all your ingredients are used up. 

You should have eight rolls in total. Once made, you can store the rolls in an airtight container to keep them moist for up to two to three hours. Serve with the fish dipping sauce. 
Visit Amazon.co.uk
Rainbow Rolls, Justine Murphy, MyMuyBueno
INGREDIENTS
For the filling:
Fresh mint leaves

Fresh coriander leaves

16 prawns, cooked and peeled

5 gem lettuce leaves, thinly sliced

1 medium carrot, peeled and cut into matchsticks

1 red bell pepper, deseeded and cut into matchsticks

½ cucumber, deseeded and cut into matchsticks

4 radishes, thinly sliced 

1 raw beetroot, grated

1 avocado, thinly sliced

1 mango, thinly sliced
METHOD
Half fill a large frying pan with cold water. I like to use a frying pan as it's the perfect size and depth, but a wide bowl would work too. Submerge the first rice paper sheet for 30 seconds or until softened, then place on a damp tea towel laid out on a clean work surface.

Gently smooth out the first wrap into a circle. Be careful as once wet, they are very fragile and can break easily. Place a few mint and coriander leaves in a single layer in the centre of the sheet, leaving space on each side. Add two prawns, facing the same way, then a pile of sliced vegetables of your choice, and some mango to the lower half of the sheet. Fold in the sides and roll up to enclose the filling.

Repeat the process for all eight rolls, keeping your assembled rolls covered with a damp tea towel. These can be prepared an hour or two in advance, just keep them in the fridge with the damp tea towel and then cling film over the top so they don't dry out. 

Serve your rainbow rolls with the almond butter dipping sauce.
Prawn and Avocado Summer Rolls, Wing Yip
INGREDIENTS
9 king prawns, peeled and deveined or cooked

30g dry rice vermicelli noodles

½ red pepper, sliced

1 small avocado

½ lime

3 rice paper sheets
 For the dipping sauce:
3 tbsp of light soy sauce

1 tsp of fresh red chilli, finely chopped

¼ lemongrass stalk, finely chopped

½ lime, juiced
METHOD
If using raw prawns, bring a saucepan of water to the boil and season with a pinch of salt. Once boiling, add the prawns and cook for 1-2 minutes or until pink. Drain the boiling water and rinse with cold water immediately to stop the prawns from cooking any further. If possible, use a bowl of ice water to help cool the prawns down quicker.

Using a pair of scissors, chop the noodles 3-4 times so that they are a more manageable length.

Cut the avocado into similar sized pieces to the pepper and then squeeze the lime over to ensure that it doesn't go brown.

When ready to assemble use a plate that is bigger than the rice paper sheets and add enough cold water so that the rice paper can be full submerged.

Lay out the clean damp cloth in front of you and ensure that all the ingredients are laid out around you.

Take one rice paper sheet and submerge into the water on your large plate for 3-4 seconds or until slightly softened. The rice paper sheet will continue to soften once you've taken it out of the water. Lay it flat onto the damp cloth.

Lay 3 prawns in the centre of the rice paper sheet and top with 1/3 of the noodles. Add 1/3 of the avocado slices down first followed by 1/3 of the sliced peppers.

To fold the summer roll, bring the bottom of the rice paper sheet over the filling and stick down, adding a few drops of water if necessary. Then bring over both sides and tuck them neatly around the filling. Finally roll the summer roll upwards into the remaining part of the rice paper sheet.

Repeat for the other two rice paper sheets.

For the dipping sauce whisk all ingredients together and serve on the side.

​Visit WingYip.com
Vegetable Rice Rolls With A Peanut Butter Soya Sauce Dip, The Squirrel Sisters
INGREDIENTS 
Rice roll sheets

½ a cucumber

1 carrot

1 red romano pepper

1 avocado

1 spring onion

Small handful of fresh coriander

Black sesame seeds and fresh coriander, to garnish
For the dipping sauce:
1in cube of ginger, grated

1 tsp of crunchy peanut butter

1 tbsp of soy sauce

1 tsp of sesame oil

1 tsp of maple syrup

Squeeze of lime juice
METHOD
Finely slice all the vegetables.

Make the sauce: add all the dipping sauce ingredients into a little bowl and mix thoroughly until smooth.

Before filling each rice roll you will need to soften it. The instructions should be on the back of pack. If not, just use a kitchen roll towel and dampen each one until soft then start filling. Place a few of each finely sliced veg into the roll and then roll tightly.

Enjoy and make sure you dip your roll in the sauce.
Visit SquirrelSisters.com
DISCLAIMER: We endeavour to always credit the correct original source of every image we use. If you think a credit may be incorrect, please contact us at info@sheerluxe.com.