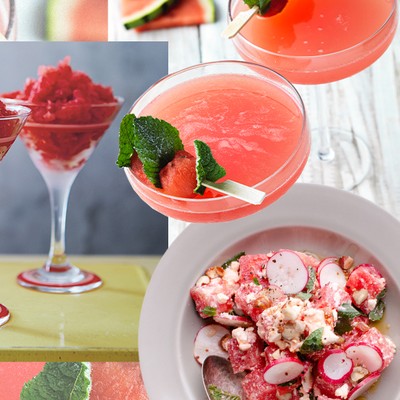 7 Watermelon Recipes To Make At Home

There's nothing as refreshing as a slice of watermelon. As well as being a great snack, this oversized fruit can work beautifully in salads, smoothies and puddings. From a watermelon mojito to a fresh poke bowl, here are seven recipes to try at home…

Watermelon, Feta & Radish Salad With Maple Dressing
Maple From Canada
INGREDIENTS
1⁄2 large watermelon, peeled and cut into bitesize chunks

1⁄2 bunch of radish, washed and sliced

100g of feta cheese, crumbled

40g of walnuts, roughly chopped

Handful of fresh mint, chopped
For the dressing:
3 tbsp of pure maple syrup

2 tbsp of maple vinegar or cider vinegar

2 tbsp of olive oil
METHOD
In a large serving bowl, mix the watermelon, radish and feta cheese together.

Add the chopped walnuts and stir again and garnish with chopped fresh mint.

In a separate bowl, whisk together maple dressing ingredients and drizzle over prepared salad.
Visit MapleFromCanada.co.uk
Watermelon Mojito
James Cochran, 12:51
INGREDIENTS
1 lime

2 tbsp of simple sugar syrup (boil equal parts sugar and water and let cool completely)

Handful of mint

4 measures of white rum

8 measures of juiced watermelon
METHOD
Into a cocktail shaker or jug, squeeze the juice of half a lime and add 2 tbsp of simple sugar syrup.

Grab a handful of mint and clap between your hands to release the essential oils and flavour. Add to the jug.

Add the rum and watermelon juice. Shake. 

In a chilled glass, add crushed ice and pour over the watermelon mix. Garnish with mint and lime wedge.
Visit 1251.co.uk
Watermelon & Feta Skewers 
Andrea Alden, Napoleon Grills
INGREDIENTS
1 small watermelon, cut into 1-inch cubes

1-2 tubs of feta cheese in brine, drained and cut into 1-inch cubes

1 handful of fresh basil

1/4 cup of balsamic reduction
METHOD
Soak 12 wooden skewers while you cube your watermelon and feta cheese.

Very carefully thread a watermelon cube onto the skewer followed by a feta cube and one more watermelon skewer. Feta is crumbly so you have to be careful when cutting and skewering it.

Once all of your skewers are loaded, place them into the freezer for 15 minutes while you preheat your grill to 230°C.

When the grill is up to temperature, remove the skewers from the freezer and pat them dry with paper towel. Remember that moisture is the enemy of a good sear.

Place the skewers on to the grill over direct heat. Grill each side for 1 to 2 minutes, or until grill marks are forming on the melon.

Serve immediately, drizzled with balsamic reduction and topped with fresh basil leaves.
Visit Napoleon.com
Hibiscus & Watermelon Agua Fresca
Ellie Edwards, Sous Chef
INGREDIENTS
20g of dried hibiscus

5 tbsp of caster sugar

650g of watermelon flesh, seeds removed and roughly chopped

Juice of 3 limes, plus lime slices to serve

Ice, to serve

4 sprigs of fresh mint to serve (optional)
METHOD
In a jug, infuse the hibiscus with 200ml of just-boiled water and leave to infuse for 15 minutes.

Strain into a small saucepan and discard the hibiscus flowers.

Mix with the sugar, heat gently until dissolved. Turn the heat to medium and simmer for 5-8 minutes, until syrupy. Leave to cool.

Blitz the watermelon in a liquidiser until smooth, then transfer to a large measuring jug. Mix with the hibiscus syrup and lime juice, and add water to make it up to 1 litre. Taste and add more sugar if you like.

Chill until cold then divide between 4 glasses and serve with ice and lime wedges. Garnish each glass with a sprig of fresh mint.
Visit SousChef.co.uk
Watermelon & Strawberry Granita
Jude's Ice-Cream
INGREDIENTS
1 unwaxed lime

100g of golden caster sugar

200ml of water, at room temperature

1/2 watermelon, peeled, deseeded and cut into chunks

250g of strawberries, hulled and halved, plus extra to decorate, if desired
METHOD
Thinly pare the rind from the lime and put it in a small saucepan with the sugar and water. Squeeze the lime juice into the pan. Bring to the boil and simmer for 6-8 minutes until the volume is reduced roughly by half to make a syrup. 

Remove from the heat and set aside to cool to room temperature before removing the lime rind.

Put the cooled syrup, watermelon chunks and strawberries in the bowl of a food processor and pulse until smooth. Pour into a shallow baking dish (ceramic or metal – a metal one will freeze fastest) and spread the bright red pulp evenly. Transfer to the freezer and freeze the mixture until the edges begin to set, for about 30-35 minutes. 

Remove from the freezer and use a fork to scrape and break up the frozen portions. Freeze again, scraping and breaking up the granita every 20-30 minutes until it resembles fluffy shaved ice – the total time will be 2-4 hours.

Serve the granita in bowls or glasses, decorated with strawberries, if using.
Visit Judes.co.uk
Watermelon, Strawberry & Feta Salad
Ligia Lugo, The Daring Kitchen
INGREDIENTS
3 cups of watermelon, cubed

2 cups of strawberries, chopped

1/2 cup of feta, crumbled

1/4 cup of extra-virgin olive oil

1/4 cup of fresh basil, torn

Salt and black pepper, freshly ground
METHOD
Combine the watermelon, strawberries, feta cheese and olive oil in a large bowl.

Season with salt and pepper.

Mix the ingredients with a large spoon to coat.

Garnish with the basil and serve.
Visit TheDaringKitchen.com
Sesame & Soy Watermelon Poke Bowl

Cesar Fernandez, Miele GB
INGREDIENTS
200g of cooked sushi rice, seasoned with 2 tbsp of rice wine vinegar

100g of edamame, shelled

1 small cucumber, sliced into half moons

Small bunch of spring onions, thinly sliced

Small bunch of coriander, leaves picked

A few nori sheets, thinly sliced

Black and white sesame seeds
For the watermelon:
1/2 watermelon, peeled and cut into cubes

4 tbsp of rice wine vinegar

2 tbsp of sesame oil

2 tbsp of soy sauce

1 tbsp of tahini

1 tbsp of coconut sugar

1 lime, juice only
METHOD
Ideally, place the watermelon in a vacuum seal bag and add the remaining ingredients. Vacuum seal on the highest setting and chill in the fridge overnight. If a vacuum sealer is not available, place it in a container in the fridge, and mix a few times throughout.

Heat a large frying pan over a medium-high heat. Remove the watermelon from the marinade and set the marinade aside. Cook the watermelon until lightly caramelised and dried, for about 5-6 minutes.

In the meantime, place the marinade in a small saucepan and simmer until reduced and thick.

To serve, prepare your poke bowl by placing some cooked sushi rice on the bottom and top with the watermelon, remaining ingredients and drizzle the marinade.
Visit DerKern.Miele.co.uk
DISCLAIMER: We endeavour to always credit the correct original source of every image we use. If you think a credit may be incorrect, please contact us at info@sheerluxe.com.