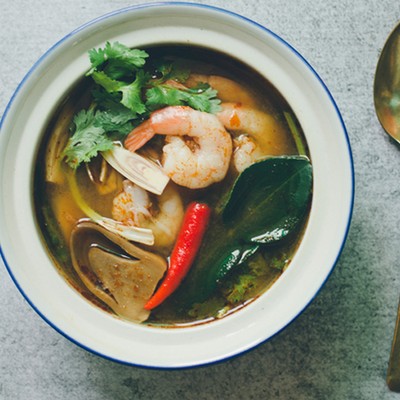 Easy Suppers…With Prawns

Whether it's in stews, over spaghetti, or paired with artichokes and olives, food writer and SL contributor Chloe Scott-Moncrieff shows us how to incorporate prawns into five simple, seafood suppers.

1. Prawns With Olives & Artichoke
INGREDIENTS
200g of raw prawns or langoustines
15 pitted black olives
2 peppers, sliced 
2 shallots, halved
1 tbsp of white wine
For the artichoke relish:
2 artichoke hearts from an antipasti jar
1-2 tomatoes, finely chopped
1 garlic, finely chopped
1 large handful of parsley, tarragon or mint leaves
METHOD
Preheat the oven to 180°C.  
In an ovenproof dish, lay out the shallots and peppers. Season with salt and pepper. 
Spoon over the olives. Toss in olive oil. 
Bake in oven for 15 minutes. 
In the final 5 minutes, sprinkle in the prawns and a slosh of white wine. Cook until the prawns go pink.
Meanwhile, either finely chop or roughly blend all the relish ingredients. Taste and season. 
When out of oven, eat immediately with the herby relish.
2. Bucatini With Shellfish
INGREDIENTS

200g of bucatini, linguine or spaghetti
1 garlic clove, finely chopped
150g of cherry tomatoes, halved
120g of shellfish (prawns, mussels, clams or crab)
Optional: 1 tsp of paprika, 2 tbsp of double cream
Optional: A glug of Pernod or vermouth
METHOD
Simmer the pasta in a pan of simmering water for 8 minutes or until al dente.
In a pan, sauté the garlic clove, then add the tomatoes. 
Pour in 1 tbsp of vermouth or Pernod for a delicious kick. Season the mix. 
Stir in the shellfish and simmer for a few minutes until it's cooked. If it needs more liquid, add 1 tbsp of water. If you've used mussels or clams, make sure the shells have now opened. Bin any that are still closed. 
Drain the pasta and season, pour in some olive oil. Toss the pasta with the sauce. Eat immediately.
3. Rose Harissa Shrimp Stew
INGREDIENTS
250g of raw prawns 
2 garlic cloves, finely chopped
1 inch of ginger, peeled and finely chopped
1 onion, diced
1 tin of tomatoes
1 tin of chickpeas or cannellini beans
Spices:
1 tsp of cumin
1 tsp of fennel seeds
1-2 tsp of rose harissa paste
1 red chilli
METHOD

In a large casserole pot, heat oil and add the garlic, ginger and onion. Sauté. 
Pour in the tin of tomatoes and 100-200ml water or stock. 
Pop in the beans, spices and rose harissa. Season and simmer. Taste to check the balance of flavours.
Throw in the raw prawns in the final 5 minutes and simmer until cooked.
When finished, taste again to check the seasoning. 
Serve with either a fine sprinkling of orange or lemon's zest or heap with herbs from parsley or mint to coriander.
4. Orzo Salad With Brown Shrimps Or Atlantic Prawns
INGREDIENTS
200g of raw prawns
175g of orzo
1 unwaxed lemon's zest
2 garlic cloves
100g of feta, crumbled
1 tsp of fennel seeds
1 tsp of Tabasco sauce
METHOD
Mix the feta with the fennel seeds and Tabasco sauce. 
Cook the orzo following the instructions on the back of the packet. Drain and let it cool a little. 
At the same time, sizzle the garlic and then the prawns for approximately 3-4 minutes so everything is cooked. 
Stir in the feta, fennel seeds and lemon zest. 
Add any herbs you wish from parsley to tarragon. For further greenery, try broad beans or rocket.
5. Tom Yum Style (Hot & Sour) Shrimp Soup
INGREDIENTS
200g of raw prawns or any shrimp
1 stock cube
2 tbsp of fish sauce
1 tbsp of tom yum paste 
Zest and juice of 1 lime
2 lemongrass stalks, split lengthways
3-4 chard stalks, chopped 
1 tsp of sugar
10 spring onions, sliced
1 handful mint, chopped, 
Chillies (optional)
METHOD
Bring 500ml of stock to a simmer in a pan. 
Pop in the lemongrass, tom yum paste, sugar and fish sauce. 
Mix in the prawns and the rest of the vegetables. 
After approximately 3-4 minutes the prawns should be cooked. Taste and season if you need to. 
Pour into bowls with stacks of mint and sliced chillies.
DISCLAIMER: We endeavour to always credit the correct original source of every image we use. If you think a credit may be incorrect, please contact us at info@sheerluxe.com.