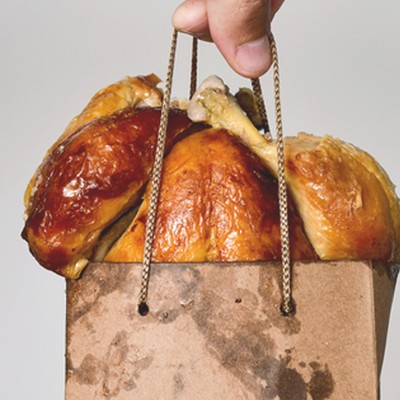 Five Delicious Christmas Leftover Recipes

Christmas Day is the pinnacle of feasting but don't underestimate what can be done with the remains, says food writer Chloe Scott-Moncrieff. Here are five flavour-bursting recipes for serving up over the rest of the festive week.

1. Brussels Egg Fried Noodles (v)
Good for using up: Brussels sprouts
INGREDIENTS
6 spring onions, finely chopped
2 garlic cloves, finely chopped
1 to 2 handfuls of leftover Brussels, halved
1 tbsp of soy sauce, plus 1 tsp of sugar
2 tsp of sesame oil
150g of rice noodles, rehydrated (Amoy etc)
1 egg
METHOD
To prep the noodles, follow the instructions on the back of the packet. 
In a wok or frying pan, pour the sesame oil.  
Add the spring onions and garlic cloves. 
Sauté for a few minutes. 
Add any vegetables you'd like to include: Brussels, carrots, sliced peppers, peas. 
After a few minutes stir in the noodles. Then add the egg and let it scramble in the heat for a minute. 
Slosh in the soy sauce shaken with a pinch of sugar.  
Taste and season if you need to, before serving.
2. Coronation Turkey 
Good for using up: Turkey 
INGREDIENTS
300g of leftover turkey, sliced 
1 to 2 tbsp of mayonnaise
2 tsp of curry powder
10 apricots finely chopped
1 celery stick, finely chopped
Black pepper
Freshly chopped coriander, optional
METHOD
In a bowl, mix the turkey, finely chopped celery, finely chopped apricots (you want explosions of sweetness), curry powder and mayonnaise.  
Taste and season with salt and pepper, if  needed.  
Sprinkle with fresh coriander. Serve with rice or in sandwiches.
3. Twilight Pie
Good for using up: Stuffing & Brussel Sprouts
INGREDIENTS
300g to 500g of leftover turkey
200g of sausagemeat or leftover stuffing
2 shallots, finely sliced
10 dried apricots, finely chopped
200g of Brussels sprouts, chopped up
100g of cornichons
1 slosh sherry
320g of all butter shortcrust pastry
100g of chopped walnuts
150 to 200ml of double cream
METHOD
Preheat the oven to 180 °C-190 °C. 
In a large pan, fry the shallots, then the sausage meat, walnuts and finely chopped apricots. 
Season if needed (it probably won't be necessary as sausage meat is quite salty). 
Add the drained cornichons and turkey leftovers. Add the double cream and reduce a little. 
Sprinkle in a pinch of paprika if you wish. 
Grease and line a large pie dish. Pour in the filling. Top with the Brussels and shortcrust pastry. 
With a pastry brush, brush the pastry with egg wash - an egg whisked. 
Bake for 35 minutes until the pastry is golden brown.
4. Pan-Fried Boxing Day Toastie
Good for using up: Turkey, roast veg & stuffing
INGREDIENTS
6 slices of sourdough
200g of Brussels sprouts remains, sliced or chopped
200g of turkey 
2 to 3tbsp of cranberry sauce
1 apple, grated
200g of Tunworth cheese or Camembert, sliced
Sage or thyme, optional
METHOD
Butter the sourdough. Spread the cranberry sauce on three slices. 
Place the wedges of cheese across the same slices. Then the Brussels and turkey/stuffing. 
Sprinkle over herbs or baby spinach leaves if you wish. 
Add the buttered tops to each toastie.  
On medium heat in a frying pan or griddle pan, press down the sandwich and toast until the cheese has melted. 
5. Orzo and Lemon with Leftovers 
Good for using up: Turkey and veg food-waste
INGREDIENTS
250g of orzo
200g of kale
200 to 300ml stock
2 garlic cloves, finely sliced
1 glass of white wine
1 lemon, zested
1 handful of parmesan, finely grated
1 to 2 handfuls of turkey, leftover carrots and brussel sprouts
METHOD
In a heavy-based pan, fry the garlic cloves in butter. Then add the kale, then the white wine. 
Sizzle off the white wine for a few minutes. Pour in the orzo and stock and simmer. If it gets too dry, add a little more water. 
At the end, after approximately 8 minutes (when the orzo is al dente), grate in the lemon zest. 
Stir in yesterday's turkey and vegetables. Warm for a minute or so. 
Taste and season accordingly. Serve with Parmesan.
DISCLAIMER: We endeavour to always credit the correct original source of every image we use. If you think a credit may be incorrect, please contact us at info@sheerluxe.com.