How To Make The Best Breakfasts

Whether it's a fresh fruit smoothie or a full English, for most of us breakfast is the most important meal of the day. If you're in agreement then Breakfast: The Cookbook might be right up your street. Written by New York food writer and culinary consultant, Emily Elyse Miller, this cookbook provides 400 delicious morning feasts from around the world – from a simple bacon sarnie to Thai rice porridge. Here she shares three very different breakfast recipes, alongside her tips for getting the day off to the best start.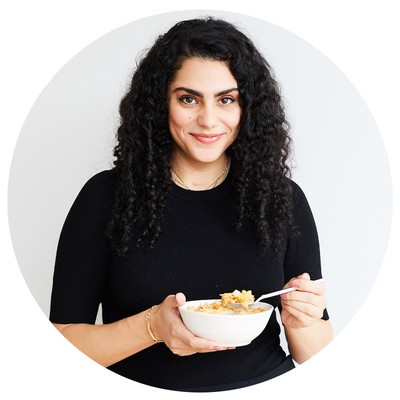 Breakfast is my favourite meal of the day...
I can't imagine a better motivator to get out of bed than the thought of a great breakfast. Morning is the most unfiltered time of day; when your true personality shines, your mind is fresh, and you get to decide on your mindset for the day.
The first dish I learned to make was 'Egg-in-the-Middle'...
My dad taught me how to make it: it's a slice of toast with a round hole cut out of the centre, fried in a pan with an egg perfectly nestled inside. My sister and I would wake up on weekends to the sounds of sizzling butter and cracking eggs. He would always let us eat the round bread cut-outs as a snack, spread with cream cheese, while the eggs were frying. It's a simple, humble and delicious breakfast option filled with nostalgia.
I'm definitely a savoury breakfast person...
But I do love a good savoury/sweet combo like Lebanese knafeh, which combines akkawi (a cheese similar to mozzarella) baked with a semolina crust to make a pastry. This in then drenched in atyr, a syrup made with orange-blossom water. You can find the recipe in my book.
I like to switch up the way I serve eggs...
I love to add my 'everything bagel seasoning' (poppy, sesame and carraway seeds, plus salt and dried onion and garlic) to my eggs along with hot sauce or salsa verde (find the recipe below). On the side, I like avocado, fresh or cooked greens, yogurt and a warm tortilla to assemble a breakfast taco.
It is possible to make a Full English healthy-ish...
Although to make a Full English completely healthy would be to create an entirely different breakfast. A traditional Full English is meant to feel hearty and represent readily available, humble ingredients. It's tough to sub the flavour of Heinz baked beans, HP Sauce or the copious amount of meat products and I would never want to replace those traditions. One option – which I will not call a Full English, but maybe a 'Healthy English' – could be a toasted slice of wholegrain or seeded bread, served with half a grilled tomato, forest mushrooms cooked in olive oil and sprinkled with curry powder, one fried egg cooked in olive oil, a choice between two rashers of bacon or one breakfast sausage, and maybe a dollop of plain, whole milk yogurt or labneh on the plate to add extra healthy fats instead of using butter.
 
If I'm in a rush, coffee and salted, roasted almonds do the job...
For a speedy, weekday breakfast I'll make half an avocado smashed on toast with salt, olive oil, and chilli flakes. I grew up in Arizona and have always treated avocado as the cure-all solution to morning hunger.
 
Breakfast nachos are perfect for groups...
I have the ultimate breakfast solution for weekend mornings and late-night munchies that's suitable for a hungry crew of friends or house guests: breakfast nachos. I use a sheet tray and cover with a layer of tortilla chips and cheese, pop it in the oven to melt, then top with scrambled or fried eggs and all the toppings you would include in a breakfast burrito: think bacon, avocado or jalapeños.
 
When it comes to drinks, I'm coffee all the way...
I do enjoy herbal tea in the evening, but I crave the ritual of grinding and brewing coffee as soon as I wake up.
 
 Feeling inspired? Here are three global breakfast recipes from Emily's new book…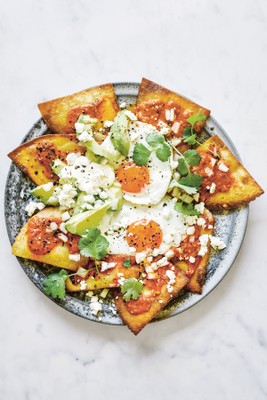 Chilaquiles, Mexico
Chilaquiles are torn corn tortillas soaked in salsa verde and topped with a combination of crema, chopped onion, shredded chicken or a fried egg. Typically served with a bolillo (large hero roll), chilaquiles can also be stuffed inside the bread to create a torta de chilaquiles.
 
Preparation time: 10 minutes
Cooking time: 1 hour 20 minutes
Serves: 2
 
INGREDIENTS
4 tbsp vegetable oil
8 corn tortillas, quartered
2 eggs
Salt and freshly ground pepper
4 tbsp of crema
2 tbsp crumbled cotija cheese
¼ small onion, diced
½ avocado, sliced
Coriander leaves, for garnish
 
For the salsa verde
225g tomatillos, husked and rinsed
½ medium white onion, sliced into rings 2.5cm thick, separated
1 clove garlic (unpeeled)
1 jalapeño chili, seeded
4 serrano chilies, seeded
1 poblano chili, seeded
5 large sprigs of coriander, chopped
1 tablespoon olive oil
Juice of 1/2 lime
Pinch of salt
METHOD
First, make the salsa. Preheat the oven to 180°C. Lightly oil a rimmed baking sheet. Halve the tomatillos. Arrange the tomatillos (cut-side down), onion rings, garlic and chillis on the baking sheet. Bake the vegetables until they're softened, around 35 minutes.
Next, peel the garlic and transfer the vegetables to a blender. Add the coriander and 475ml water. Blend until combined and finely chopped. In a medium saucepan, heat the olive oil over a medium-low heat. Add the salsa and simmer until the sauce is thickened, around 25 minutes. Stir in the lime juice and season to taste.
In a large frying pan, heat 2 tbsp of the oil over medium-high heat. Working in two batches, add the tortilla quarters and fry until the chips are golden brown on both sides, about one minute per side. Transfer the chips to paper towels to drain.
In a saucepan over medium heat, add one tbsp of the oil. Add the salsa and cook to warm through. Add the chips and stir to coat with the salsa.
Meanwhile, in a small frying pan, heat the remaining oil. Crack in the eggs and season with salt and pepper. Cook for one minute and reduce the heat to low. Cook until the white is set and the edges are golden and crispy, about two minutes more. In the last 30 seconds of cooking, use a spoon to baste the egg white with the hot oil, helping to finish cooking the white. Transfer the fried eggs to a plate using a spatula.
To serve, spoon the chips and salsa on two plates. Top each with a fried egg, crema, Cotija, onion, avocado and coriander.
Pancakes With Butter & Honey, Morocco
This Moroccan pancake, called baghrir, is similar to an English muffin or crumpet. It is defined by the many holes that form on its surface. Cooked on one side only, these plush pancakes are topped with butter and honey and eaten for breakfast or as a snack. In the south of Morocco, baghrir is served with amlou, a mixture of ground almonds, argan oil, honey and sugar.
 
Preparation time: 15 minutes, plus 2 hours resting time
Cooking time: 40 minutes
Serves: 4, makes 8 pancakes
 
INGREDIENTS
470ml warm water
1 tspn active dry yeast
2 tspn sugar
165g semolina flour
2 tbsp plain flour
1 tspn baking powder
1/4 tspn fine sea salt
2 eggs
Butter, for serving
Honey, for serving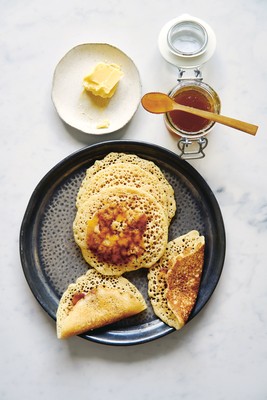 METHOD
In a bowl, combine the warm water, yeast and pinch of sugar. Set the mixture aside until the yeast is frothy, about ten minutes.
In a blender, combine the yeast mixture, both flours, baking powder, sugar, salt and eggs. Blend until frothy. Let it sit until bubbles form on the surface of the batter, at least two hours.
Gently stir the mixture to incorporate the bubbles into the batter. Heat a non-stick frying pan over medium heat. Pour in 1/4 cup of batter. Bubbles on the surface of the pancake should begin to appear immediately. Cook until the pancake is opaque and the batter has cooked through, around four minutes. Do not flip.
Transfer to a plate and repeat with the remaining batter. Serve with butter and honey.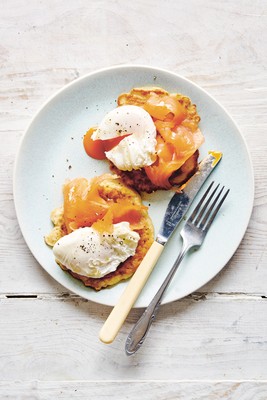 Lox Fritters With Corn & Poached Eggs, Australia
A cross between a fritter and a pancake, these make a quick and easy savoury base for lox and poached eggs.
 
Preparation time: 10 minutes
Cooking time: 20 minutes
Makes: 4 fritters
 
INGREDIENTS
1 egg for the batter
120ml full-fat milk
85g plain flour
½ teaspoon baking powder
145g corn kernels, fresh or drained canned
Salt and freshly ground pepper
4 tablespoons vegetable oil
4 eggs for poaching
 
For the lox
455g wild salmon belly, rinsed, skin on, pin bones removed
3 tbsp light brown sugar
3 tbsp granulated sugar
65g fine sea salt
1 tbsp grated lemon zest
METHOD
You'll need to make the lox in advance. First, mix the brown sugar, granulated sugar, salt and pepper until thoroughly combined. Cover both sides of the salmon pieces with the sugar-salt mixture in a shallow bowl or dish. Sprinkle the lemon zest on the flesh side. Fold the salmon in half width-wise, flesh sides together, and wrap in cling film.
Place the wrapped salmon in a baking dish or shallow glass bowl. Weight the fish down with significant weight (about 1.4kg), using another baking dish and cans of beans, plates or bottles of wine. After 12 hours, remove and discard any of the liquid that's accumulated. Flip the wrapped fish and reapply the weights, and return to the refrigerator for another 12 hours. Discard the liquid, and flip the wrapped fish again, reapply the weights, and return the salmon to the refrigerator.
Allow the salmon to continue to cure, draining the liquid at the end of each day, for a total of 2–5 days, depending how concentrated you want the flavour. When ready to serve, rinse the fish, pat dry, and slice very thin at a 15-degree angle.
To make the fritters, whisk the egg and milk in a medium bowl. Slowly add the flour and baking powder and whisk until smooth. Stir in the corn and season with salt and pepper.
Heat the oil in a cast-iron skillet over medium-high heat. Test if the oil is ready by adding a small drop of batter into the oil. If it sizzles, it is ready. Spoon about 60ml of the batter into the oil to form a round, two fritters in at a time. Lightly fry on both sides until golden, about two minutes per side. Transfer to paper towels to drain. Repeat with the remaining batter.
To poach the eggs, fill a large saucepan or deep skillet with water and bring to a simmer, making sure the water doesn't boil. Crack the egg into a small ramekin or bowl. Use a spoon to create a whirlpool in the simmering water and immediately slide the egg into the centre of the whirlpool. Gently use the spoon to rein in the whites and nestle around the yolk. Cook until the white is set and the yolk is runny, about three minutes. Use a slotted spoon to transfer the egg to a plate.
Serve the corn fritters topped with the lox and eggs.
 
Breakfast: The Cookbook is available to buy now.
DISCLAIMER: We endeavour to always credit the correct original source of every image we use. If you think a credit may be incorrect, please contact us at info@sheerluxe.com.