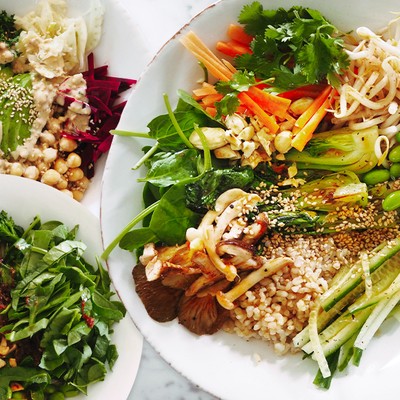 Three Recipes From One Of Our Favourite Chefs

If you haven't already discovered the culinary delights of London-based chef Nina Parker from her blog Nina Food or her drool-worthy Instagram account @antoninaparker, you're missing out. Here, the author of two hit cookbooks, who counts Millie Mackintosh among her celebrity fans, shares three of her favourite recipes to try at home…

Japanese Rice Bowl, Ginger Soy Dressing
I went to Japan last year and became obsessed with everything about it. I eat mainly vegan anyway, and Japanese ingredients create beautiful flavours. When I went from Tokyo to Izu on the train, I grabbed a classic bento box. Everyone does these in Japan and they are often sold in train stations. The good news is it can be easily adapted at home – essentially it's a box packed full of exciting things with a good sauce. Just mix some quick-cook veg and let the simple dressing give everything a true Asian feel.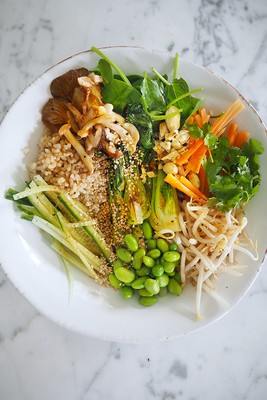 Serves 2
INGREDIENTS
100g of mushrooms (I used enoki but make sure for chestnut and button that you slice)
​2 pak choi, sliced into quarters 
½ a carrot, thinly sliced into sticks
Third of a cucumber, thinly sliced into sticks
2 handfuls of bean sprouts
100g of edamame (I use frozen)
160g of cooked rice 
2 handfuls of coriander leaves
Handful of salted peanuts, roughly chopped
2 handfuls of spinach, chopped
2 tbsp of extra toasted sesame seed oil
1 tbsp of sesame seeds 
For the dressing:
6 tbsp of toasted sesame seed oil
1 tbsp of soya sauce
3 tbsp of apple cider vinegar/ rice vinegar
Zest and juice of a lime
Small pinch of sugar, optional
METHOD
Set a pan on a medium to high heat and when hot, add the sliced mushrooms to dry-fry for a minute. When they start to colour, turn them over and cook for another minute. Try not to move them.  
Then add a tablespoon of the sesame oil and season with salt and pepper. Fry for a few seconds and scrape onto the top of a plate.  
Then, add the pak choi with another spoonful of sesame oil and fry for 2-3 minutes until a little soft but still with some bite. You could add a pinch of dried chilli flakes here. Then, remove from heat.  
Boil a kettle and add the edamame to a bowl. Pour the boiled water over the bowl and leave for a couple of minutes before draining.
Mix all the ingredients together for the dressing and taste to check the seasoning. Then assemble your bowl. I like to arrange everything individually so that it looks more appetizing.
Drizzle over the dressing and serve. 
Noodle Salad With Greens, Teriyaki And Spicy Cashews (GF)
I made this for my family last week and it was such a hit. Be sure to make a batch of the spicy cashews to sprinkle over salads – they really lighten things up and provide some good texture. I didn't have soba noodles to hand, so I used brown rice noodles, both of which work well at room temperature or cold. Just bring them to life by rinsing them under cold water before using.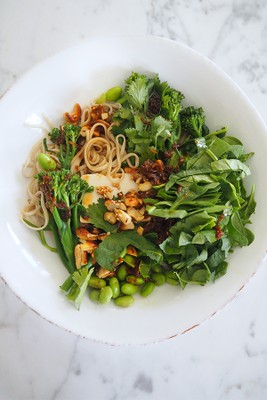 Serves 2
INGREDIENTS
200g of cooked soba noodles/brown rice 

100g of silken tofu, sliced
3 handfuls of spinach, chopped
2 handfuls of coriander, chopped
80g of edamame 
100g of broccoli, blanched in boiling water for 3 minutes
For the teriyaki sauce:
9 tbsp of soya sauce
9 tbsp of white wine vinegar
3 tsp of sugar 
2 ½ tbsp of grated and finely chopped ginger
1 garlic clove, grated
For the spicy cashews:
100g of cashews
5 tbsp of sunflower oil
3 pinches of dried chilli
Pinch of salt 
2 tbsp of sesame seeds 
METHOD
Boil a kettle and add the edamame to a bowl. Then, pour the boiled water over the bowl and leave for a couple of minutes before draining.
Prep the other vegetables.
Add the cashews to a frying pan and set to a high heat. Let them colour on one side for 30 seconds and then add the sunflower oil, sesame seeds, salt and chilli. Turn down the heat and allow everything to mix and infuse together. Remove when the cashews are lightly golden and try not to burn the sesame seeds. Roughly chop and keep the rest in a jar for another day.
Put the ingredients for the teriyaki sauce in the same frying pan and bring to the boil and then simmer for 1 minute. Remove from the heat. It should be quite punchy.
Assemble the salad and drizzle over the teriyaki and chopped cashews on top.
Raw Rainbow, Lemon Cashew Dressing (Vegan, GF, DF)
Use cashew butter to create a creamy vinaigrette with fresh ginger and lemon. You can use whatever raw veg you have in the fridge, but having a good grater means you'll be able to whip it up in less than ten minutes. I used to think slaw was rubbish but this is so good!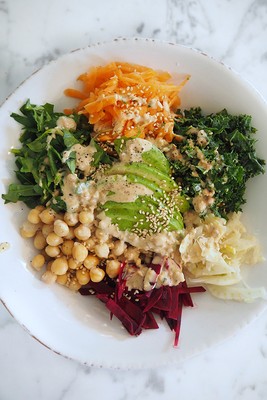 Serves 2
INGREDIENTS
1 medium beetroot, grated

½ a fennel, thinly sliced (I use a mandoline)
80g of kale, finely chopped and rubbed together with hands to reduce in size
2 handfuls of spinach, chopped
100g of chickpeas
1 avocado, thinly sliced
2 medium carrots, grated
1 tbsp of sesame seeds
¼ of a white/red cabbage, thinly sliced
Handful of cashews, roughly chopped 
For the dressing:
4 tbsp of cold water
2 tbsp of toasted sesame oil
3 tbsp of cider vinegar/white wine vinegar
3 tbsp of soya sauce
1 ½ tbsp freshly grated ginger
1 tsp of maple syrup
Zest of 1 lemon, 4 tbsp of juice
3 tbsp of cashew nut butter
Black pepper
METHOD
Add all the ingredients for the dressing together in a small bowl and whisk until combined.  Taste to check the seasoning, before adding in some more pepper or extra salt.
Add all the chopped veg into a bowl and toss together with the dressing.
Follow @antoninaparker
DISCLAIMER: We endeavour to always credit the correct original source of every image we use. If you think a credit may be incorrect, please contact us at info@sheerluxe.com.