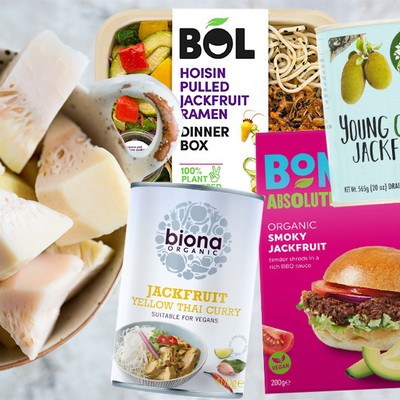 Jackfruit Is The Ingredient You Need To Know About in 2020

As more people adopt a vegan or vegetarian lifestyle, a flurry of new ingredients are becoming increasingly popular. Right now, jackfruit is having its moment in the spotlight – but what is it, why should we eat it and how do we cook with it?

Why is jackfruit suddenly so popular?
Research shows that 12% of people tried vegetarian and/or vegan diets in 2019, with women twice as likely to make the switch than men; alongside this, the tastecard Taste of the Year committee recently announced jackfruit as the food destined to dominate the restaurant scene this year. Jackfruit, a relative of the fig family, is becoming more well-known as the meat replacement go to, knocking tofu and quorn off the top spot. Chefs are also experimenting with the fruit more and more, while customers are increasingly interested in its health benefits. Containing no saturated fat or cholesterol, demand from millennial home cooks means supermarkets are also clamouring to get on board with the trend. 
What exactly is it?
Jackfruit, a tropical tree fruit native to southwest India, is large, with thick, yellow flesh and edible seeds and pods. The flesh has a sweet, distinctive flavour, which some describe as a cross between banana and pineapple. When it isn't fully ripe, the flesh lends itself to being a decent substitute for meat in vegetarian or vegan dishes.
What are its health benefits?
It may help reduce levels of low-density (LDL/bad) cholesterol and raise levels of high-density lipoprotein (HDL/good) cholesterol. That helps remove LDL cholesterol and send it back to the liver. It's also a good source of potassium, which can help reduce blood pressure by counteracting the effects of sodium. Jackfruit also contains phytochemicals, including flavonoids, saponins and tannins, all of which have antioxidant properties that counter the effects of free radicals. 
Why do chefs love it?
Chefs love the versatility of jackfruit, which means it can easily be used in both sweet and savoury dishes. It's also a staple in Southeast Asian cooking, and acts as a good vehicle to absorb various spices in full-flavoured dishes. "We love shredded jackfruit as it's so versatile," explains Donata Berger, founder of vegan brand, Bonsan. "It has a great texture that's perfect as a meat substitute. You can really get creative and include it in all your favourite dishes from tacos to burgers and wraps."
Recipe: Teriyaki Jackfruit Noodles
INGREDIENTS
● 1 tbsp of coconut oil
● 1 small white onion, chopped
● I courgette, sliced into coins
● 1 red pepper, sliced
● 1 small bunch of asparagus, tips trimmed
● 500g of udon noodles
● A handful of cherry tomatoes, halved
● 125g shiitake mushrooms, ripped in half
● 200g Bonsan Teriyaki Jackfruit Cubes
METHOD
1. In a large frying pan, heat the oil and add the onions until slightly browned.
2. Add the courgette, red pepper and asparagus and gentle fry for another 10 mins on a low heat until soft.
3. Meanwhile, place a saucepan of water on the stove and bring to the boil, add the noodles and cook to the packet instructions, drain and set aside.
4. Add the jackfruit and heat through with the cherry tomatoes and mushrooms.
5. Once warm, tip in the noodles and coat everything in the teriyaki sauce. Serve piping hot.
Recipe courtesy of Donata Berger at Bonsan.
Ready make some changes to your weekly shop? Here are the supermarket products we love…
DISCLAIMER: We endeavour to always credit the correct original source of every image we use. If you think a credit may be incorrect, please contact us at info@sheerluxe.com.